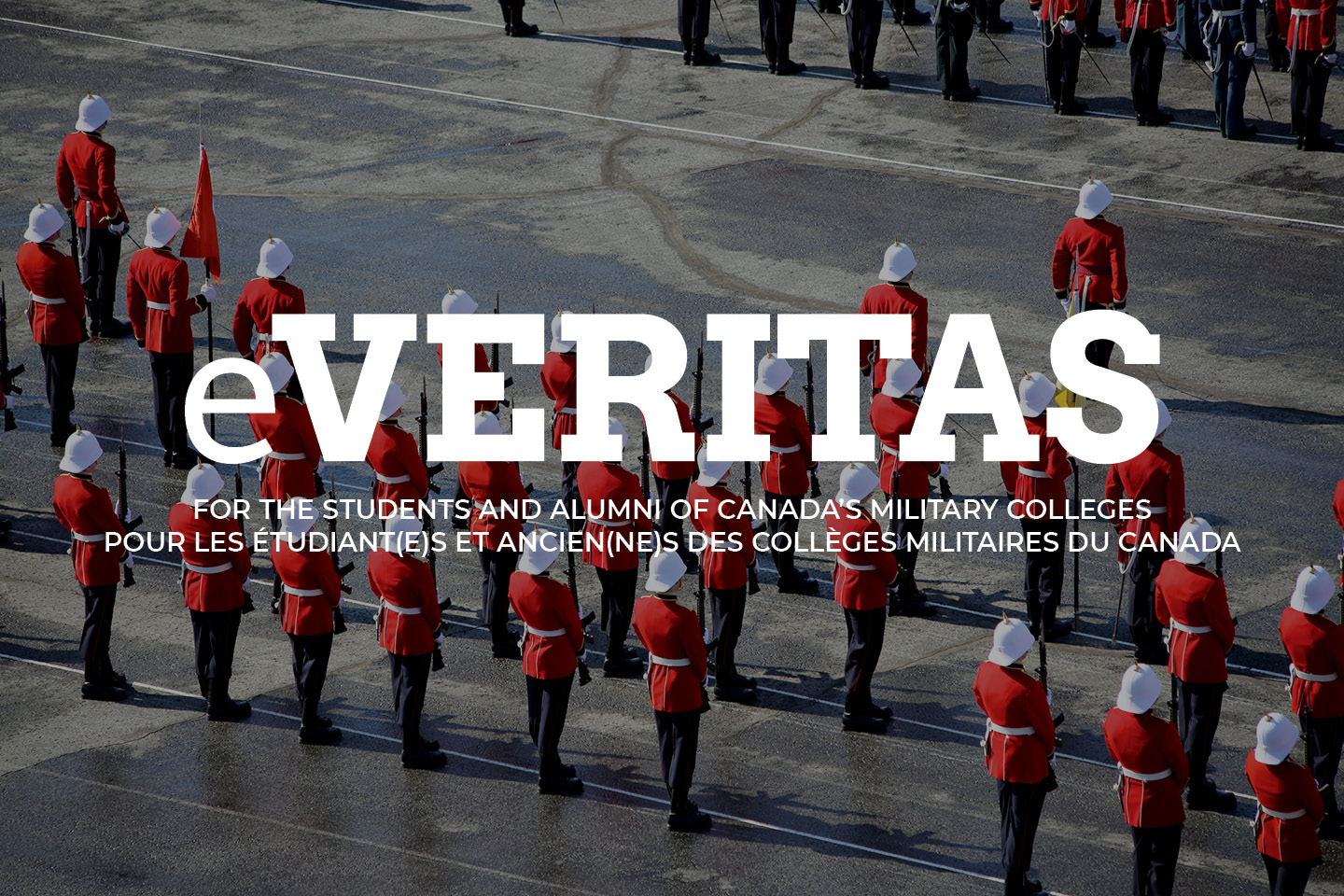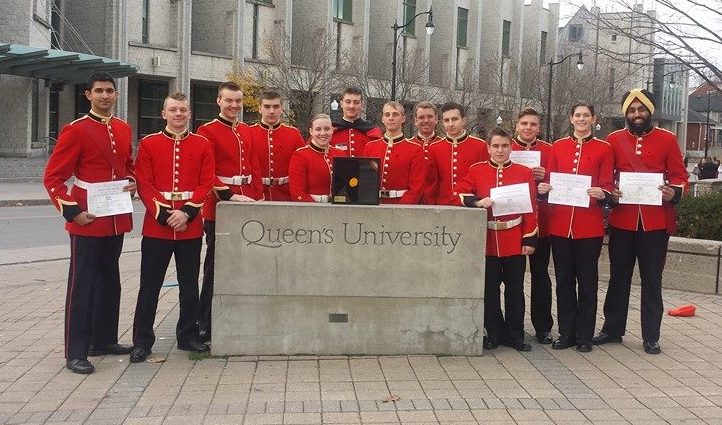 RMCC Taking Queen's Model United Nations by Storm!
By: 26659 OCdt (III) Danielle Andela Cadet Wing Internal Information Officer 
This past weekend, beginning with the Opening Ceremonies at 1900 on Thursday, November 6th, members of the RMC International Relations Club played the parts of many delegates in several different committees at the Queen's Model United Nations Invitational (QMUNi). These committees ranged from a futuristic Star Wars committee to a Code Red Crisis committee regarding issues in the Middle East and even included a committee about the Crusades. The delegation represented RMC with pride, attending the opening and closing ceremonies in Scarlets and bringing home the bacon when it came time for the awards presentation. Seven individual awards were presented to the delegates and the "Best Small Delegation" Award was presented to the RMC delegation as whole.
Members of the delegation (from left to right): OCdt John Jacob, OCdt Jesse Friesen, NCdt Ian Marcoux, OCdt Thomas Foster, NCdt Marisa Warner, NCdt James Craigie, NCdt Alex Webb, OCdt Liam Bell, OCdt Chad Rodriguez, OCdt Mark Emmerson, OCdt Kiernan Broda-Milian, OCdt Danielle Andela, NCdt Tejvinder Toor.
Thank you to team captain OCdt John Jacob for coordinating the plans and details for the weekend and ensuring the registration went without a hitch.
As a whole, the RMC delegation represented the Royal Military College superbly and will continue on to future events with the same levels of enthusiasm and performance!
***
All Years Busy With Their Leadership Development & Military Training
Article Coordinated by: 26659 OCdt (III) Danielle Andela Cadet Wing Internal Information Officer

The cadets of the Royal Military College of Canada gathered, once again, by year to engage in several different kinds of military training this Wednesday, November 12th Professional Military Training (PMT):
PMT for this Wednesday was very successful and the messages that L/Col Popov intended to convey were comprehended and the material was retained. The first year flights have been working very hard throughout the last few months, and it is rewarding for them to be acknowledged for their efforts. It is also motivating to be spoken so highly of from the DCdts, and will encourage positive and progressive results in the future. With regards to the suicide portion of the briefing, all that needed to be said was mentioned. There was no confusion or misinterpretation of the specific point that was intended from L/Col Popov.
Specifically, Kaeble flight has been a well -oiled machine and has worked cooperatively together in all aspects of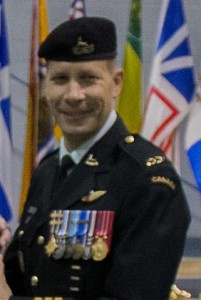 RMC life. The cohesion and teamwork is an attribute that Kaeble is proud of and will aid in future obstacles. With demonstrations of proficiency in drill, dress and deportment, Kaeble is an example of how a team should work together. Each member of the flight has his/her own role and there is very little if any conflict between the members. By having a supportive flight and staff, it enables us to work together and raise the standard.
In conclusion, the PMT administered by L/Col Popov (Photo right)this week was necessary and beneficial to becoming future officers in the profession of arms. Each day is a learning experience and when senior officers provide feedback to the troops it is sure to produce and procure high expectations and at the same time raised moral.
– OCdt 27250 (I) Brett Cameron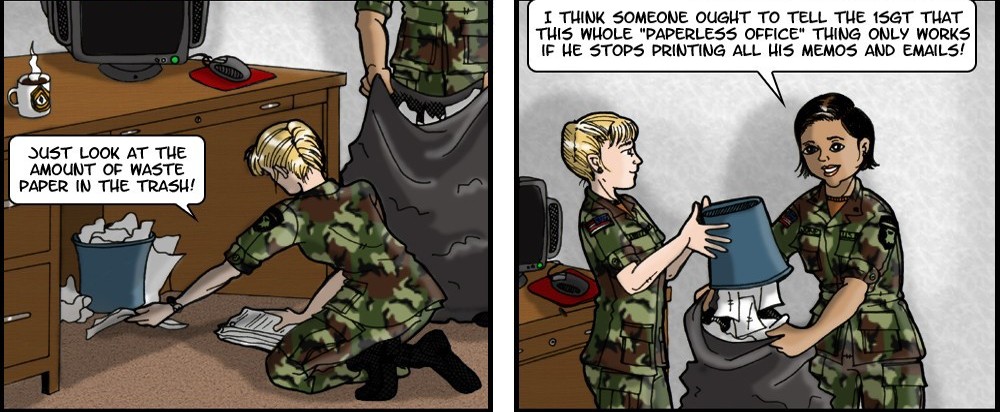 Second year cadets met in the Cadet Dining Hall for their weekly PMT period, engaging in a presentation on military writing and documentation. The Class of 2017 was formally introduced to proper formatting regarding briefing notes, external letters, and minute sheets in order to prepare them for their careers as future officers.
Administrative know-how is a key asset, and in order to foster that quality, each cadet was assigned specific written scenarios to be marked for a later date. These unique situations ranged from squadron commander role-play to a formal invitation to a civilian official. As the second year cadets move forward into leadership positions at the college, proficiency in written correspondence will be absolutely instrumental to success.
– NCdt 26898 (II) Charles Grimshaw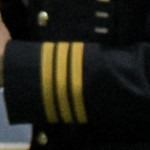 This week's PMT consisted of the third year class meeting with the DCdts to discuss the issues concerning the class this year. The DCdts was able to address many of the concerns of the class and ensured the third years understood his stance on the concerns of the class. As the next leaders of the Cadet Wing, there was a noticeable increase in the concern the third years regarding many issues. These DCdts hours are a great avenue for Cadets to learn how senior officers hear the concerns of their subordinates and a great outlet to voice concerns sometimes difficult to get answers too.
– OCdt 25534 (III) Kevin Pathinather