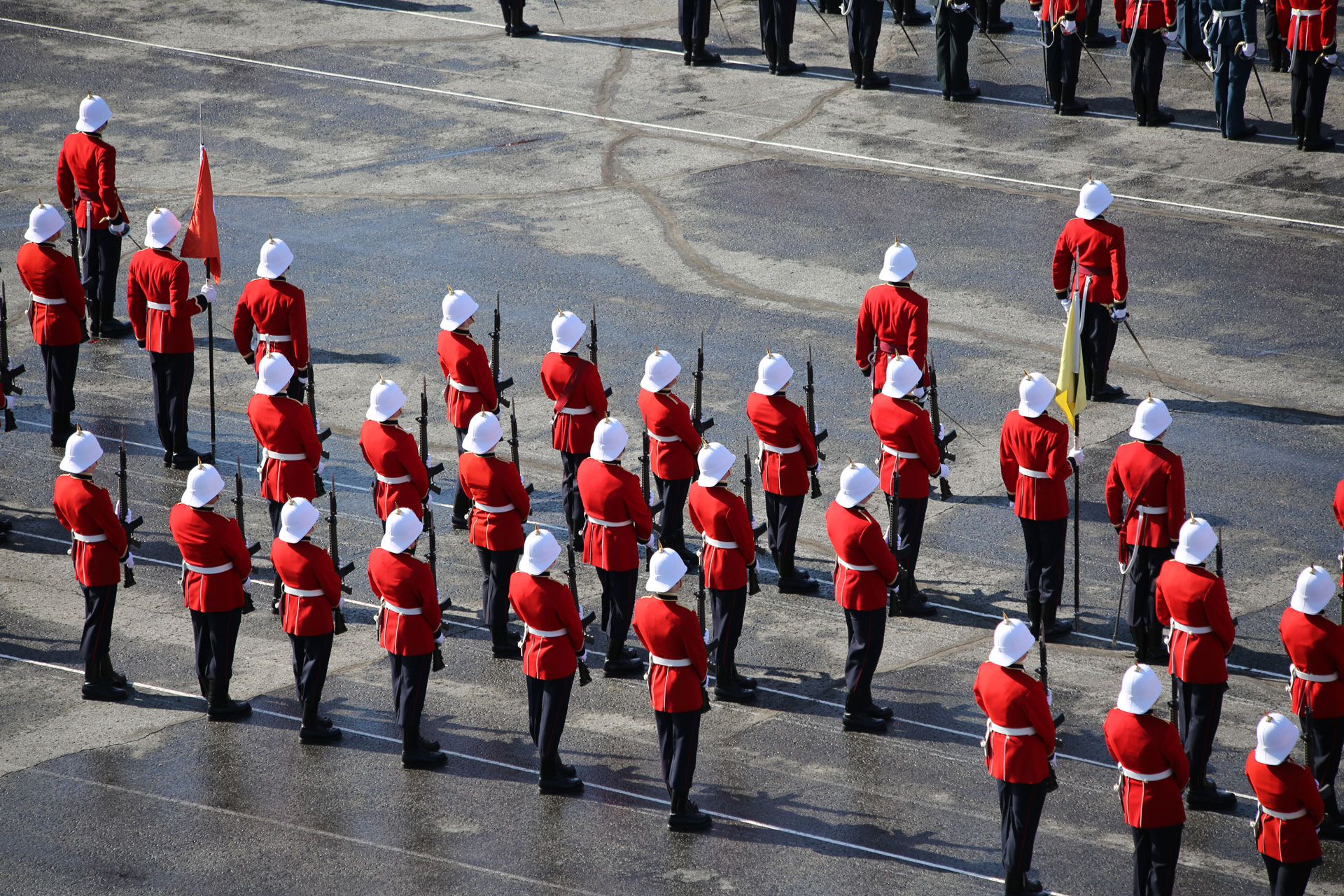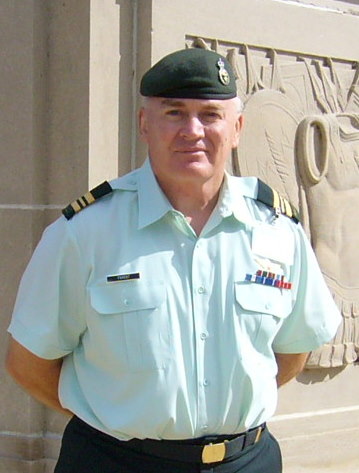 Training for the real thing
A/SLt 24498 Noelani Shore (RMC 2009)
Like so many of his family before him, Major Robert Parent decided to heed the call of a profession in arms and join the military with the intent to lead.
He has used his operational experience to lead men and women in times of war, and as the Chief Instructor at the Royal Military College, Maj Parent is preparing cadets to lead.
"I'm responsible to the Director of Cadets for everything related to military training or the training of the Officer Cadets leading to their final qualification of graduation from RMC. That includes military training and the leadership within the Wing, Varsity sports, fitness, the PPT, maintaining an academic standard, and second language. All the components that come together to qualify the OCdts to graduate from RMC and get their commission comes together here, and as the CI, I am responsible for is ensuring that the Cadets meet the standards. If they do not meet the standards, the consequences and the means in which they're administered is my responsibility. Everything comes through here – this is sort of the centre of the college," Maj Parent explained.
Joining the military was, according to Maj Parent, a "natural progression." He grew up on the grounds of RMC, as his father taught surveying and Civil Engineering for 30 years.
"My father joined in the Second World War, was in flight training, and didn't make it through the training. He had a brother who was a Spitfire and Typhoon pilot who was shot down and killed the day after D-Day in Saint-Malo. My dad was in after the war as a sapper, and he served in Korea," he said. "My great-grandfather on my mother's side served in the First World War. He was an Infanteer, a Non-Commissioned Officer with the Royal Westminster Regiment."
His son is now a solider in the Royal Canadian Regiment, but "my daughter doesn't look like she's going to join the Army," he said.
Maj Parent was accepted to RMC, but as he was playing junior hockey in Kingston, he decided to finish off his last year seeing if he could get drafted instead. He was, in fact, drafted to the NHL, and he played pro-hockey in Indiana for a year. After that, he was long-listed with the Canadian Olympic Team in 1980.
"That just shows you how old I am," he joked.
Sports are an important aspect of Maj Parent's life, not only as a way to keep fit, but also because he sees sports as a character, team, and leadership development tool.
"That's why I'm a real supporter of sports here at RMC," he said.
Maj Parent also played rugby for Alberta, New Brunswick, Eastern Ontario, and he coached rugby at RMC for four years.
As the CI, this is the second year of Maj Parent's second tour at RMC. He was a Squadron Commander from 1997-2000, and acted as the equivalent of the CI. The focus has shifted, so at the time there was no CI division.
"The reality is that we're in a period of change in a sense that we're instituting new policy. This involves a certain amount of centralization. People aren't used to having the idea of meeting a standard, and the implications of not meeting a standard, and being held accountable for not meeting a standard. That concept hasn't been well-defined or well-structured here at RMC, and that is my institutional challenge. I was heavily involved in reshaping FYOP this year, and purporting a cultural shift within the cadet wing on how FYOP is to be conducted," he explained. "Once again, it has to be centralized – empowering the cadet commanders, but also holding them accountable and incorporating them into a core structure. We're professionalizing them and the institution. It's not that people don't understand that, it's just that it's changed and people need time to accommodate themselves to change. That's basically how I see the big challenge; coordinating and getting people to work together."
The first year cadets have a lot to learn, but they also have a lot to give. They are brand new to the Army, but they have a lot of energy and are busy taking their first steps in this environment.
"When I'm walking around and watching them, they seem to be very committed, very eager to please, eager to learn, lots of energy – all the things we want and expect from a recruit class."
There is, of course, some culture shock when the cadets first arrive at the beginning of First Year Orientation Period. The biggest difference is that they are now being held accountable, and understanding that their actions hold consequences.
"For every action of theirs, there is an equal reaction of consequence. It could be a good consequence; they train hard, they get fit, they pass the PPT. But, if they decide not to get up, it's not just a question of sleeping in anymore; they'll be missing a parade," he said. "The whole idea is accepting and understanding that they're now in a place of expectation of duty and performance, and living and engraining themselves in a military culture. I think that is really their biggest challenge, and the key element of how well they transition into future officers."
While success and failure is based on the performance of the individual cadets, as the CI, Maj Parent is responsible to ensure the training plan is shaped so that the cadets have the opportunity to be successful. He must provide the tools and resources where cadets can learn, develop, and grow within the institution, and eventually march off the square as graduates and commissioned officers.
"Each year, the emphasis is different. When looking at the fourth years, the emphasis is on leadership and taking responsibility of the wing. They've been empowered by the Commandant to lead, and my job is to provide them with the means to lead. It's also important that there are elements of this institution where cadet leadership is not training. The command and control they have over cadets in quarters – that's real life. Actions that they take to maintain discipline and a safe environment within the barracks where they have control is a real-life issue."
After 28 years as an Infantry officer, Maj Parent is in a good position develop these future officers for real-life training and operations. He has served three regimental tours with the Princess Patricia's Canadian Light Infantry, and was the Commanding Officer for the Brockville Rifles for three years.
"I've been very lucky, because if you want to look at the five years I've spent at RMC, the five years with the Brockville Rifles, the eight years with the Patricia's, I'm looking at close to 21 years of regimental service, and only four years where I was a pure staff officer. Also, I had three tours overseas at Bosnia, Cyprus, and Afghanistan," he said.
Two years ago, Maj Parent was deployed to Afghanistan to the International Security Assistance Force in Kabul. He supported the training and development of the Afghan National Army.
"I went out and saw all the training establishments and did some patrolling around the Pakistani border in operations with Afghan Brigades. It was all very interesting," he said. "The most rewarding this about being deployed is that you're using your training and all the tools that you've developed in a real operational setting. You're deployed in a combat conflict zone, and the reality is that you are no longer training, and the pace is higher. It's what you train to do. Certain things, particularly going as a member of battalion, is very special because you have a very close-knit family, very close team, and the friends and relationships you have will stay with you for life," he said. "You feel a real link to the Army and your regiment as a whole. For the Patricia's, it's right back to the First World War. We had Christmas dinner in Bosnia, and it was very similar to the Christmas dinners that the regiments had in Italy, Europe, or Korea. And now in Afghanistan, the regiment provides you that link with history."
Maj Parent has had the opportunity to serve in a variety of roles, but there is no one posting that stands out above them all.
"You're really not doing your job well, and you're really not seeing the value of what the Army and the Armed Forces can bring to you if you don't find something really unique and special that you can learn and benefit from any posting," he said.
The first posting is always special because, in the Infantry, it's the first regimental experience. For Naval personnel, it's the first ship, and in the Air Force, your first squadron.
"The first operational experience is always something special."
RMC has always been a special place for Maj Parent, because it's part of his family's history.
"Dealing with cadets has been great because they're good people, and I enjoy being with them for the most part, when they're not driving me out of my mind," he laughed.