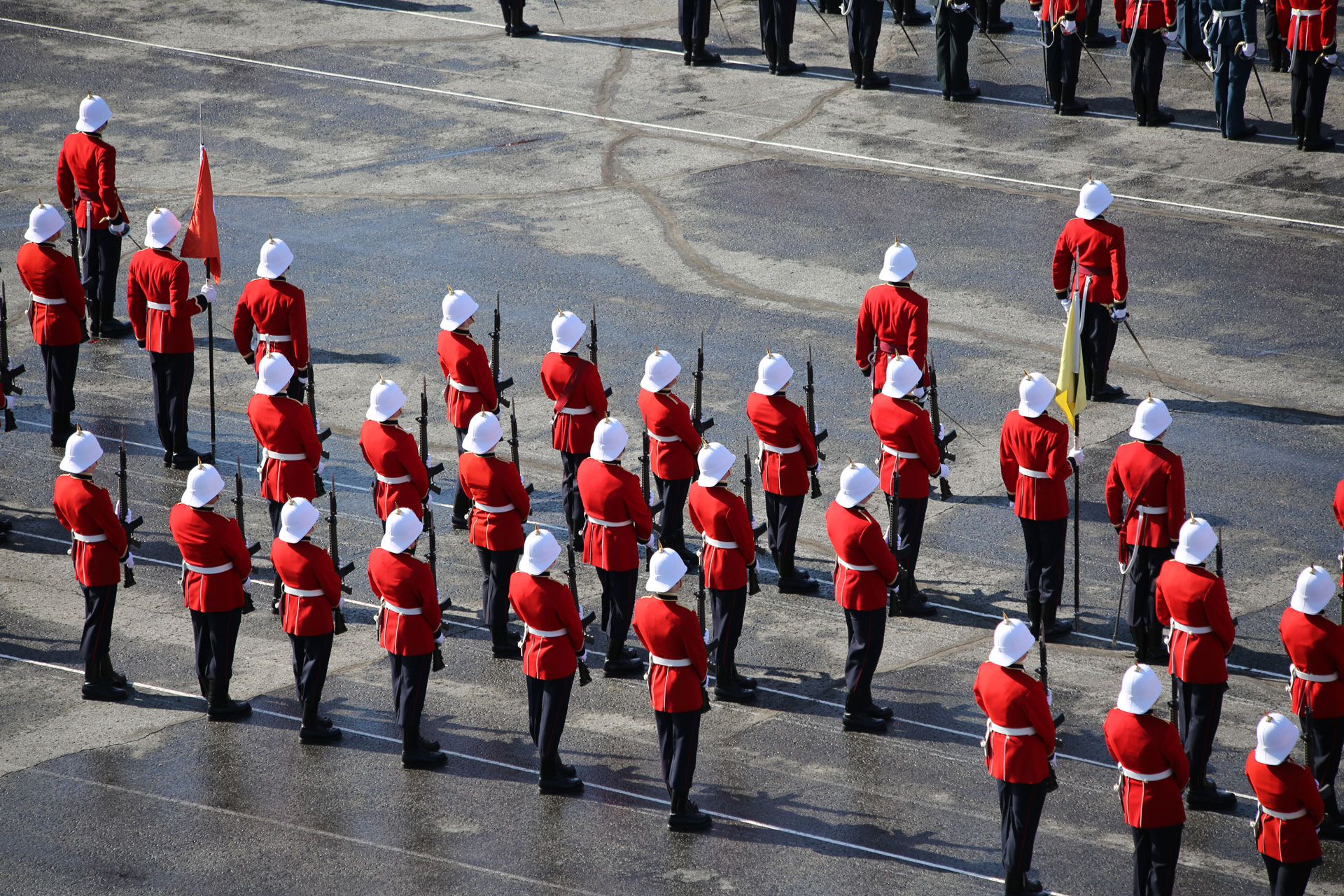 18360 Captain (Ret'd) Trevor Kraus (RMC 1992), MSc, CD, PMP has been Director General, Corporate Planning at Veterans Affairs Canada in Charlottetown since December 2008. He was Director, Soldier Systems Program Management at Department of National Defence 2007 – 2008 (1 year). He was Director, Project Management Department of National Defence 2006 -2007 (1 year). He earned an MSc, Electrical Engineering Université Laval 1995 -1997. He holds a Bachelor of Engineering, Engineering Physics from Royal Military College of Canada 1988 – 1992. kraus.tr@gmail.com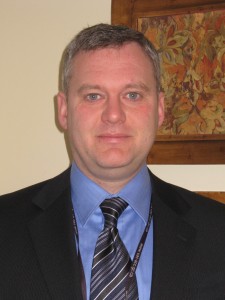 18360 Captain (Ret'd) Trevor Kraus (RMC 1992) was interviewed by E3161 Victoria Edwards (RMC 2003).
e-veritas: Describe your background at the college.
Trevor Kraus: I studied engineering physics at RMC from 88-92. I am looking forward to returning to RMC in two years for the 20th anniversary. My classmates and I have experienced major life changes since graduation. RMC prepared me for life through instilling self discipline and pride. There are many things you may not want to do. At RMC, I learned to  suck it up, and to do it well. I'm not surprised that many of my classmates excelled in the Canadian Forces, in business, sport and in volunteer activities.
e-veritas: What did you do after the military college experience?
Trevor Kraus: I served as an electrical and mechanical engineer in the Army with 5 Brigade in Quebec for 3 years. I deployed with 5 Service Battalion to Bosnia from February to August 1995. I had the opportunity to return to university to earn a Masters in Engineering (Optics) at Université Laval (Quebec City). I was then posted to Ottawa where I worked in project management and systems engineering positions. In 1998, I was one of a handful of Canadians deployed under the United National Special Commission to Baghdad, Iraq for three months as a weapons inspector. As a member of the missile team, I conducted surprise inspections until we were "encouraged to leave" by the government of Iraq. After retiring from the Canadian Forces in May 2002 I did systems engineering and project management work with my own consulting firm and I taught at Algonquin College in the Project Management program. In 2004, I joined the public service as an engineer. I worked on the Mobile Gun System Project for a year. I then worked for a year on the Information Management Services Transformation project which was looking at how Information Management and Information Technology were delivered to the department and to the public service. I was appointed Project Manager for the Project Management Competency Development project that will build complex project management skills and long term capacity. The first order of business was to define the scope of work for the overall project and determine how DND/CF project management cadre will meet the requirement of new Treasury Board policies as well as ensuring enough skilled project managers were available when needed to lead projects up to and including major crown. A small project office was established to focus on skills development, community management and liaison with industry and other governments. I became the Director of Soldier Systems, which was responsible for the designed, support and acquisition of anything soldiers wore, carried or fired.
e-veritas: What do you like or dislike about RMC today?
Trevor Kraus: I feel that the military discipline and the number of opportunities to practice leadership decreased. I think that the recent reintroduction of a college uniform and a dress code are positive developments. I feel that the uniform helps cadets develop their unique identity and esprit de corps. I was delighted to read about the reintroduction of opportunities for cadets to practice leadership, particularly in the training program.
When I was at RMC, there was a mixture of male and female cadets from across Canada. After the closure of CMR, I liked how Kingston became a more bilingual city and appreciated the addition of more French cadets in Kingston. Since I appreciated the social and cultural diversity among cadets I was glad to read about the addition of more visible minorities and aboriginal cadets, who were few & far between. I am a German-Canadian and would have appreciated the opportunity to learn about the culture of my classmates.
e-veritas: What was a highlight of your Army career?
Trevor Kraus: A highlight of my Army career was being the Chief Engineer on the project that delivered the Weapon Effects Simulation (WES) Project for use during combat team and battle group collective training. The project acquired one fully instrumented battle group suite of Weapon Effects Simulation equipment for training the Field Force at Canadian Manoeuvre Training Centre (CMTC) Wainwright Alberta. The procurement was based on a Total-Package procurement (Equipment and Life time support), with the use of innovative concepts, such as Best Value selection methodology, Commercial Off The Shelf (COTS) procurement, performance based support, incentive and disincentive compensation program, Past Customer Performance evaluation and the use of a new IT tool for the Evaluation process.
e-veritas: What are you doing now?
Trevor Kraus: I live in Charlottetown PEI with my wife Bettina and out two lovely daughters Amelia (4) and Evalea (3). I have been Director General, Corporate Planning at Veterans Affairs Canada since December 2008. The programs and services at Veterans Affairs support the care, treatment, independence, and re-establishment of veterans.
There are opportunities and challenges as we meet the urgent needs of our increasingly frail traditional veterans as well the new opportunities to support our new Veterans.
e-veritas: I understand that Veterans Affairs supports a wide variety of clients – both traditional and new veterans.
Trevor Kraus: Yes. There are differences in the needs and expectations of the individual client groups: Veterans of the First World War, the Second World War, and the Korean War, Merchant Navy Veterans, modern day Canadian Forces Veterans, still-serving Canadian Forces members, spouses, common-law partners, certain civilians, and survivors and dependants of military and civilian personnel. Veterans Affairs also administers disability pensions for the Royal Canadian Mounted Police under a Memorandum of Understanding. Traditional veterans often prefer one on one or phone support whereas new veterans tend to prefer more technological and web-based interactions.
e-veritas: What are the key services under the New Veteran's Charter?
Trevor Kraus: The Canadian Forces Members and Veterans Re-establishment and Compensation Act, known as the New Veterans Charter offers: job placement services; disability award and other allowances; group health insurance; rehabilitation services; financial benefits; one-on-one case management; and support for CF families. In addition, the New Veterans qualify for priority job appointment in the Public Service.
e-veritas: As a new veteran, what do you like or dislike about what is happening these days at Veteran's Affairs Canada?
Trevor Kraus: To better meet the needs of modern day Canadian Forces Veterans, VAC provides online eligibility to VAC programs and services, particularly those relating to health care benefits linked to disability and income support programming. As a new veteran, I want to reduce the bureaucracy involved in seeing my client file, exchanging information, to know the status of my claim and to avoid the frustration when claims are refused by Veteran`s Affairs due to insufficient evidence.
e-veritas: Do you have any tips or advice for new veterans?
Trevor Kraus: Before applying, conduct a self-screening using the Veteran's Affairs website can help you determine if you may qualify for programs under the New Veterans Charter. Viewing the case scenarios may help the client identify the programs and services available under the New Veterans Charter. The frequently asked questions may answer general questions, particularly on job placement assistance program, disability award, appeals, help for families, RCMP, and reservist coverage. Questions respecting your eligibility for current programs can be directed toward your VAC Pension Officer or Area Counsellor. http://www.vac-acc.gc.ca/CLIENTS/sub.cfm?source=Forces
e-veritas: How do you stay in touch with RMC?
Trevor Kraus: I stay in touch with my classmates and we get together whenever possible.
I have had the opportunity over the years to go back to RMC for work, for example through the development of new uniforms and accoutrements, during my tenure in Solider Systems. As the RMC class secretary for 1992, I send emails back & forth and use linked-in and facebook to keep in touch and reconnect with colleagues. I am looking forward to the 20 year reunion in 2012. Since we are living in PEI, I hope to work with a classmate who is living closer to Kingston to help make the arrangements. I helped organize the 10 year reunion organized in which the class got together for a nice dinner and some played golf in Kingston. My first roommate, 18325 LCol Peter Earle still serves in the military as a M-2 Weapon System Manager in the Materiel Group.