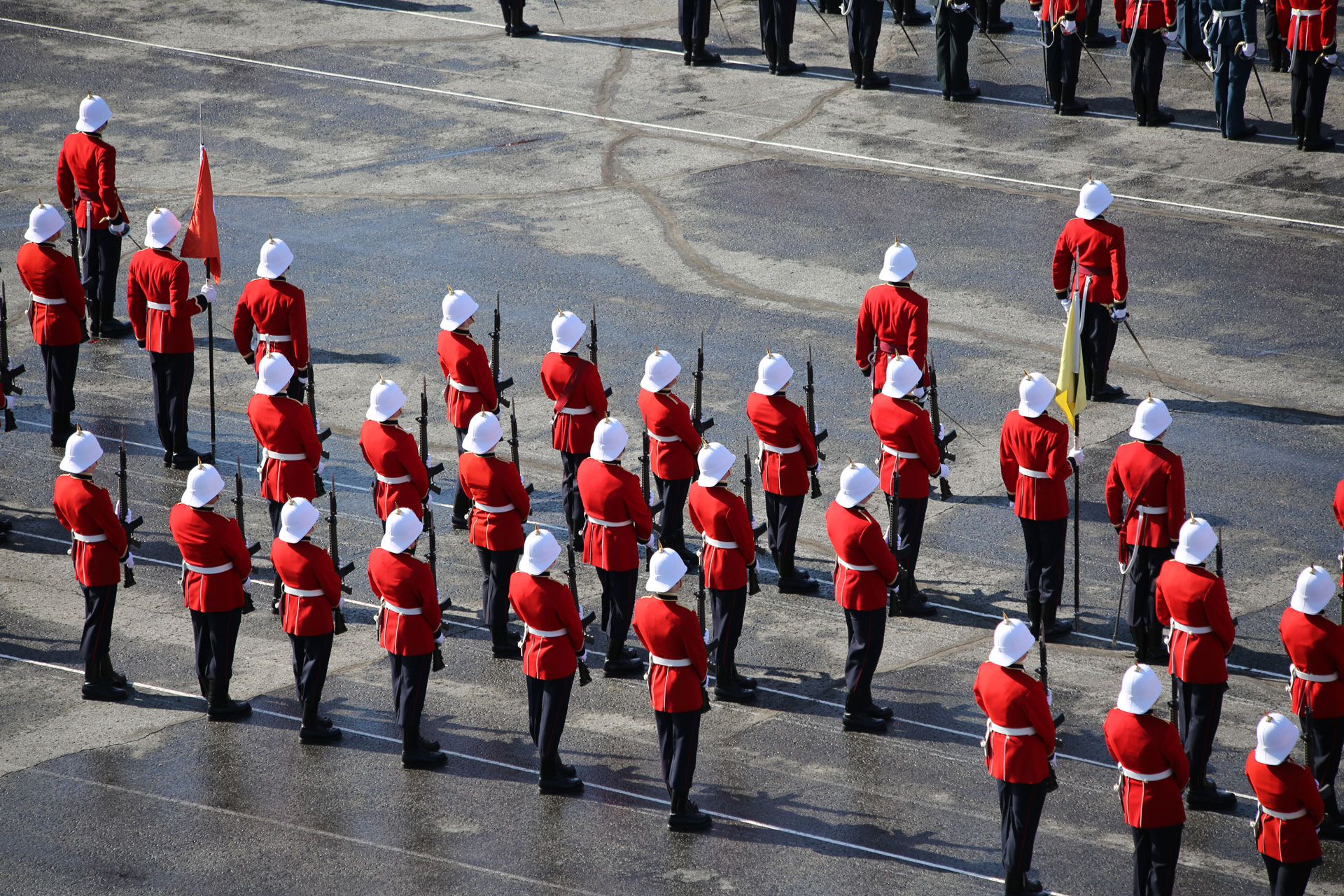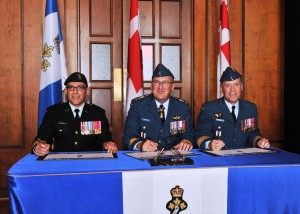 (L-R)14154 Le Colonel Guy Maillet (CMR RMC 1983),Major-General Gosselin, 12603 Colonel François Pion (RMC 1980)
Photo par Christian Jacques
Un nouveau commandant au Collège militaire Royal de Saint-Jean
14154 Le Colonel Guy Maillet (CMR RMC 1983) a pris ce matin le commandement du Collège militaire royal de Saint-Jean (CMR Saint-Jean) lors d'une cérémonie officielle qui eu lieu au Vieux Mess du Collège. La cérémonie était présidée par le Major-général Daniel Gosselin, Commandant de l'Académie canadienne de la Défense.
Le Colonel Maillet succède au 12603 Colonel François Pion (RMC 1980), qui était à la barre du CMR Saint-Jean depuis sa réouverture, et qui prend sa retraite des Forces canadiennes. Dans le cadre de la cérémonie, le changement d'assignation d'adjudant-chef a également eu lieu entre l'Adjudant-chef Serge Beaudoin et le Premier Maître de première classe Pierre Langlois. L'Adjudant-chef Serge Beaudoin prend également sa retraite des Forces canadiennes.
"Le Colonel Pion a fait un travail énorme pour implanter le CMR Saint-Jean en tant qu'institution d'enseignement de premier ordre, a déclaré le Major-général Gosselin. Il a édifié une fondation exceptionnellement solide sur laquelle le nouveau commandant pourra construire. Je suis certain que le Colonel Maillet, avec son haut niveau de professionnalisme et sa vaste expérience, aura un impact significatif sur les futurs leaders des Forces canadiennes."
Le Colonel Guy Maillet s'est enrôlé dans les Forces canadiennes en 1979 et a fait ses deux premières années d'études au CMR Saint-Jean avant d'obtenir un baccalauréat en Commerce du Collège militaire Royal du Canada à Kingston en 1983. Depuis ce temps, il a aussi obtenu deux maîtrises, en Etudes de la guerre et en Etudes stratégiques. Comme officier de l'Arme blindée, le Colonel Maillet a principalement servi avec le 12e Régiment blindé du Canada où il a commandé à tous les niveaux avant de devenir son 18e commandant en 2001. Le Colonel Maillet arrive au CMR Saint-Jean après avoir passé les deux dernières années comme Directeur général – Autorité des griefs des Forces canadiennes.
La mission du CMR Saint-Jean est d'éduquer et de former des leaders de premier ordre possédant les aptitudes intellectuelles et les compétences linguistiques leur permettant de servir avec distinction au sein des Forces canadiennes. Le Collège assure aux élèves-officiers une transition sans heurt de l'école secondaire aux études universitaires par le biais de programmes postsecondaires et de première année universitaire en sciences humaines et en sciences de la nature. Tous les programmes sont offerts dans les deux langues officielles.
RMC SAINT-JEAN GETS NEW COMMANDANT
14154 Colonel Guy Maillet (CMR RMC 1983) assumed command of the Royal Military College Saint-Jean (RMC Saint-Jean) last Tuesday ( 22 June)  at a formal ceremony held at the College's Vieux Mess. The ceremony was presided over by Major-General Daniel Gosselin, Commander of the Canadian Defence Academy.
Colonel Maillet is succeeding 12603 Colonel Francois Pion (RMC 1980), who was at the helm of RMC Saint-Jean since its reopening, and is retiring from the Canadian Forces. As part of the ceremony, a Change of Chief Warrant Officer Appointment also took place between Chief Warrant Officer Serge Beaudoin and Chief Petty Officer, First Class, Pierre Langlois. Chief Warrant Officer Beaudoin is also retiring from the Canadian Forces.
"Colonel Pion has done a tremendous job of developing RMC Saint-Jean into a first-rate academic institution," said Major-General Gosselin. "He has created an exceptionally strong foundation upon which the new Commandant will continue to build. I am certain that Colonel Maillet, with his high standard of professionalism and breadth of experience, will make a significant impact on the future leaders of the Canadian Forces."
Colonel Maillet enrolled in the Canadian Forces in 1979, and spent his first two years at the College Militaire Royal de Saint-Jean. He graduated from the Royal Military College of Canada in Kingston, Ontario, with a Bachelor of Arts degree in Commerce in 1983. Since then he has also obtained two Masters' degrees, in War Studies and Strategic Studies. As an Armoured officer, he served with the 12e Regiment blinde du Canada at all levels of command, and eventually became the regiment's eighteenth Commanding Officer in 2001. Colonel Maillet comes to RMC Saint-Jean from Ottawa, Ontario, where he spent the last two years as the Director General Canadian Forces Grievance Authority.
The mission of RMC Saint-Jean is to train and develop first rate leaders who have the intellectual, physical, and linguistic abilities and skills to serve with distinction in the Canadian Forces. The College ensures officer cadets transition smoothly from high school to university by providing college-level and first-year university programs in Science and Social Science. Each program is offered in both official languages.