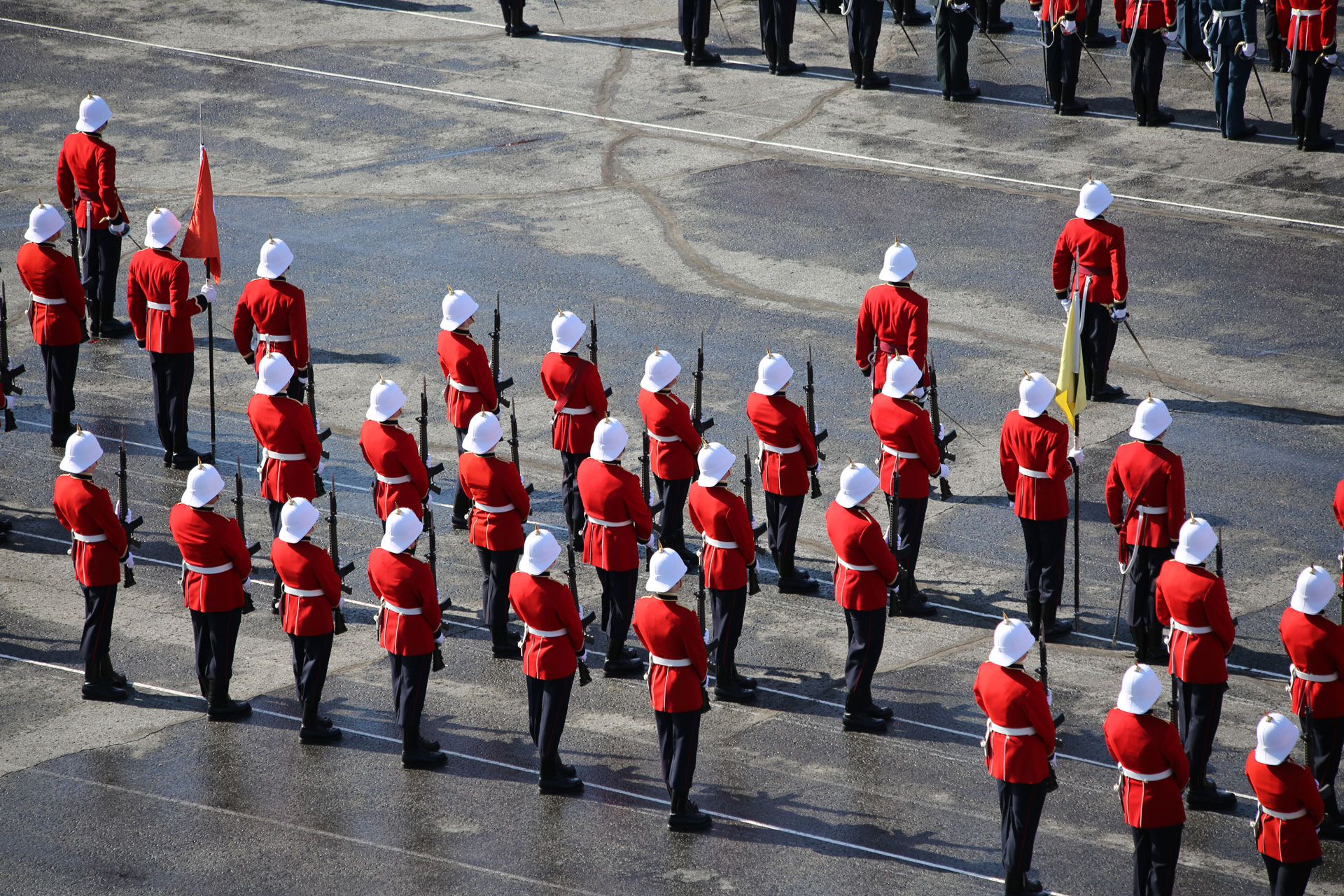 HIGHLIGHTS:
Caption: Jessica Broad, Ryerson  (#8) attempts to beat the blocks of RMC #12, Mallory Litjens and #4 Melissa McCoy. RMC defeated Ryerson 3-0 for their second OUA league win of the season.
Sports alive and well!
On Friday evening (12 Nov), the Cadets were out in force and loud voice in support of a busy sports evening.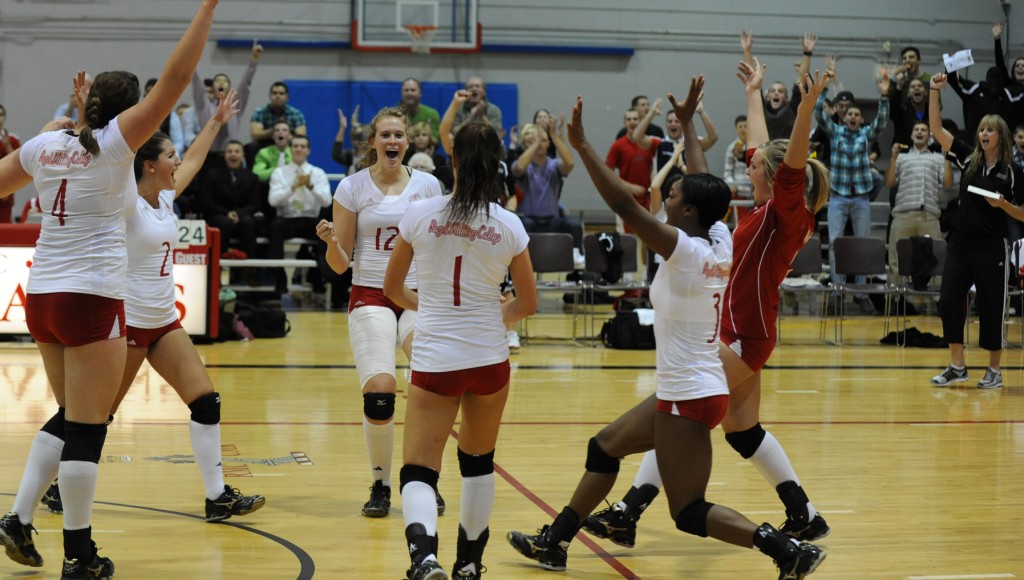 2 volleyball photos by Henry Litjens
Caption: How sweet it is! The evening started off with the Ladies Paladin Volleyball team winning another home match 3-0 over Ryerson. The Commandant, College Mom along with the CCWO/Mrs "RSM" were spotted amongst the supporters cheering loudly for the gals.
As this (W) VB match closed, the rush was on to the rink where the same voices were providing their support to the hockey team as they played hard in a close 4-3 loss.
To end the evening, the crowds returned to the field house to cheer on the Men's Volleyball team.
It's wonderful to see the increasing support and great efforts of the Cadets, staff and alumni to get out and cheer on their College teams. The varsity teams are an important part of the College program/life and they certainly appreciate the support of the fans.
So, if your schedules permit, come on out – Cadets, staff and Alumni – to support your Paladin teams!
It is important for College Espirit de corp, means a lot to the players and is lots of fun!!! Let's make an effort to 'fill the stands'.
See you there….
SCOREBOARD:
(W) Basketball
(M) Basketball
(M) Volleyball
(W) Volleyball
(M) Hockey
Check OUA sport sites for standings & upcoming games in your area!
______________________________
Hard nosed rugby player from Nova Scotia with a sense of humour
By: 25432 OCdt Nathan Williams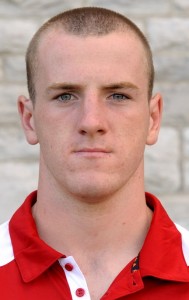 I recently sat down to talk with 1st year Eric Young, 13 squadron and openside flanker for the men's Rugby team about life at RMC and on the field.
Young, 25970 comes from Enfield, Nova Scotia, a town most famous for the rapper Classified. From a family of six including his brother Joe and sisters Katie and Sarah.
Eric came to RMC to pursue and arts degree and a future career in the infantry, as well as the opportunity to play Rugby at a varsity level, a sport which he has been actively involved in for the past five years, playing a variety of positions from scrum half, eightman and flanker.
Position: Openside Flanker
One special memory you have from Rugby was: Going to play in my first university rugby game and finding out that my family had come all the way from NS to watch.
My most memorable game was: Playing in the provincial championship for my high school in grade 12 and winning the game.
One thing people don't know about me is: I have many leather bound books and my office smells of rich mahogany.
Biggest Fear: Disappointing coach Harries.
Hobbies: Video games, going to the gym, reading.
Future Aspirations: Make it through first year.
______________________________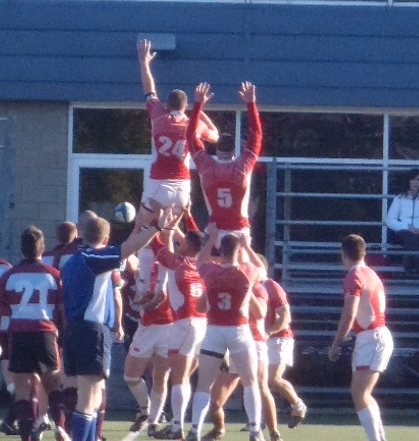 RUGBY LEAD BY OUA ALL STARS IN VICTORY OVER OTTAWA U
The RMC rugby team traveled to Ottawa once again to continue their traditional Remembrance Day game with the University of Ottawa. Each Rembrance day the Paladins attend ceremonies at the War Museum where they are joined by family and friends prior to their match with the Gee Gees.
The Paladins used the power game early to open the scoring as wave after wave of RMC players smashed through the Ottawa line. Ottawa U was quick to reply with a try of their own five minutes later taking advantage of some poor RMC tackling to even the score. That was the tempo of the first half and RMC would go ahead only to see Ottawa U close the gap. Score at the half was 17-10 for RMC.
The Paladins came out flying in the second half with sustained pressure on the back three of the Gee Gees lead by the tactical kicking of III Chris Pratt (Victoria BC) and I Riley Saliken (Abbottsford BC).
RMC pulled away and secured a 44-26 victory, led by OUA ALL star II Clarke O'Reilly's three tries and his fellow OUA All Star Aaron Barry two tries. Other try scorers for the Paladins were II Rico Spiller (Vernon BC), I Riley Saliken (Abbottsford BC) and I Eric Young (Halifax NS). Chris Pratt was good for two conversions to round out the scoring.
The Paladins next host the Canadian Forces Staff College on Nov 17th , kick off is set for 1500 hrs.
RMC EARNS TWO OUA ALL STAR POSITIONS – MEN'S RUGBY HERE

______________________________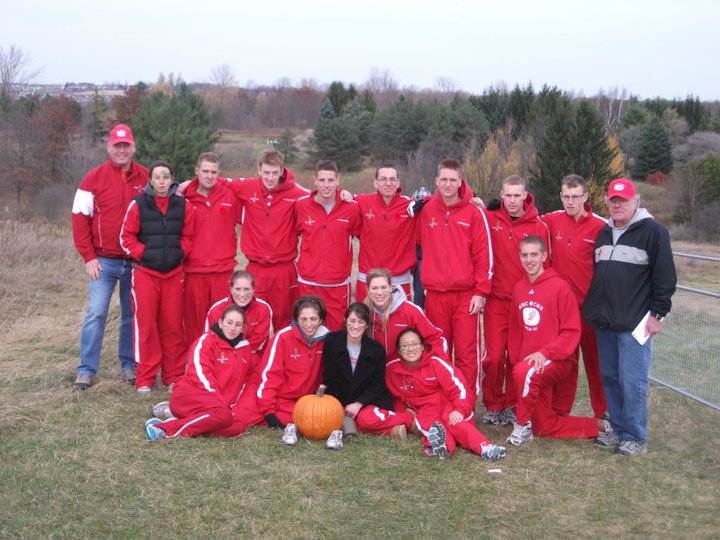 The OUA XC Championships were hosted by the Guelph Gryphons on Saturday, October 30. With original long term forecasts at various times predicting quite cool weather and/or the possibility of rain and/or the possibility of high winds, the actual day turned out to be relatively pleasant with cool but not uncomfortable temperatures – no rain, a bit of wind but not the high velocity gusts that were speculated about. The course was in good condition, with firm footing available.
WOMEN'S RACE
The Team was able to lower their Team score to 410 points (compared to last year's total of 435) and finished in 13th place (up one spot from last year's 14th place finish). Marina Lowthian was our only runner to break the 20 minute mark on a tough course as she finished 19:39.8.
MEN'S RACE
With four loops over the course, the Men would face a challenging course that could best be described as rolling but with at least two longer hills/rises to cover on each loop. Richard Hayes and John Marshall led the RMC team with Eric Henderson running just behind them through the early loops.
The final point counts puts the men just 1 point behind York, in 12th place. This also represents an improvement in Team position compared to last year's 13th in the Championships.