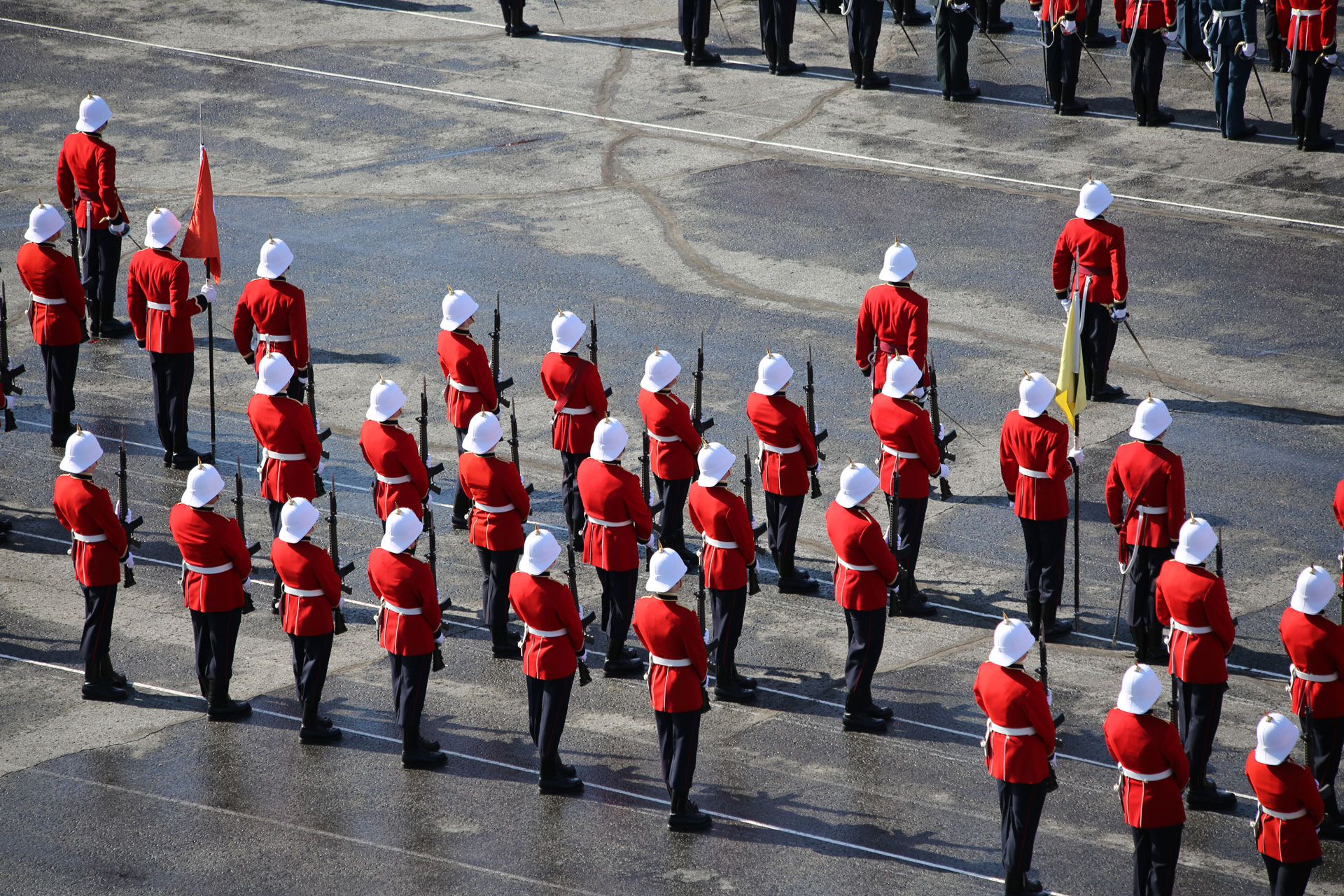 Three varsity teams have started OUA league play. Click on to the OUA section for scores for (W) & (M) soccer; and the (m) rugby team.
Check for upcoming games in your area!
________________________________
JUST IN!

Over the weekend of 14 Sep, the RMC Sailing Club represented RMC in the Shields Trophy Regatta held at USNA Annapolis on Chesapeake Bay. This event pitted 10 military academies from the U.S. plus RMC against each other in large 44ft sailing sloops (not a class of hulls we hold here at RMC). Despite not being a varsity team, our underdogs defeated professionally coached teams from West Point, U.S. Maritime Academy and the U.S. Coast Guard team to place a very respectable 7th.
I thought you should know our cadets represented RMC and Canada admirably and with skill.
LCdr Roman Antoniewicz , C Div Comd
________________________________
Season Preview – Hockey.
By: WJO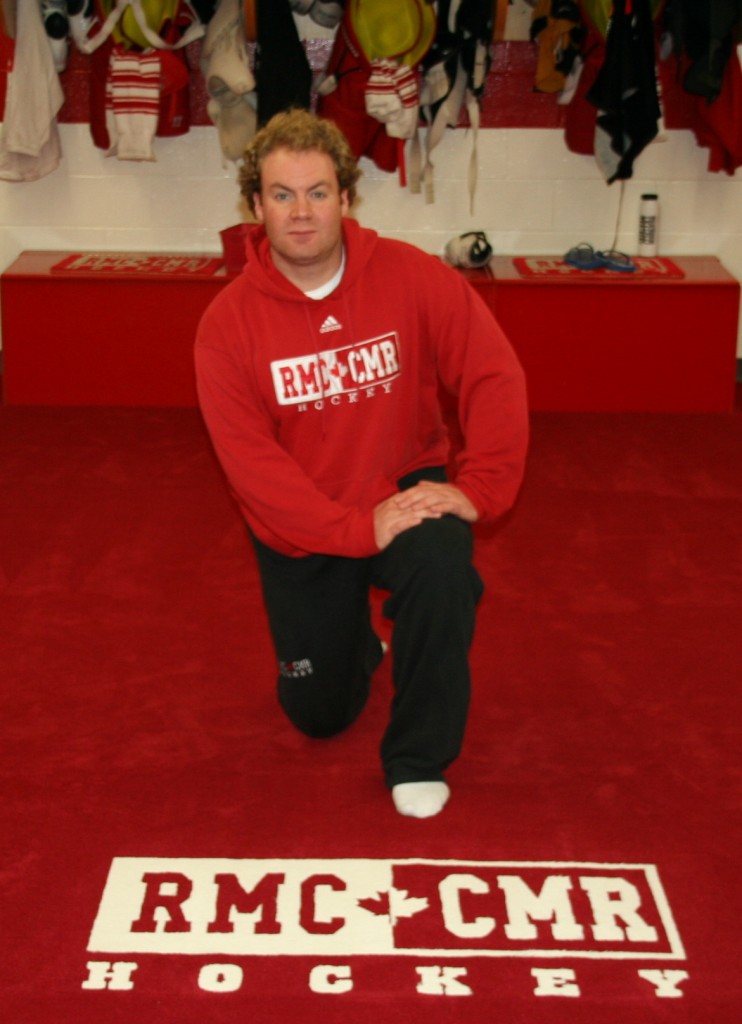 We dropped by the Hockey Paladin dressing last week and had a nice chat with coach, Adam Shell (photo left) who will be starting his 4th season behind the bench at Constantine arena.
The team played at a respectable level last year and just missed out on earning a play-off spot. The overall record was 6 wins; 18 losses; 3 overtime losses; 1 shootout loss which earned them 18 points and 9th place – 4 pointsw out of the final playoff spot.  They ended up 2 points better than U of Ottawa.

The 2010-2011 season looks promising for the young RMC Paladins Hockey team. With 11 new players the team is very excited about the influx of young talent.
We asked Adam about team leadership.
"The team will be led by seniors Richard Lim and Kurt Matthewson and third year players Landon Lavictoire, Kirk Sullivan and Matthew Pinder. Andrew Flemming, an OUA rookie all star last season returns in net and is poised to improve on a stellar first campaign."  The Toronto native and former McGill Redmnn added. "The OUA in general shapes up to be much improved again this season. Perennial powers McGill & Trois Rivieres are again strong with improving outfits at Carleton and Queen's. It will be a dog fight throughout the season for playoff positioning."
The personable and optimistic coach concluded. "The team's expectations are very high and we look forward to competing for a playoff berth."
Photo by: OCdt 24487 Dan Fleming
________________________________
This week 24487 OCdt Dan Fleming one of the current e-Veritas staff  had the opportunity to sit down with 25129 OCdt Nicolas Cooke, a 4th year cadet who is the CSL of 11 Sqn, varsity basketball player, and studying political science. Life doesn't get much busier for an RMC cadet, and the following interview is intended to give us some "boots on the ground" perspective as to how these challenges are met.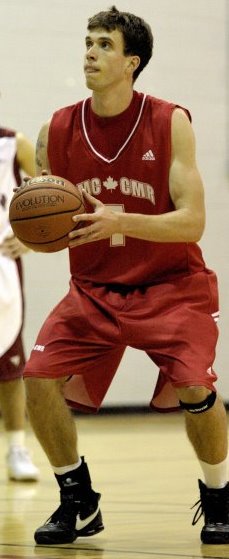 eVeritas: How are you enjoying your fourth year so far? What are you looking forward too the most?
Nick: So far fourth year has been a challenge, not only because of the course load, but also because of the added responsibilities of being a CSL and member of the RMC Varsity Men's Basketball team. I am enjoying my college life though and am looking forward to the upcoming events that are usually very exciting times around the college such as Reunion Weekend. What I am looking forward to the most would have to be graduation parade. I have put in a lot of hard work at the college and it will be a great feeling to march out through the Arch after being commissioned and on to my future.
eVeritas: Being in the position of CSL has this changed your outlook on the college at all?
Nick: Being a CSL has allowed me to see the college from a different perspective. Although I still do not see all the interworkings that go on around RMC, being in one of the higher positions around the wing you really get a taste of how and why things happen the way they do and has allowed me to learn a lot about myself and the college as well.
eVeritas: What do you feel are the most important aspects of a well run Squadron?
Nick: Communication is my number one priority when it comes to running the squadron. The more that people are informed and the quicker information is passed up and down the chain of command, the faster tasks can be completed and with more effort.
eVeritas: You also are a veteran member of the men's Basketball team, what are your goals for the upcoming season both personally and for the team?
Nick: As a fourth year team member I would like to be able to be a positive example for the newer members on the team, helping them to stay positive and overcome some of the challenges that are presented to them not only on the court, but the dedication it takes to balance both athletics and life at the college. As for myself, I would like to leave RMC with a sense that I accomplished a lot as a basketball player, and represented myself the best I possibly could.
eVeritas: Are you finding it difficult to juggle your academics, your leadership position and the commitments of varsity sports? Or do you feel your time at the college has prepared you well for these challenges.
Nick: The balancing act that goes on each day for all the cadets at RMC is never easy, and the addition of a varsity sport does make life more challenging, but RMC and the military itself prepares you to deal with challenges often in stressful situations and I feel that I am coping pretty well with all the activities and responsibilities I have in front of me.
eVeritas: If you were the DCdts, what would be one thing you would like to see changed at the college?
Nick: The one thing I would like to see changed if I had the opportunity would be the date of the Christmas ball. Unfortunately playing for the basketball team I have missed the Christmas ball every year as we have been travelling to play other schools on that weekend. It is something I would really like to attend.
eVeritas: Thank you for giving us some insight into the life of one of the busiest 4th year cadets, and all the best in the upcoming basketball season!