The four second term varsity sports teams are set and ready to get back into action. The hockey team actually kicked off the unofficial second half of their season last week where they lost two hard fought games in Ottawa ( Carleton University – 2-4); and at L'Université du Québec à Trois-Rivières – 4-5. In four head-to-head meetings with UQTR, the Paladins have won three of four games. Very impressive.
Both volleyball teams hosted tournaments over this past weekend. At the time of this writing – no results are available. Regular OUA league play commences this coming weekend. See schedule below.
The fencers will be busy preparing for the Carleton Invitational – 13 Jan.
We wish the coaches and the athletes a successful and fun second half to their schedules.
Hockey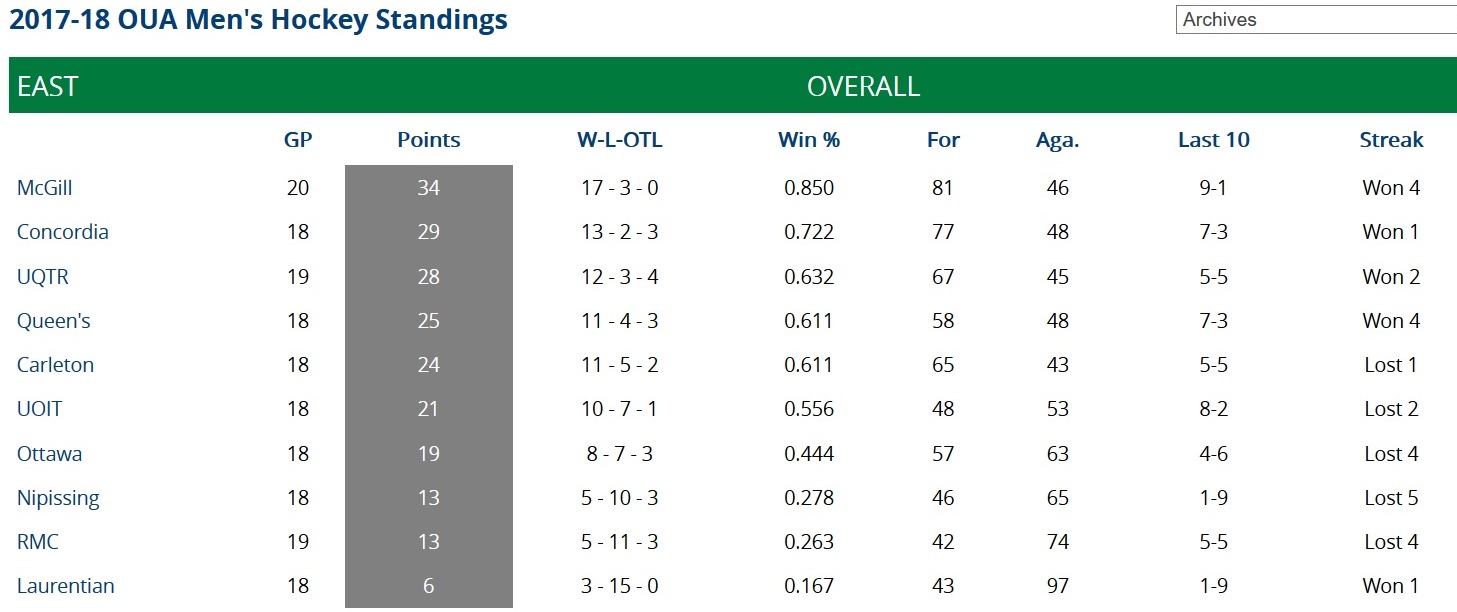 Recent results:
Fri 5 Jan RMC 2 @ Carleton 4
Sat 6 Jan RMC 4 @ UQTR 5
Upcoming Hockey games:
Fri 12 Jan UOIT @ RMC          @  7:00 PM
Sat 13 Jan UOIT @ RMC          @ 7:00 PM
Wed 17 Jan Queen's @ RMC    @ 7:00 PM
Sat 20 Jan West Point @ RMC  @ Kingston K-Rock Center 7:30 PM

 ***
Upcoming (M) VB matches
Sat 13 Jan  2:00 PM     RMC @ Nipissing
Sun 14 Jan 4:00 PM    RMC @ York
Sat 20 Jan 3:00 PM    Trent @ RMC
(W) Volleyball
Upcoming (W) VB matches
Sat 13 Jan 12:00 PM   RMC @ Nipissing
Sun 14 Jan 2:00 PM   RMC @ York
Sat 20 Jan 1:00 PM   Trent @ RMC
Fencing:
Upcoming competitions
Sat 13 Jan  8:00 AM – 8:00 PM    Carleton Invitational @ Carleton U
Fri 19 Jan  8:00 AM – 8:00 PM    Canada Cup @ Quebéc City