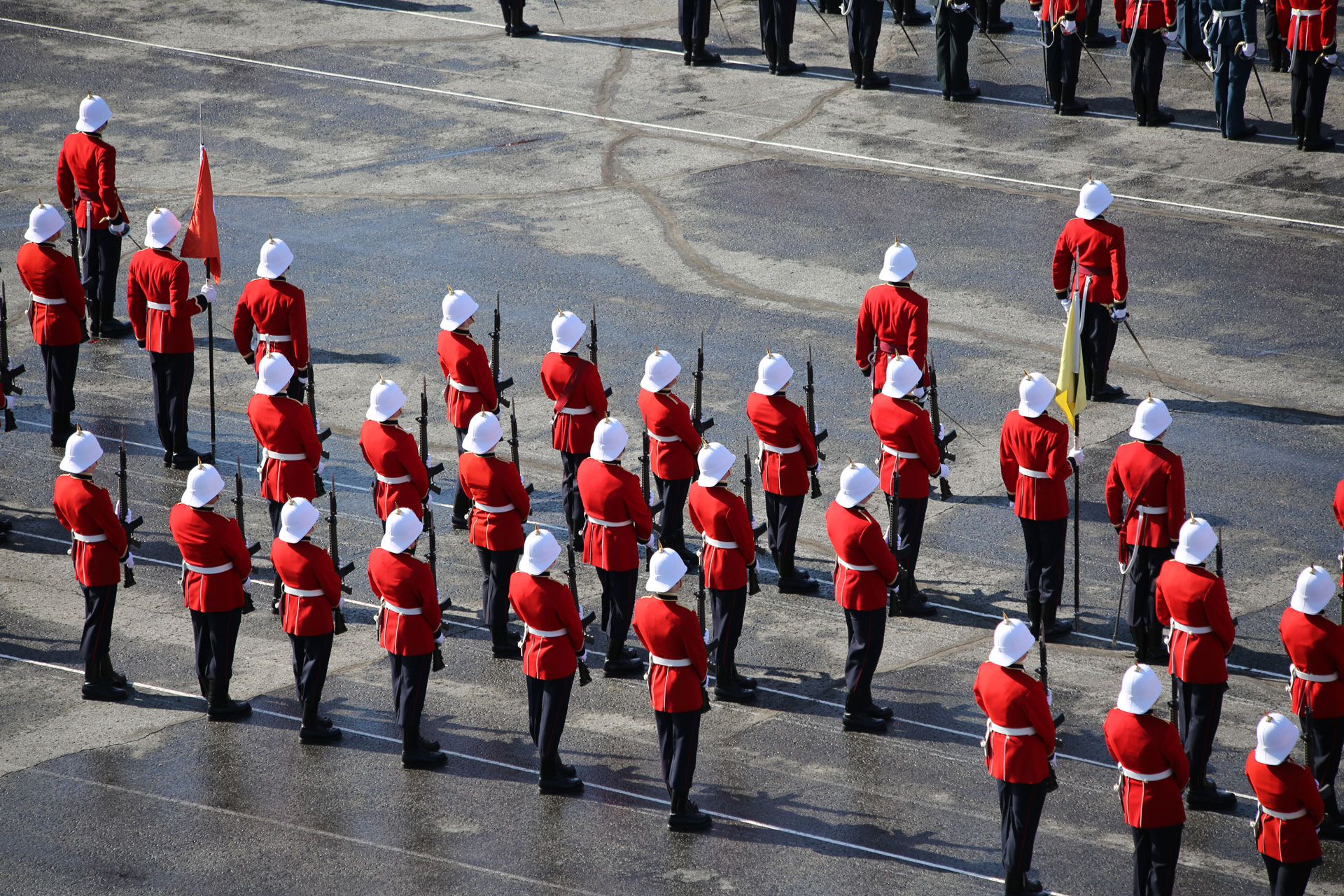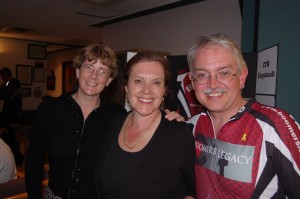 Caption: Andrew Bryan, his wife Deanna and Maureen Eykelenboom, who is Boomer's mother and the founder and irresistible force behind Boomer's Legacy. Andrew dedicated his ride to Capt Matthew Dawe who was KIA in Afghanistan 4 July 2007.
Boomers Legacy Ride 2010
by AJ Bryan – VI Ex-Cadet Club, 2nd VP 14530 Andrew Bryan
Four years ago, Chief Warrant Officer Todd McGowan decided to ride a bike from Victoria to Comox in order to attend a fundraising dinner in memory of his fellow combat medic, Cpl Andrew Eykelenboom. "Boomer" was killed in 2006 during a suicide bomb attack in Spin Boldak, Afghanistan.
"Boomers Legacy" was started by Maureen Eykelenboom in memory of her son. The charity provides funding for Canadian soldiers to help the people of Afghanistan by addressing needs only soldiers might see, "on the ground, outside the wire".
Only four years later, this past Friday I joined 94 other cyclists in Comox as we began our 240 kilometres ride to Victoria.
More on this VI article & Calgary Lobster Feast…
The day before, those of us who arrived in Comox on a military bus were hosted at the Comox Legion and generously "fueled" with burgers and beer. Briefly, with our bikes and wearing our colourful jerseys we served as the backdrop as Ed Bain from CHEK 6 News delivered the weather report and highlighted our cause.
Friday morning was hardly auspicious as we awoke at the Quadra Sea Cadet Camp. Cold and overcast as we waited for the vehicles to transport us to CFB Comox, the rain began. Luckily by the time we gathered, bolstered by the remaining riders for photos at the main gate of CFB Comox the rain ended. It would not return.
We began our first short "leg" cycling to a local cemetery for a brief graveside ceremony. Along the way we were amazed at the sight of children standing roadside in front of their elementary school waving small Canadian flags and quietly chanting "Boomer, Boomer . ."
We would leave Courtenay led by "Constable Tim and the blinky bike". Tim, an RCMP member who volunteered – on his own time – to escort us all the way to Victoria. Riding a traditional Police Harley Davidson freshly adorned with more modern LED lights than I thought possible it would be Tim, along with RCMP members from numerous detachments along the way who provided us a safety margin without which the ride would not have been possible.
The ride would have many special moments. The riders, driven forward for many reasons. Our ranks would include serving military members including Captain (N) Marcel Hallé, Base Commander CFB Esquimalt and Jackie Girouard, who joined the CF after her husband, CWO Robert Girouard was killed in 2006.
The civilian riders included a core group from the Campbell River triathlon club led by Deb Koster. Our bikes adorned with the pictures and names of the 147 Canadian soldiers killed in Afghanistan the ride would be their way to "give back" and recognize their sacrifice. They would be joined by Bryan, David and Leona Stock, family of Sapper Stephan Stock killed in 2008.
At some point in the ride Ed Bain would manage another weather forecast and Jack Knox would miraculously, in the midst of all this mayhem find enough time on his laptop to write an article. The quality and meaning of which would do us all proud.
Our support crew did an amazing job filling us with bananas and Gatorade at rest stops. At lunch Thrifty Foods provided an amazing quantity of sandwiches and fruit to fuel us on. With the addition of adrenalin and emotion the combination provided an amazing impetus for our ride. Arriving at one rest stop I looked at my computer in disbelief . . 80 kilometers.
The distance would grow. When the computer read 122 kilometres we arrived at the Brigadier Sargent Armoury in Nanaimo.
A spaghetti dinner at the Nanaimo Legion helped us recover and refuel for the day ahead. The next morning, groggy from trying to sleep on cots with the other 94 riders in the drill hall we were all buoyed by a visit from Captain Trevor Green and his fiancée Debbie. Nearly killed in an ax attack in Afghanistan in 2008 he is now in a wheelchair. Speech careful and quiet as a result of his injury we would all move in closer in order to hear his words . I could see him carefully considering his thoughts, and quietly say to us all, "Go like hell" . .
We mounted up and headed out of Namaimo, Tim and his myriad of bright flashing lights in the lead. The climb up toward Cassidy before muscles were fully warmed up to the challenge. The weather much warmer than the day before we rode on eventually stopping at a mountain of sandwiches outside the Thrifty Foods in Mill Bay. It was at this point that the ride "split" with half the riders heading to the Mill Bay Ferry and a ride into Victoria along the Saanich Peninsula while the rest of us prepared ourselves for the ride over the Malahat.
At the top of the first long climb out of Mill Bay I looked back to see another rider fall. By the time I reached her side it was only seconds before Chris Kaye, Chief Warrant Officer of the CFB Esquimalt Base Hospital bailed out of the first support vehicle with his team of "medics" in hot pursuit. I moved on, knowing she would receive the best of care. By the time I reached the next, much longer climb the weather was downright "toasty". It was a good climb, a strong climb. The words of Trevor Greene, "Go like hell" foremost in my mind.
At the Spectacle Lake turn-off 2 kilometres beyond the summit, we were greeted by the support crew. Bottles of Gatorade and a most thoughtful bag of "Twizzlers". While we rested, Todd McGowan and our RCMP escort finalized the "safety plan" for our descent of the Malahat. A large Chevy Suburban, LED light bar ablaze provided the rear "block" as we proceeded into the traffic lane, with a patrol car in front setting the 50 kilometre per hour pace for our descent.
Regrouping at Eagle View Elementary School in View Royal we set off for Victoria, joined by Rear Admiral Pile and his Command Chief for their first ride on "road bikes". We progressed, the lights and sirens of our RCMP escorts leading the way through downtown Victoria and onto the grounds of the legislature. Our objective had been reached. No major crashes, not a single rider unable to complete the ride. Even the rider I left in the hands of the "medics" near Mill Bay had been treated and was able to complete her ascent of the Malahat.
A brief ceremony was held on the grounds of the legislature. Admiral Pile presented Maureen Eykelenboom with the Scroll and Bar to the Sacrifice Medal posthumously awarded to her son. His words would be followed by those of Marcel Halle. His thoughtful, emotional words instilled by the amazing experience we had all shared.
We retired to be hosted at the "Bard and Banker" pub. Beer all round and I suspect a world record for the speedy consumption of nachos and chicken wings.
With transport to the Ashton Armouries in Saanich we arrived noting the significant effort expended by Major Barry Walker and the soldier "medics" of 11 Field Ambulance. Row upon row of nicely assembled "cots" filling the drill hall. The ear plugs laying on each cot a very thoughtful touch. We would find Barry commanding the BBQ's. A lovely meal including salmon, chicken and corn-on-the-cob donated by fellow rider Gerald Hartwig of Hartwig Industries. Later, Josh Lovell would leave many teary eyes with his rendition of the song "Kandahar Fields". We would continue to celebrate the completion of our ride with fellow rider and DJ, Ken "Hurricane" Himes.
In 1986 I was diagnosed with a fatal but treatable condition called Addison's disease. It would end my military career. Twenty-four years later, thanks to the miracles of "first world" health care I was able to complete a 240 km bike ride in under 48 hours. I am blessed with my wife Deanna and three teenage girls, Kaitlyn, Nicole and Sarah.
In Afghanistan one in six women will die in childbirth. The second worst statistic for maternal mortality of any country on the globe matched only by Sierra Leone. Boomers Legacy has committed to fund a midwife training program at an Afghan hospital which will see rudimentary health care reach many Afghan villages for the first time. And the hope that this tragic statistic can be reversed.
So next year I plan to get back on my bike and do it all again . . "For Boomer"
For further information see www.boomerslegacy.ca
___________________________________________
"The Calgary Branch held their annual Lobster Boil recently, thanks to all those that attended and helped out. The food and service were outstanding, and over 60 branch members and guests attended. We raised $400 for the Loops for the Troops run, well done all. We're already thinking about a golf afternoon and pub night later on in the summer. Great to see everyone out, monthly lunches will pick up after Stampede."