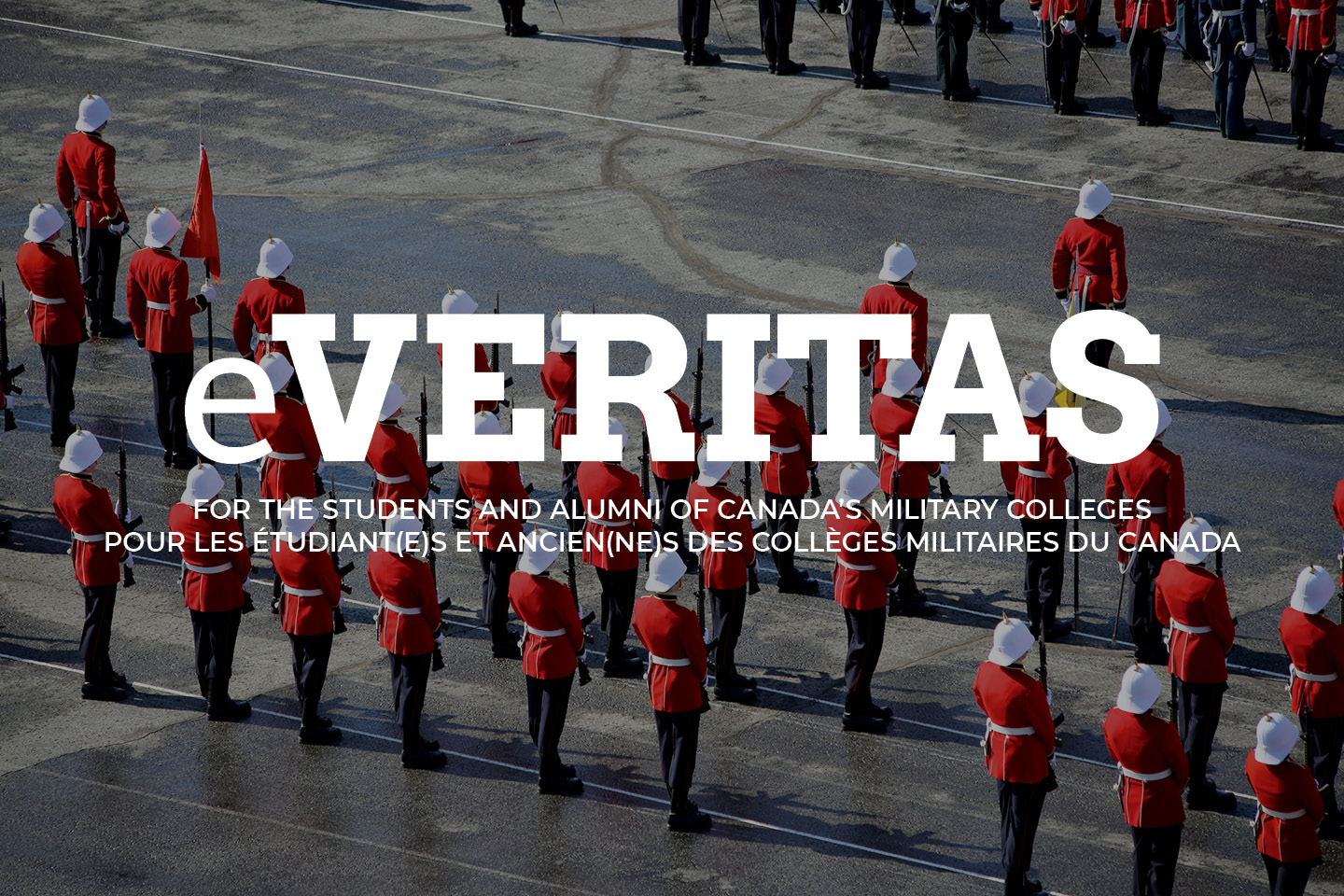 Victoria Edwards Catches Up With Bill McColl – The Same Gentleman Who Kept the 4 Year RMC Diary
E3161 Victoria Edwards interviewed 3069 Bill McColl (RMC 1953), member of the early band at the Royal Military College.
e-veritas: What follows is a profile of 3069 Bill McColl taken from RMC Review Yearbook somewhat amended to highlight points that would have been well known at the time: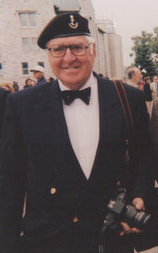 3069 C.F.L. William Alastair "Alabaster" McColl was born the 25 Jan. 1931, in Port Arthur, Ontario. He graduated from Runnymede Collegiate in Toronto in 1949, and is taking Commerce at R.M.C. At the College he participated in boxing, pistol shooting and gymnastics. In his third year he was assistant manager of the Senior Football Team, and became manager in his fourth year. He has achieved some success as a sailor, but he and Bigelow went down together in the 1952 regatta. Fatty is a practical joker, gets a big kick out of instigating skits and has a great belly laugh. He has an amazing affinity for sleep, even under the most adverse conditions: a fine collection of unprinted cartoons, a good camera and a remarkable nose for food. Periodically he grows bushy moustaches. They tickle! He is the No. 1 Squadron Training Officer, and loves standing by the flag-staff screaming, "Get your left arm up Graham!" A gunner, he spent two summers on the sandy wastes of Shilo, and a third in Germany with 79th Fd. Regt. R.C.A. His ambition is to be a Chartered Accountant. We all like Fatty except the No. 1 Squadron I Recruits who would like to see him on the flag pole rather than a dark blue flag.
e-veritas: You were a member of the Moon's Marines bugle & drum band, which predated the pipes and drum band at RMC.
xx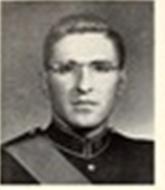 Bill McColl: I'm going to have to take issue with the statement that RMC Band is celebrating 60 years. The band had its first practice out in the Fort on November 28th, 1949 but because there was a bit of experience with bugle bands it didn't take long to produce a reasonable march. The rest of the cadet wing heckled us unmercifully but the band persevered. So on January 29th, 1950 the band was allowed to parade on the square. The Regimental Sgt Major Coggins saw to it that it was a Saturday morning drill parade with no spectators around first thing. Anyway, we did well enough that we led the cadet wing into Kingston on a church parade. The other point to mention is that produced a body of buglers to sound various calls. The band was called "Moon's Marines" after the leader 2962 Edward 'Moon' Hall. [2962 Edward 'Moon' Hall is described in the RMC yearbook as a likeable happy-go-lucky chap holding the position of College bugler for 3 years.]. I have a sense there were maybe six or seven cadets who could act as duty bugler but there was no such position as college bugler.
e-veritas: What instrument(s) did you play?
Bill McColl: I volunteered to play with the RMC bugle band since I had played trumpet and euphonium with the high school brass band. At RMC, I played the bugle as duty bugler and also as part of the bugle and drum band. I also played the bosun's pipe which was never part of the bugle band.
e-veritas: What challenges did the early band face?
Bill McColl: The military was reluctant to train bandsmen at RMC. It wasn't at all clear that the military needed a cadet band. Consequently, we weren't allowed to play in public until we could play competently. We had to rely on tunes that we knew my heart, since we didn't have any sheet music for tunes or marches. I still have my old brochure of bugle calls, though. Although Moon Hall did the organizing, we lacked a band master. Since we didn't have any music which could be played by pipe, bugle and drums, we didn't actually play together.
e-veritas: What tunes did the band play?
Bill McColl: The tunes were simple, for example "There's something about a sailor".
[The Air Cadet's March book contains drill and ceremonial information http://www.547canucksquadron.com/THE%20AIR%20CADET%20MARCH%20BOOK.pdf ]
e-veritas: Any notable performances?
Bill McColl: The first time we were allowed on the parade square with the cadet wing was a notable performance. We performed first thing on a Saturday morning. The cadets were poking fun all the time and anticipated that the band would screw up. 2881 Larry Richard, who didn't have a proper marching bass drum carrier, slipped on the ice and fell on his back. Since he continued to play, the buglers were unaware of what happened and had carried on. The cadet wing erupted in laughter. R.S.M. Coggins went crazy; he was beside himself since he wanted the parade to go off properly. After Larry Richard got up and rejoined the band, we led the cadet wing around square and to the church parade. Over all, it was a great success: Moon Hall was promoted and given a bar to wear on his collar.
e-veritas: Did the band have special uniforms, regalia or instruments?
Bill McColl: No, we performed wearing our standard cadet uniforms. The Staff Adjutant, Major P.T. Nation got eight American style bugles and 6 drums for us. A few cadets, for example the pipers, 3146 Ken McCrimmon (RRMC RMC 1953) and 3051 James Herbert Graham (RMC 1953) arrived at RMC with their own instruments.
e-veritas: The Class of 1953 Piper, 3057 Captain (Ret'd) Rodney Hull Q.C. LSM (RMC 1953), passed away December 8, 2009.
Bill McColl: Although Rod Hull was our piper at class reunions, he didn't play with the "Moon's Marines" band at RMC. Rod learned how to be a piper later, when he was living in Toronto; [He was a member of The Richmond Hill Centennial Pipe Band for many years. He founded the Toronto law firm Hull & Hull LLP with his son, Ian Hull, in 1998.]
e-veritas: In your diary entry for Nov. 28 – 1949, you write "The bugle band got practicing tonight in the Old Gym. I might get a bugle. We have 8 American style bugles and 6 drums." Where did the band practice and who taught the band to play?
Bill McColl: We practiced in the Old Gym, out in Fort Frederick and behind the mess hall. Most of the band members already knew how to play and had experience from their high school or cadet bands. Since I already knew how to play trumpet and euphonium, the bugle and bosun's pipe weren't a stretch. 2962 Edward 'Moon' Hall was the organizer. For formal events, like graduation and the sports awards, RMC invited military bands to play. For example, the Royal Canadian Electrical and Mechanical Engineers (R.C.E.M.E) bugle band came down from Barryfield to give us a hand. Central Command Air Force band, and Royal Canadian Regiment (R.C.R.) band came down and played at various times. They were exceptionally well drilled and put on quite a show. Although we played with R.C.E.M.E and Central Command Bands, and learned whatever tunes they knew, we didn't play with the R.C.R. band.
e-veritas: In your diary entry for Dec. 4, 1949, you wrote "I'm going to get charged for not blowing turnout on the upper deck."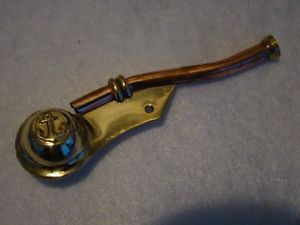 Bill McColl: Although it was my turn to play the bosun's pipe, I slept in. I was put on defaulters for a number of days, which meant I was expected to turn out and to be inspected at 6:30am and at night and to participate in drill on the parade square.
Since the bosun's pipe was given to the recruit on duty; it moved from one person to the next. The bosun's pipe has a high-pitched, loud tone. There are two main notes; the low and the high, and three tones; the plain, the warble and the trill. Playing the Boatswain's Call, bosun's pipe or whistle is the Naval method of passing orders: The Still, which calls all hands to attention; Carry On negates the still; General Call draws attention to the order; Officer of the Day Call attracts the attention of the Officer of the Day; Pipe the Side for Royalty, the Accused when entering a Court Martial, for the Officer of the Guard or when a Commanding Officer of a HMCS ship arrives onboard; Hands to Dinner commences the mid-day meal and Pipe Down when the silent hours period commences.
e-veritas: According to your diary, you served as the College bugler, "As Moon Hall is sick and won't be back for a while, I am duty bugler now."
Bill McColl: Bugle calls regimented a cadet's life totally. He was awakened by the bugle call "Reveille", he ate when "men's meal" was sounded, he ordered to "Fall In" by bugle and he was sent to sleep by the bugle playing the "Last Post". This was the first time I have ever had a chance to see a parade—up 'til now I had always been in the parade and unable to see the overall picture from the sidelines. As duty bugler, blowing the bugle was a good job because all I did was blow "Advance" to indicate that the original direction is to be resumed then stand at ease and watch the proceedings as they practiced for a ceremonial parade. [12 Jan 51]. [The Cadet special ceremonial music selection http://www.547canucksquadron.com/PacRegnCeremonialMarchBook1999-v1.pdf]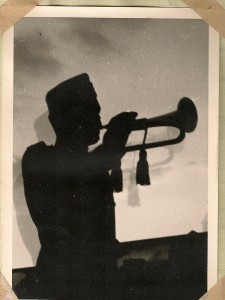 e-veritas: How did the cadets respond to being awoken?
Bill McColl: If a bugler plays reveille to wake a cadet up, especially if the call was out of tune, he would typically hurl abuse on person. I never had anyone throw anything at me. For a few weeks my mouthpiece was hidden, but I finally found it and was able to practice a bit. Then however the whole bugle was gone! One night, I came back from the gym and couldn't turn on my lights. I got up on a chair and tipped up the plastic lampshade and just missed being drowned by water hidden in it. After that I rummaged around, found the bulbs and when I had the lights on discovered that my bugle had been returned. I strongly suspect 3004 John Dowsley and 3070 Hugh John McDougall of the skullduggery.
e-veritas: You mention in your diary that you were at risk of failure at one point.
Bill McColl: At the time, RMC posted a list of all those probably going to fail, if they didn't buck up. If you were on that list, but you came close or did well in most classes, you might be permitted to redo your year. Approximately 30-40 cadets dropped into the next year. The wastage was approximately 40%, who simply were not allowed to repeat or who dropped out. My brother 3660 Don McColl (RMC 1956), for example was not allowed to repeat. Don played on the cadet senior football team, and went on to have a long, successful civilian career.
e-veritas: You served as President of the Winnipeg branch of the RMC Club.
Bill McColl: I joined the RMC Club when I was working as an accountant and serving as a reservist with the 29th Field Regiment in Toronto. I was elected President of the Winnipeg branch of the RMC Club from 1968-1978. The Winnipeg ex-cadet club maybe only had a dozen members. We were joined by others passing through in the Army or Air Force. There would be serving officers at Fort Osborne or at the airbase but we didn't have much chance to link up with them. When we moved away from Winnipeg, H3062 Allen Kear (RMC 1953) took over as President. We met in the Reserve Unit Mess. Over Xmas time, we hosted a Xmas party and entertained cadets who were home visiting family.
Well done to all those who have been in the RMC band at one time or another over the years! A painting of a RMC bugler playing last post was gifted to recognize that there were College bugler(s) before there was a RMC pipes and drum band.
PREVIOUS ARTICLES ON THE BAND FROM VICTORIA EDWARDS:
4104 Murray Thom (RRMC 54-56, RMC 56-58) Remembers…
MWO Ron Reedy, Band Officer https://everitas.rmcalumni.ca/?p=105529

4610 Major (Ret) Gus Nelson (RRMC RMC 1959) https://everitas.rmcalumni.ca/?p=105009
5215 LCol (Ret) Larry Springford (RMC 1961) https://everitas.rmcalumni.ca/?p=104776
3506 Ron Capern; 3591 Donald Gregory; 3954 William Hughes https://everitas.rmcalumni.ca/?p=44730
3480 Mo Hewitt https://everitas.rmcalumni.ca/?p=43587
MWO Doug Craft https://everitas.rmcalumni.ca/?p=40640
CWO Jack Kopstein https://everitas.rmcalumni.ca/?p=45663
WO Eugene Heather https://everitas.rmcalumni.ca/?p=40273
MWO Martin Huppé https://everitas.rmcalumni.ca/?p=41085
MWO Chris Embree https://everitas.rmcalumni.ca/?p=70409