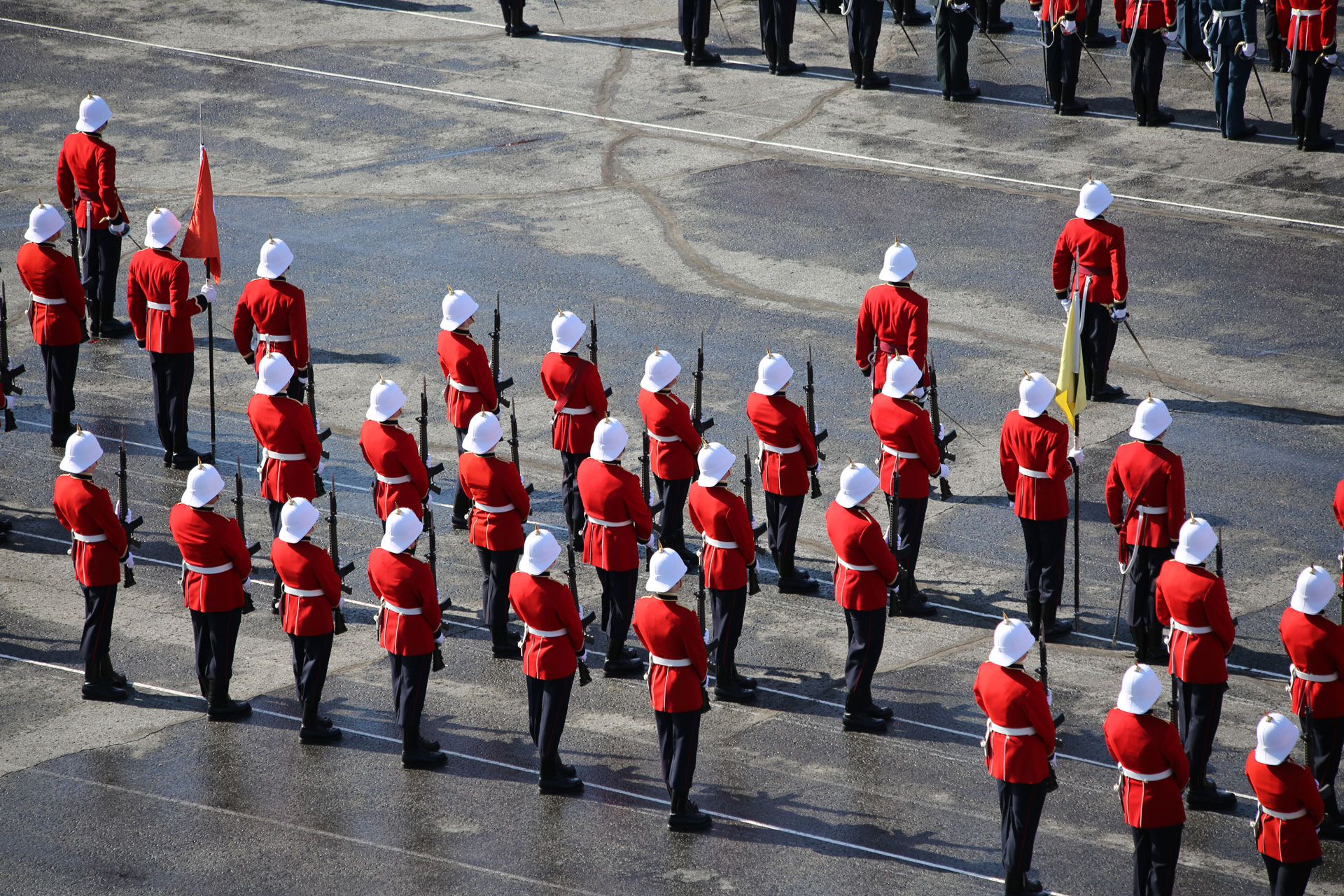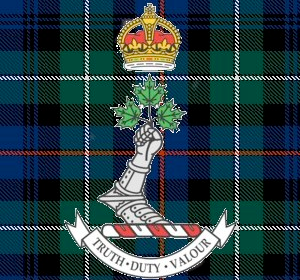 E3161 Victoria Edwards (RMC 2003) recently spoke with  MWO Doug Craft, CD, who was posted to RMC as Band Officer / Band Sergeant Major / Drum Instructor from 2002-2007.
E-veritas: What was your primary duty? What do you consider the high-light of serving at the Military College?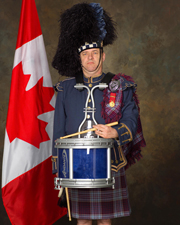 MWO Doug Craft: I spent six years at the Royal Military College of Canada in Kingston as the Band Officer / Band Sergeant Major / Drum Instructor. I thoroughly enjoyed my posting to RMC and had a great time. I loved working with young leaders in military. As a long-time member of the Canadian Forces, it was a terrific opportunity to mentor and instruct young leaders at a grass root level. A high-light of serving at the Military College was when my daughter enrolled at the College. I was emotional when I left the College. I will always have many fond memories of my time and my daughter's time there.
E-veritas: As a parent of a daughter at RMC, how do you counsel her to balance the four pillars of academics, military, athletics, and bilingualism with extra curricular activities like Highland Dance?
MWO Doug Craft: It is a challenge for cadets to balance all of the pillars with extra curricular activities. My daughter Ocdt. Katelynn Hodges is a member of #3 Pontiac Squadron in 3rd year general arts. The balancing act changes throughout the year. This summer, her studies in bilingualism take priority since she is on official language training. Most summers are allocated to OJT which ensures that the military pillar takes priority. During the school year, her studies in Psychology, military and athletic pillars take priority over extra curricular activities. Since she has been highland dancing since she was five years old, she has considerable experience with balancing dancing with academics and other interests. She has performed with the RMC Highland dance team. My wife and I are very proud; we enjoy visiting her at the College and we look forward to her graduation from RMC.
E-veritas: What were your greatest challenges at the Military College?
MWO Doug Craft: The primary challenge was that there was not enough time for practice. The practice was 3 days a week and some of that time was set aside for drill rehearsals. Time is at a premium at a Military College. Fortunately the cadets are avid musicians and dancers who love to make music or dance more than they enjoyed sleeping in (most days).
E-veritas: The RMC P&Ds played during College Physical Training (PT) and practiced outdoors.
MWO Doug Craft: Absolutely! 12192 BGen Tom Lawson (RMC 1979), then Commandant wanted the Pipes and Drums to play on Wednesday mornings during College Physical Training. Band members were posted on strategic locations on Point Frederick and Fort Henry. As a piper, BGen Lawson understood that any of the marches can keep morale high and rouse the troops. As the school year went on, the cadets marched for longer distances, from 2, 5, 10 kilometers. I'd like to think that the cadets appreciated the music during physical training. We took advantage of the good weather to practice outdoors during the fall and spring as we got ready for the Arch Parade, Sunset Ceremony and Graduation.
E-veritas: To what extent did RMC differ from your other postings?
MWO Doug Craft: In 1982, I joined the Canadian Forces infantry with The Royal Canadian Regiment and was posted to the 2nd Battalion (2RCR) at Canadian Forces Base Gagetown. I was posted to the Canadian Forces School of Music Detachment in Ottawa for the Drum Instructors course. Upon graduation, I remustered into the musician trade. I was posted to the Special Service Force (SSF) Pipes and Drums in Petawawa as Drum Instructor. While with the SSF Pipes & Drums I was attached to the RCR Battle School for four years and later with the SSF Headquarters and Signals Squadron for another two years. During this six-year period with the SSF Pipes and Drums I led his drum corps to two Champion Supreme Titles, winning both the Canadian National Championship and the North American Championship. Since then, I completed two postings with the Air Force, 14 Wing in Greenwood and 8 Wing in Trenton. There is a small, select group of 15-18 pipers and drummers in the Canadian Forces and we all know each other.
A posting to RMC is/was considered to be a prestigious stepping stone in the musician trade. It is an opportunity to learn and to see a different side of the Canadian Forces, and a different side of the musician trade. At RMC, the focus was on instructing and administration. Unfortunately, I didn't have a lot of opportunity to read or write music or to play with the RMC Pipes and Drums. I looked forward to the opportunities for travel with the RMC band such as the annual band exchanges with the United States Military Academy (USMA) at WestPoint and the United States Naval Academy (USNA) at Annapolis. I have shining eyes and remain a believer in the RMC Pipes and Drums.
E-veritas: Did the cadets ever play skylarks on you?
MWO Doug Craft: The cadets tended to play skylarks on each other or on 12192 BGen Tom Lawson (RMC 1979), then Commandant rather than on me. My favourite skylark was when a dummy in a band uniform was thrown off the Mackenzie clock tower. At the time 21745 Captain Brendan Clancy (RMC 2000) was the drum Major and G1324 Col William Peters was the Director of Cadets. Although I suspect the trickster who pulled the prank, I won't tell. As a supervisor/instructor, it is not always possible to turn a blind eye to skylarks. There were always things going on and the skylarks were frequently led by a few good suspects. As a musician, I enjoy a good skylark. I look the skylarks in a good humour. Young cadets driving our country, mean well. As young adults, the band members occasionally will do things we've all done at some time, for example having a beer or missing a curfew. In my experience, the cadets meant well and the skylarks were good natured and not malicious. I wanted the cadets to have a good time in the band. The band offered the cadets opportunities to relieve the stress and pressure of College life. Although the cadets worked hard, they also mingled on different level with their colleagues. Skylarks can be a way to build camaraderie and morale within the pipes and drums.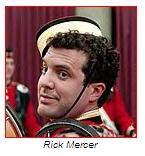 E-veritas: Did the RMC band perform on television or produce any recordings at RMC?
MWO Doug Craft: Sure. The Rick Mercer's Monday Report filmed a segment called "Learning the ropes at the Royal Military College" which appeared in January 2005 on the CBC. In the video, RMC P&Ds played Trooper's 'Raise A Little Hell' with actor and comedian Rick Mercer. Rick Mercer also rappelled down the College rappelling tower. http://www.cbc.ca/mercerreport/video_player.html?royal_military_college
RMC bands have produced several recordings over the years including two CDs a few years before my time. While I was at RMC, we laid a few tracks down but we didn't produce a recording.
E-veritas: Do you follow the careers of any of the former RMC cadets?
MWO Doug Craft: Certainly. I follow the career of astronaut 13738 Colonel (Ret'd) Chris Hadfield (RRMC RMC 1982) who flew in the space shuttle Endeavour and walked in space. I am impressed that he remembered RMC while soaring overhead. There is a photo of Hadfield in space with his RMC cap badges floating in front of him in the RMC Sawyer library space exhibit. Hadfield later donated the cap badges, which had flown in space to the RMC museum.
E-veritas: Do you have any tips?
MWO Doug Craft: I encourage cadets to audition for and perform with the RMC band(s). When it gets difficult to balance work and extracurricular, I encourage cadets not to quit but to give it a couple weeks. During periods of on job training, I encourage cadets to audition and perform with the base bands. I strongly encourage cadets to continue their musical careers after they leave the College for military and civilian careers. I encourage the cadets to enjoy every day of their college/military/civilian careers. Serving with the band is a great way to make friends for rest of your life. I encourage alumni to catch the RMC band(s) performances whenever possible as they continue their careers in the Canadian Forces and in civilian positions.
E-veritas: What are you doing these days? Do you play with any ex-cadets?
MWO Doug Craft: I was posted to the Central Band in Ottawa in July 2008 and am Leader and Drum Instructor for the Air Command Pipes & Drums. The band was officially created October 7th 1949 and has the distinction of being the longest continuous serving Air Force Pipe Band in the Canadian Forces. I keep busy instructing, performing with brilliant musicians and administering the Air Command Pipes and Drums. Military processions that include the Air Command Pipes and Drums have the honour to take flag-draped coffins to funerals at the Beechwood National Military Cemetery. We frequently perform for many dignitaries both at home and abroad including His Royal Highness Prince Philip and Queen Elizabeth, the Governor General, the Prime Minister and the Chief of the Defence Staff. As I am out amongst Bands, I am working with some of the officer cadets I worked with at RMC such as pipers 12201 Col Ken Mackenzie (RMC 1979) and 12423 Capt N Rick Houseman (CMR RMC 1980). Several military college alumni play with the Air Force Pipe Band in Ottawa: 3185 Fred Aldworth (RMC 1954), 22130 LCdr Rob Waller (RMC 2001) and 22612 Captain Janus Cihlar (RMC 2003) play Pipes. 22153 LCdr Melody Szabo (RMC 2001) played the Snare drum prior to being posted to HMCS Calgary and 21437 2Lt David Brown (RMC 2000) played pipes prior to being posted to St John's.