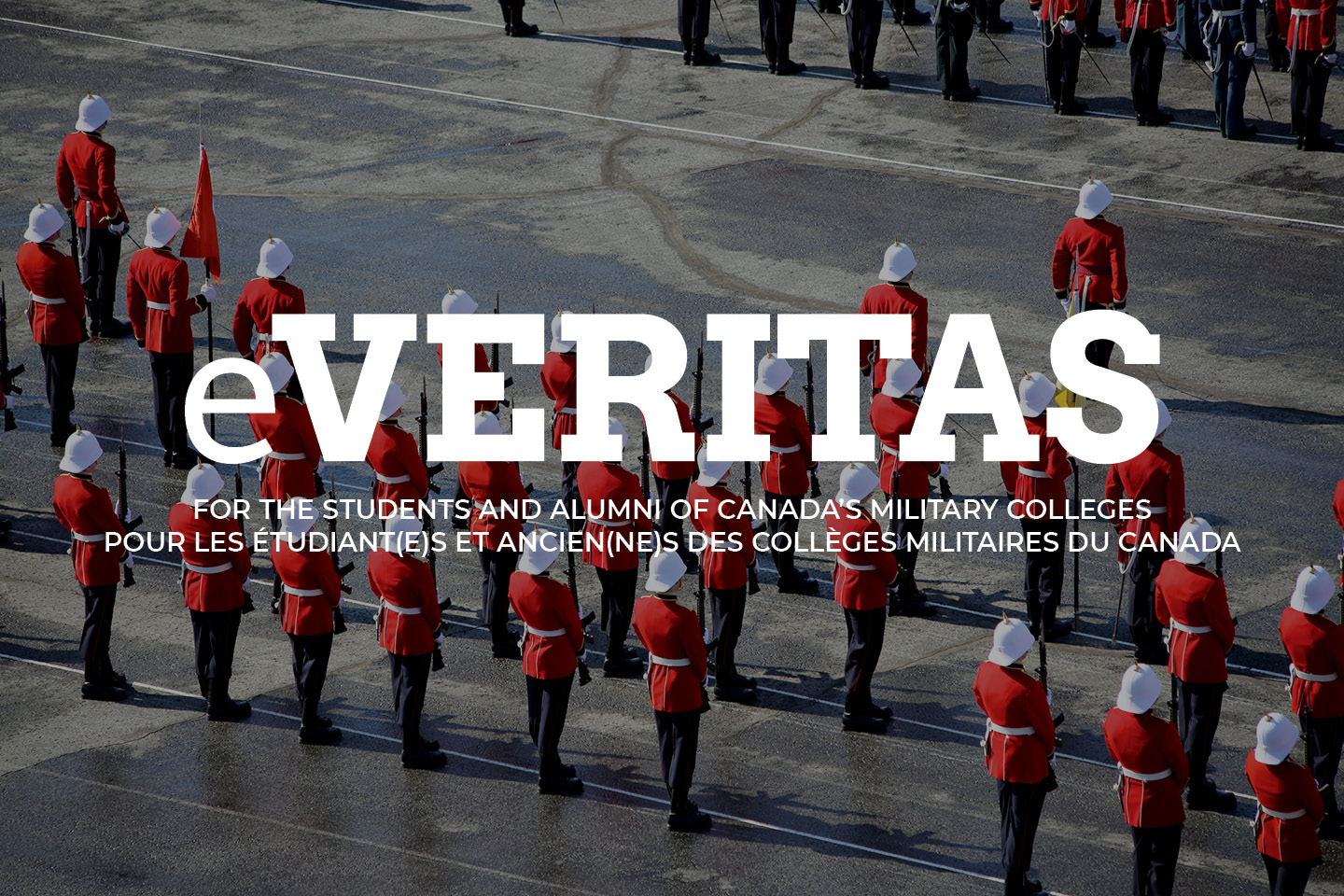 First in a series of Ex cadets and other Canadian Military College graduates who have been recognized for above and beyond the call of duty.
E3161 Victoria Edwards recently contacted 14090 Kevin M Tyler a recipient of the Bronze Star Medal.
e-veritas: What are you up to these days?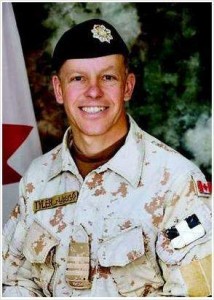 14090 LCol Kevin M. Tyler: I currently serve in Kamloops, B.C. as Commanding Officer of the Rocky Mountain Rangers. I came to the Rocky Mountain Rangers from the Canadian Maneuver Training Centre in Wainwright, AB, where I was Chief Plans Officer and then Deputy Commander. I have served 32 years in the Canadian Forces and I keep fit by running and cycling to and from work. My wife and I are enjoying our posting in Kamloops and are looking forward to retiring in B.C.
e-veritas: What was your main extracurricular activity while at the military college(s)?
14090 LCol Kevin M. Tyler : I attended Royal Roads for two years followed by two years at RMC. I graduated in 1983 from RMC in Kingston with an Honours Bachelor of Arts in Political Science and a Minor in Economics. At both RRMC & RMC, my main extracurricular activity was the outdoors club; I participated in caving trips on Vancouver Island, in the Rocky Mountains, and in the United States. The highlight from RMC was meeting my wife Joanne though the RMC-St Lawrence College-Queens University Choir. I have been married to my wife Jo-Anne for 28 years, and we have two adult sons.
e-veritas: What have you been doing since you graduated?
14090 LCol Kevin M. Tyler : I began my military career after RMC with 2nd Battalion of The RCR in New Brunswick. I have served throughout Canada and overseas, with postings alternating between regimental, training and staff duties. I also completed the Canadian Forces Staff College Toronto. Other highlights of my military career include time with the 1st and 4th Battalions RCR, instructing with the RCR Battle School in Meaford, ON and the Land Staff College in Canungra, Australia where our kids completed high school. I completed deployments to Bosnia and to Afghanistan. I enjoy reading non-fiction and am an avid outdoorsman and adventure sports enthusiast. I enjoy leading caving expeditions as part of the adventure training in various units.
e-veritas: You were awarded a Bronze Star.
14090 LCol Kevin M. Tyler: Yes. I served for 13 months as US brigade staff officer in charge of police development in Afghanistan, where I was awarded a Bronze Star. US soldiers, RCMP and civilian police worked for me, as police trainers and mentors. In Afghanistan, relatively few of the police officers had attended school; 80% of the police officers were not literate in their own language. Consequently, the schools relied on hands on instruction, videos, diagrams, and posters. The training consisted as military basic training, soldiering skills and police physical skills such as securing a crime scene and the use of handcuffs. The police officers were lectured in the rule of law and the legal system. Senior police officers were lectured in conflict resolution. Professionalizing the police was an important first step. In the villages, the traditional justice system was still functioning with IMAMs holding court. Overall, though, there were endemic issues within the justice system. Prosecutors were not paid enough, and bribery was a concern.
e-veritas: Have you returned to the tour the campus?
14090 LCol Kevin M. Tyler: I had the chance to return and tour the architecture, gardens and museum of the Roads campus last summer. I remember how the campus was particularly noisy during exams since they coincided with the mating season for the albino peacocks.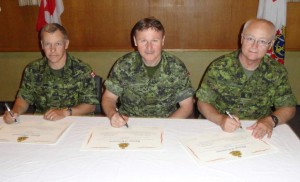 LCol Tyler, left, takes command of the Rocky Mountain Rangers at the official change of command ceremony.