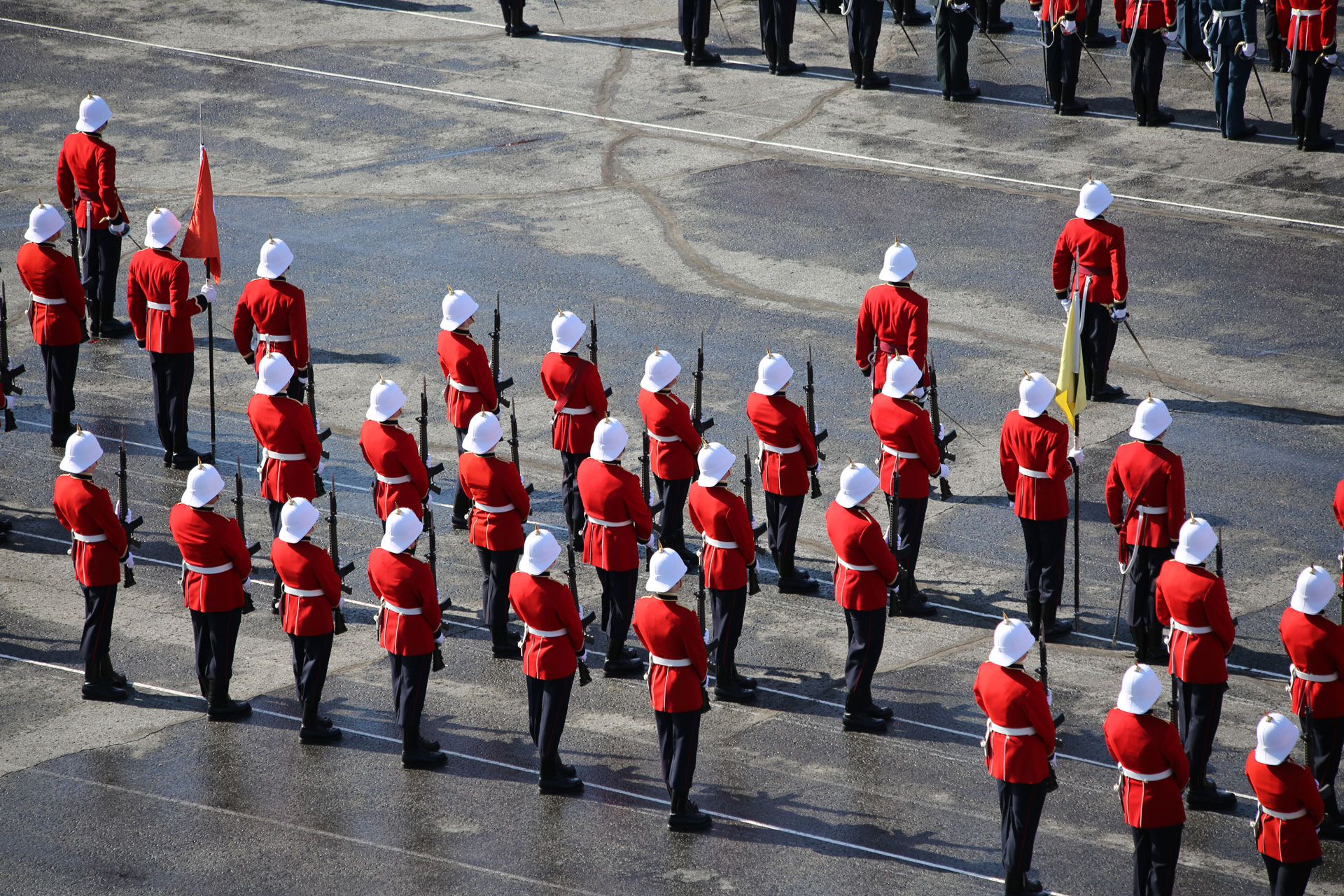 E3161 Victoria Edwards (RMC 2003) interviewed CWO (retired) Jack Kopstein CD, the musical director of the RMC band from 1988-1990.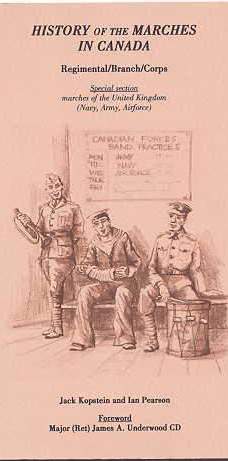 E-veritas: You served as the musical director of the RMC band from 1988-1990.
Jack Kopstein: From the time I was nine that being a military band member was what I wanted to do. When I saw soldiers coming back from the Second World War there was something about it.
I took the position as the musical director of the RMC band from 1988-1990 after a 35 year career in the CF playing and overseeing some of Canada's best military bands as both a musician and bandmaster.
E-veritas: Any highlights?
Jack Kopstein: There were two special occasions that stand out for me – the band`s participation in the Gray Cup parade in Toronto and a magnificent stage band performance in Oshawa for which the band won an award. The adjudicator Bobby Harriett said the band was excellent. We worked very hard.
E-veritas: Since your retirement from the Canadian military in 1988 and subsequent move to Chilliwack in 1995, you have become involved in a variety of musical groups in the community.
Jack Kopstein: I play the clarinet with the City of Chilliwack symphony orchestra, which offers quality concerts for the citizens of Chilliwack and the surrounding area. I also perform a selection of popular tunes and share humorous tales and anecdotes with fellow musicians. Last December for example, I returned to the Chilliwack library for an enjoyable hour of Christmas musical favourites and humour.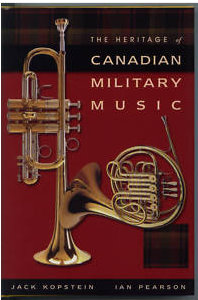 E-veritas: You authored ` When the Band Begins to Play: A History of Military Music in Canada (1992). You co-authored (with Ian Pearson) `The Heritage of Military Music in Canada` (St. Catharines, Ont.: Vanwell Pub., 2002) and `The History of the Marches in Canada: Regimental/Branch/Corps` (Hignell Printing Ltd, 1994).
Jack Kopstein: Yes, I began researching `The Heritage of Military Music in Canada` in 1969 after my band in London, Ont. was displaced to Gagetown, New Brunswick. Through our long time interest and experience with military bands Ian Pearson and I have collected information on individual bands, marches and songs, recordings, and many rare photographs which are featured in this book. The book includes Histories of the Regimental Marches, A song book, a chart of military band instruments, Biographies of Canadian Directors of Music and Bandmasters and Pipe Majors.
E-veritas: You contributed 14 articles to the Canadian Encyclopaedia –Encyclopaedia of Music in Canada (EMC) in 2001. http://www.thecanadianencyclopedia.com/
Jack Kopstein: The EMC aims to describe Canada's musical heritage and culture in all its breadth and depth. Unfortunately, this subject was not previously well documented. I authored and/or contributed to several pieces to the Canadian Encyclopaedia of Music. Some articles present the remarkable tale of the men and women in the Canadian music scene: William Atkins; Leonard Camplin; Ben Bogisch; Armand Ferland; Albert Furey; John Slatter; W. Bramwell Smith Jr; and Kenneth Elloway.
Other articles present individual bands: Princess Patricia's Canadian Light Infantry; Queen's Own Rifles of Canada Band; and Royal Regiment of Canada Band. The final articles discuss Bands; Band festivals; and the Canadian Forces School of Music. [EMC articles referencing the Royal Military College of Canada include `Leo, the Royal Cadet.` `Kingston` and `Bands`]
E-veritas: What are you up to these days?
Jack Kopstein: My dear friend and partner Lauree Raymond and I live in beautiful Chilliwack, B.C. I remain involved with military music as Newsletter Editor of the Canadian Branch of the International Military Music Society. Military bands, including that of the Royal Military College of Canada, send me their schedule of events.
I am the administrator of the Military Band site: www.worldmilitarybands.com and write blogs for the Military band Recording Company ALTISSIMO. I was happy to feature in the Royal Military College of Canada`s annual Christmas Concert on November 19th, 2010 at 19h30. I am amazed at how it has grown from a small 25 piece group when I was musical director. Congratulations on this wonderful improvement. jack@immscanada.ca
E-veritas: Did the RMC band perform on television or produce any recordings at RMC from 1988-1990?
Jack Kopstein: They were a featured on CBC for the Grey Cup. The band appeared in the Oktoberfest parade in Kitchener and was seen on National TV.
e-veritas: How did you recruit new members of the band?
Jack Kopstein: Many of the band members were already in the band when I took over in 1988. I came to early Thursday morning practices and worked with the band before being employed as musical director. The support of the Commandant [4459 Commodore (Ret'd) Edward Murray OMM, CD, ADC] and the Admin and training staff was magnificent.
e-veritas: Who delivered the musical instruction?
Jack Kopstein: I worked in this area myself but received enormous help from Cadets. Many of whom were very advanced. The Cadets provided incentives and instruction for the less experienced players.
e-veritas: What teaching resources do you recommend?
Jack Kopstein: Spending valuable time on tuning and scales is important but sight reading is essential. I recommend the use of the Specialty training books used in High School bands -they are excellent. Fingering charts and charts for brass instruments should be available. It is also important to have a sectional rehearsal occasionally. (I know there are time restraints).
e-veritas: Do you recall any band skylarks at RMC?
Jack Kopstein: Not that I can remember. I have to say there were a number of Women Cadets in the band and they were always refreshing. They provided great leadership and helped recruit.
The Women Cadets had a great sense of humour. On the whole, cadets of both genders were a pleasure to work with.
e-veritas: What music was in the RMC band repertoire?
Jack Kopstein: The standard music for parades and deployment included: the RMC march (the Brian Gossip arrangement); On Parade; the anthems-The Maple Leaf Forever, Colonel Bogey; some inspection music; a slow march- Golden Spurs, Heart Of Oak, Standard of St George; Can-A-DA; Consider Yourself from Oliver; Trumpet music for last post; and the Orchestrated sunset.
E-veritas: What do you consider the role of musical director in the CF bands to be?
Jack Kopstein: There are two important aspects to consider- music and administration. As a leader you are required to both train your personnel musically but also militarily.
Every performance must be first class, both musically and cosmetically. Once you put on the uniform, civilians expect the best foot forward musically and whether you are professional or reserve or volunteers you must show the flag so to speak.
As the leader you must make sure that every part of the performance in public is good. Even more so for a military parade because like everyone in the military we rely on each other, and therefore it is critical.
The evaluation of personnel is another part of the leadership role that must be examined continuously. Moreover personnel must be looked after.
Finally the leader is ultimately responsible for scheduling of engagements and this must be also carried out professionally, at all costs regardless. Humour is always important particularly in time frames when there are a number of engagements.
E-veritas: How did you advise RMC band members to balance the four pillars of academics, military, athletics, and bilingualism with extra curricular activities like the band?
Jack Kopstein: This was always a difficult situation. The Four Pillars are crucial; our future leadership depends on the Cadets systematic approach to studies. I had to understand my role. It was difficult because the music and band were a recreation for the musicians. I was not deterred and learned to respect the Cadets' raison d'etre. My advice was always "we need all of you if your schedule permits."
E-veritas: What were your greatest challenges at the Military College?
Jack Kopstein: The biggest challenge for me was that some of the lead players were also good water polo players or Rugby or Hockey players and we had conflict of schedules. Some times we would have 15-20 players for rehearsals and that made life interesting. However since I was a sports fan also I guess I just stuck my tongue in my cheek. But it was very difficult especially if the band was scheduled to go to West Point for support of the Hockey team.
E-veritas: To what extent did RMC differ from your other postings?
Jack Kopstein: I was hired for the musical director position after retirement because of my service background as a CWO. I applied in response to an advertisement. It was really not a posting per se. I was working with a very young group. Most of the cadets were absolutely wonderful to train and work with. During my career I always worked with professional service musicians for whom we always had high expectations.
E-veritas: Did you ever return to RMC for a visit?
Jack Kopstein: I returned to RMC only once in 1994 when I was the leader of the CFB Kingston Volunteer band. When I went up for a drink, and the cadets heard I had been the bandmaster they were so receptive. The entire room erupted. Cadets banged the tables and applauded. I felt a marvellous sense of pride, that I could be saluted in that fashion.
E-veritas: Do you follow the careers of any of the former RMC cadets?
Jack Kopstein: Since I have been away from Kingston for several years I have not met any of the former cadets. In 2000, I went to Ottawa and was walking in the downtown area. Suddenly a voice rang out `Jack` And lo and behold an ex-cadet whose name I have forgotten came and hugged me. He and his brother were in the RCE and were Captains. He was working at NDHQ. Both he and his twin brother were both Cadets at RMC and were saxophone players.
E-veritas: Any final thoughts?
Jack Kopstein: May I say finally that the volunteer bands are the backbone of many of the service locations across Canada? The dedication of the players is not always recognized. It is especially heart warming for me to know that the band of the Royal Military College of Canada display the devotion, spirit and pride that military music has meant to me over my life time. My very best wishes to you and to the band.