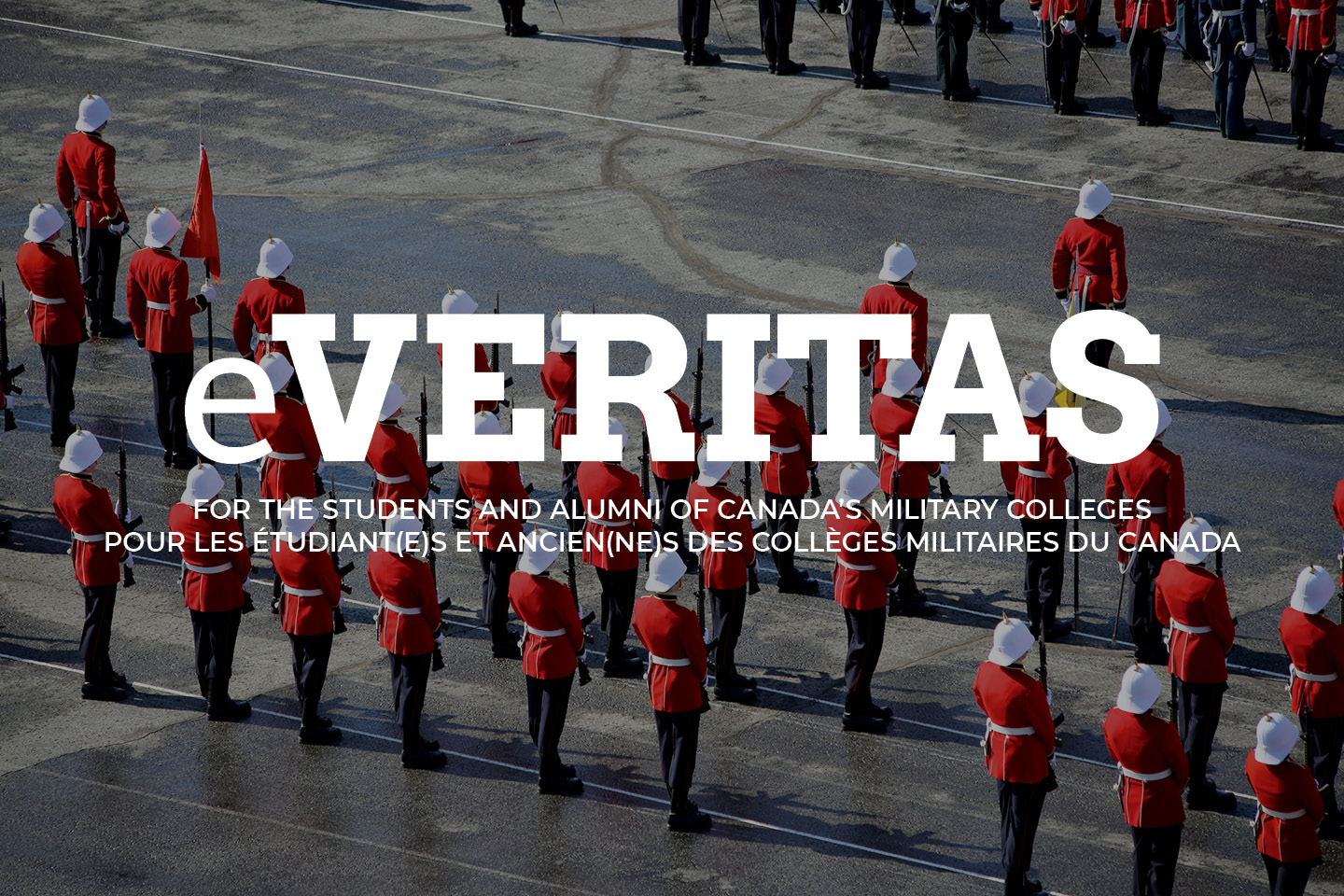 E3161 Victoria Edwards (RMC 2003) recently interviewed H2951 General (Ret'd) Ramsey Muir Withers (RRMC RMC 1952), former Chief of the Defense Staff.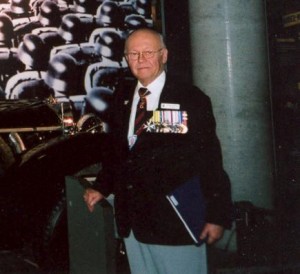 e-Veritas: Your class recently celebrated its 60th anniversary at RMC's 2012 Reunion Weekend.
H2951 Ramsey Withers: The turnout, of 34 ex-Cadets and 24 wives/widows, for our 60th anniversary was pretty reasonable.
e-Veritas: Describe your experience at Royal Roads in the post WWII years.
H2951 Ramsey Withers: The Royal Canadian Navy had operated Royal Roads since 1941. When the Air Force joined in 1947, the College was renamed the Royal Canadian Navy Royal Canadian Air Force College (RCN RCAF College). When the Army joined in 1948, the College was renamed Canadian Services College Royal Roads. When my class arrived at Royal Roads in 1948, we were fortunate to have had seniors, Cadets who were a year ahead of us, to provide leadership, caring and to convey Naval & Air Force traditions. I credit the seniors and faculty for my positive first year experience at Royal Roads.
Since I was already bilingual, I was advised that I would have had an unfair advantage in French, so I studied Spanish at Royal Roads instead. At Royal Roads, the living was communal, similar to living aboard HMCS Royal Roads. At the time, the Cadets slept in bunk beds in 2 senior and 2 junior dormitories, with 32 cadets per section. We ate cafeteria style; a senior term was responsible to say a traditional Navy grace for the table "For what we are about to receive, thank God. Carry on…" At RMC, the Cadets had single rooms and waitresses provided table service to the Cadets.
A substantial number of Royal Roads Cadets did not come down to RMC. Once naval Cadets completed 2 years at Royal Roads, they were commissioned as Midshipmen. After naval training at sea, likely aboard the cruiser HMCS Ontario, they attended the Royal Navy Sub-lieutenant course in England. Those serving in the engineering branch of Navy, generally in propulsion of ships & weapon systems, underwent further training in Keyham, England at the Royal Naval Engineering College.
e-Veritas: Describe the Royal Military College in the post WWII years.
H2951 Ramsey Withers: I arrived at RMC in 1950. There were only three other naval members who transferred with me from Royal Roads; 2887 Stan Riddell and 2909 Chuck Ilsley studied Arts while David Lougheed and I studied Electrical Engineering.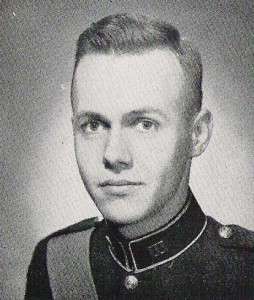 I was one of 72 RMC graduates of the first class after WWII. Along with all 22 of the Army members, I left RMC for service with the Royal 22e Regiment (1st Van Doos) as a Signal Officer in Korea. I served in the same battalion with 2996 Lieutenant Arthur Graham Herman, who had started with me at Royal Roads. I was possibly only about 300 meters away, when Arthur died on August 19, 1952 on Hill 210, South Korea. My granddaughters Lauren and Justine, who have taught in Korea for 5 and 2 years respectively, have visited Arthur's gravesite on my behalf in recent years.
e-Veritas: I understand that you met your late wife at Queens University.
H2951 Ramsey Withers: Since RMC was not degree granting, I went to Queens for a year to earn a degree in electrical engineering after Korea. My wife, Allison (née Saunders), was studying Commerce and Finance at Queens at the time. We were married for 57 years until her death on 19 October 2011. We had 3 children: 1 boy and 2 girls and 11 grandchildren. I am a great grandfather twice to 1 boy and 1 girl.
e-Veritas: Describe your training and career as a member of the Royal Canadian Corps of Signals.
H2951 Ramsey Withers: I studied at the Royal Canadian School of Signals (RC of S) on the hill in Kingston. I served as a signal officer with the Royal Canadian Dragoons in Petawawa and in Germany. At the time, a typical posting was a minimum of 3 years. My regimental commanding officers included Colonels Al Brady and Jock Usher and 2510 BGen (Ret'd) Ned Amy (RMC 1936), a spectacular individual who I had first met in Korea when he was serving as GSO1 of the 1st Commonwealth Division.
e-Veritas: When you attended Staff Colleges in Canada and the UK, the programs were not (graduate) degree granting. [Today, Canadian Forces College in Toronto offers a Joint Command and Staff Program with eight credits towards the completion of a Master of Defense Studies (MDS) degree from the Royal Military College. The Joint Services Command and Staff College (JSCSC) at Shrivenham, UK has an academic-military partnership with King's College London.]
H2951 Ramsey Withers: When I attended Army Staff College, it was a 2 year Single Service Staff College in Fort Frontenac, Kingston. It took two years of private study to prepare for the 3 hour long entrance exams for Army Staff College; my military history exam featured essay type questions on 5 campaigns. We traveled throughout Canada and to a number of US Army bases & schools. Although Staff College was not graduate degree granting, we could add the PSC (Passed Staff College) after our name and were eligible for promotion.
The UK Joint Services Staff College trained future commanders and staff officers from allied and Commonwealth countries.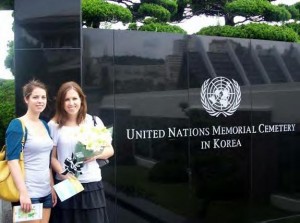 e-Veritas: One time the Army forgot to promote you.
H2951 Ramsey Withers: Yes, they did. I was appointed Brigade Major 4 Canadian Infantry Group, Chief of Staff of Brigade in Laar, Germany while I was only a Captain, although the post should have been held by field officer (Major or above). I produced the weekly Brigade Routine Orders signing as 'RM Withers Captain Brigade Major.' When he noticed the discrepancy, my Commander (2253 Cameron B. Ware) advised HQ and I was promoted (acting Major) by the end of that day. After WWII, the military was very slow to promote. Officers were typically promoted to acting rank 'in their turn'. The acting rank was not confirmed until the end of the year, assuming satisfactory performance.
e-Veritas: Outline your command career progression.
H2951 Ramsey Withers: As a Major I served in command of 6 Signal Squadron in Valcartier. In 1966, I was promoted Lt Col, in Mobile Command in St Hubert, Quebec. Promoted to Colonel in 1968, I served in Ottawa as the Executive Assistant to General Jean Victor Allard, the first French Canadian to become Chief of the Defence Staff and to hold the accompanying rank of General. Promoted to BGen in 1970, I served as Commander Northern Region HQ in Yellowknife, North West Territories. I returned to Ottawa as Director General Management Info systems for two years. Promoted to Major General in 1975, I served briefly as Associate Assistant Deputy Minister Policy. Promoted Lt. General in 1977, I served as Vice Chief of the Defence Staff.
e-Veritas: You served as Commander of Canadian Forces Europe Command in Lahr, Germany.
H2951 Ramsey Withers: Serving in Canadian Forces Europe Command in Lahr, Germany was a career highlight. I dubbed it the 'Grand Duchy of Lahr' since I held similar responsibilities as a provincial premier. It was more authority than any other post I held until Chief of Defence Staff. In Laar, I was not only responsible for the Brigade & Air Group; there was a motor vehicle registration system, licensing of cars, the public educational system and high schools, medical service, Military Police, Justice, Judge Advocate General, and the CANEX System.
CANEX is a retail operation made up of a number of stores and services, designed specifically to meet the needs of the military community; 1/3 of the profit from commercial operations went to Canadian Bases. At the time, CANEX were not only popular with Canadian families, but we sold duty consumer goods to the US and British sectors as well. Our buyers, who worked on salary plus bonus for performance, were excellent; many of them had worked previously as buyers for Sears or Dominion Stores. Since members of the junior ranks with families could not afford holidays, we used some of the CANEX profits to buy 2 Mercedes Cruise Buses and booked European tours through a local travel agency. Although the holidays were expected to be non profit, we made enough money to buy a third bus!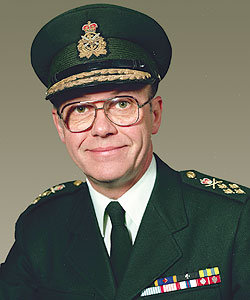 e-Veritas: Do you know the process on how you were selected as Chief of the Defence Staff (CDS)?
H2951 Ramsey Withers: My predecessor as CDS, Admiral Falls, left to chair the NATO military committee in 1980. Prime Minister Trudeau personally approved the selection. I was appointed by then Governor General Edward Schreyer. I served as CDS for three years from 1980-3.
e-Veritas: Life after the military?
H2951 Ramsey Withers: After retiring from the Forces, I served for 5 years as Deputy Minister at Transport Canada 1983-88. I served as Honourary Lt Col of the Governor General Foot Guards from 1984-90. As an aside, you might notice that the Governor General always wears the tie of the Governor General Foot Guards. When he was appointed GG, the regiment sent him a tie. When he later asked for another tie, the regiment sent him 4 more.
e-Veritas: How did the Withers Study Group (1998) come about?
H2951 Ramsey Withers: Commissioned by the RMC Board of Governors, the RMC Undergraduate Study Group was "To ensure for each graduate, a broad-based education, well grounded in the sciences and the humanities, with special emphasis being placed on the development of values, ethics and leadership skills needed for responsibilities and service to country." Essentially, the Study Group sought to determine what was required of RMC, how this requirement was being met today, and what was necessary to improve the situation. The questions addressed all four pillars at RMC academic, military, language, and physical fitness. The Report of the RMC Board of Governors by the Withers' Study Group was titled "Balanced Excellence Leading Canada's Armed Forces In The New Millenium."
e-Veritas: What were the biggest challenges faced by RMC?
H2951 Ramsey Withers: The committee interviewed senior officers, operational commanders, RMC faculty and Cadets. We found that RMC was facing challenges on Recruiting/Retention; Leadership; Academic Program; Professional Development/Military Ethos; Academic/Military Interface at RMC; CF/RMC Interface and, Language/Culture. If RMC's raison d'être was the provision of highly motivated, qualified officers for service in the CF, the choice before the Board of Governors was to improve the product or close the College.
e-Veritas: Did the Withers Study Group consider best practices of foreign military colleges?
H2951 Ramsey Withers: The RMC is similar to the US Naval Academy in Annapolis, established in 1845, which is the undergraduate college for the Navy. The Academy provides professional and leadership training to prepare young men and women to become professional officers in the US Navy and Marine Corps. Every midshipman's academic program begins with a core curriculum that includes courses in engineering, science, mathematics, humanities and social science.
e-Veritas: Were the recommendations from the Withers report implemented?
Much More…
H2951 Ramsey Withers: Yes. In fact, our first recommendation was that the College fully implement the Balanced Excellence Model detailed in the report, as follows:
• Better integrate RMC into the CF, encouraging the real stakeholders in the College, the three Environments, to ensure its excellence (#2 – 7).
• Improve recruiting and selection, for example MOC selection should be delayed until an RMC Cadet's second academic year (#8).
• Address the academic pillar, specifically by enhancing the militarily oriented "core curriculum" over all four academic years (#9 – 14).
• Address military ethos and the creation of a professionally developed and delivered military training program at the College and in the CF (#15 – 24).
• Build on the existing language program to achieve even higher standards of bilingualism in the RMC Cadet. (#25)
• Better integrate the physical education pillar into the RMC experience and made more relevant to the CF. (# 26 – 27)
• More effectively integrate the four pillars at RMC. (# 28 – 34)
e-Veritas: What are you up to lately?
H2951 Ramsey Withers: Since moving into a retirement residence, I have adjusted to life with communal meals, recreational and social programs again. I am on the editorial board of the C&E Branch History Project, "Semaphore to Satellite," which tells the story of the Canadian Forces Communications and Electronics (C&E) Branch and its founding elements: the Canadian Signaling Corps (CSC), Canada's Naval Communications Research Establishment and the Royal Canadian Air Force (RCAF) Telecommunication Branch. Princess Anne, the Colonel in Chief, is scheduled to attend the book launch on Oct 13, 2013. www.semaphore-to-satellite.ca/fund_raising.htm