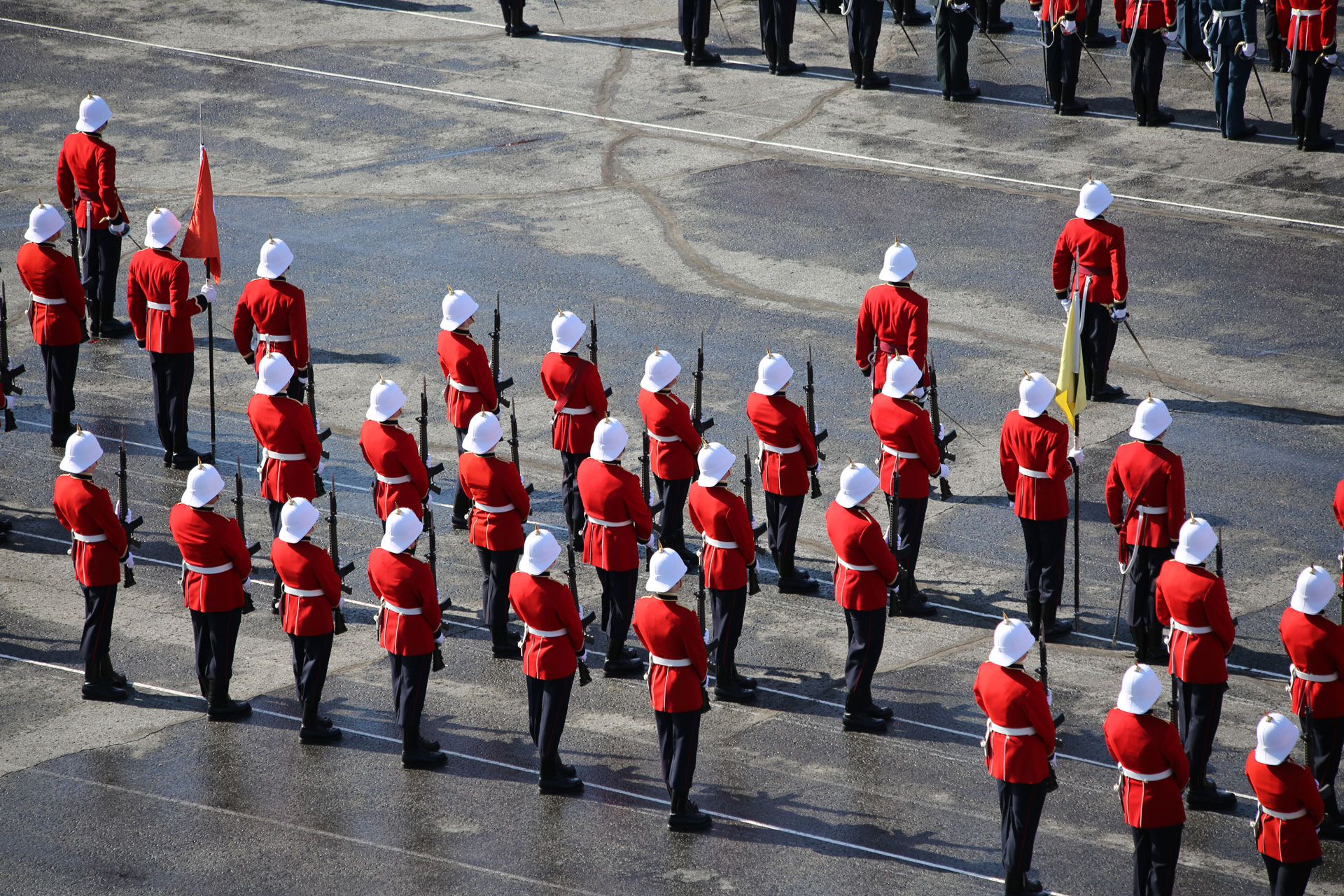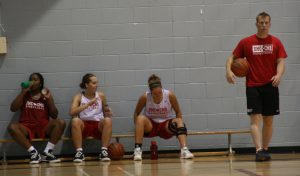 The last six seasons have been tough ones for the RMC (W) basketball team.
The Paladins broke a 128-game losing streak to record their first regular season win in school history this past year. They finished with one win and 21 losses.
All this is not lost on head coach, Brad Schur. Brad has been working smart and hard to improve the fortunes of the team.
Our keen correspondent, Julia Anderson with her camera caught Coach Schur with some of his players practicing various drills to improve their overall skill level. Hardly a day goes by that he is not on the basketball court working with players. Major improvements have been noticed with the team and their performances each of the past few seasons. Hopefully, all that hard work will pay-off with a few more victories this year.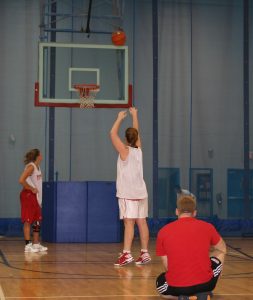 The (W) basketball squad tip of the 2009/10 season – October 30 @ Queen's.
Full schedule here
Basketball photos by Julia Anderson
_____________________________________________________________
Upcoming Season Outlook for the RMC Varsity Running Team

In preparation for the RMC running team's second year, new team manager, III Ashley Galvin, and Head Coach Lt (N) Trevor Davies (photo at left) have been hard at work planning a fundraising event for the upcoming season, as well as coordinating efforts to help with the Queens/RMC XC Open, CIS Championships, and the World XC Championships, which all will take place in RMC's backyard on Fort Henry Hill.
Upon the athletes' return to RMC for a training camp in late August, the team will set their focus on peaking for both the OUA Cross-Country Championship as well as CIS XC Championship in the fall. After the Cross-Country season, the team will reset their efforts on the track season and stay in shape over the winter holidays by traveling south for a second training camp. Their goal is to peak for the OUA Track and Field Championships in the winter.
For the 2009-10 race season, the team will be welcoming four recruited runners: Marina Lowthian, Patrick Galler, Jennifer Allan and Josh Arsenault.
Marina, Patrick and Jennifer made it out for a visit to the College in May, in order to get a better look at life at RMC. During their short stay, they had the opportunity to watch the Sunset Ceremony as well as the Grad Parade. The team is looking forward to the addition of these new recruits to continue to grow our successful running program at RMC. Here is some more info on our new runners.
Marina Lowthian is from Belleville, Ontario. She attended Quinte Secondary School where she competed on the Saints' cross-country and track teams. Marina has been competing in long-distance events for 3 years now; her favourite being 5K and 10K races. Marina also has a strong focus on academics, and she looks forward to studying in the Space Science program. Marina anticipates attending RMC as it will expand her knowledge, fitness, and life opportunities.
Patrick Galler hails from Sarnia, Ontario where he has been racing with the Northern Vikings for the past four years. His all time favourites on the track include both the gruelling 1500m and 800m events. He is very much interested in History and the Social Sciences and would like to combine his academic pursuits with a career as a future infantry officer in the Canadian Forces. This year, Josh made it to OFSSA for the 1500m where he placed 10th overall.
Jennifer Allan is locally from Wolfe Island, ON. This year, Jenny was competitive in both track and pole vaulting!
Josh Arsenault is from Halifax, NS. Josh is a strong triathlete and has a lot of running talent. In the past year, he has focused on the 1500m and the 5000m with times of 4:35 and 17:51 respectively.