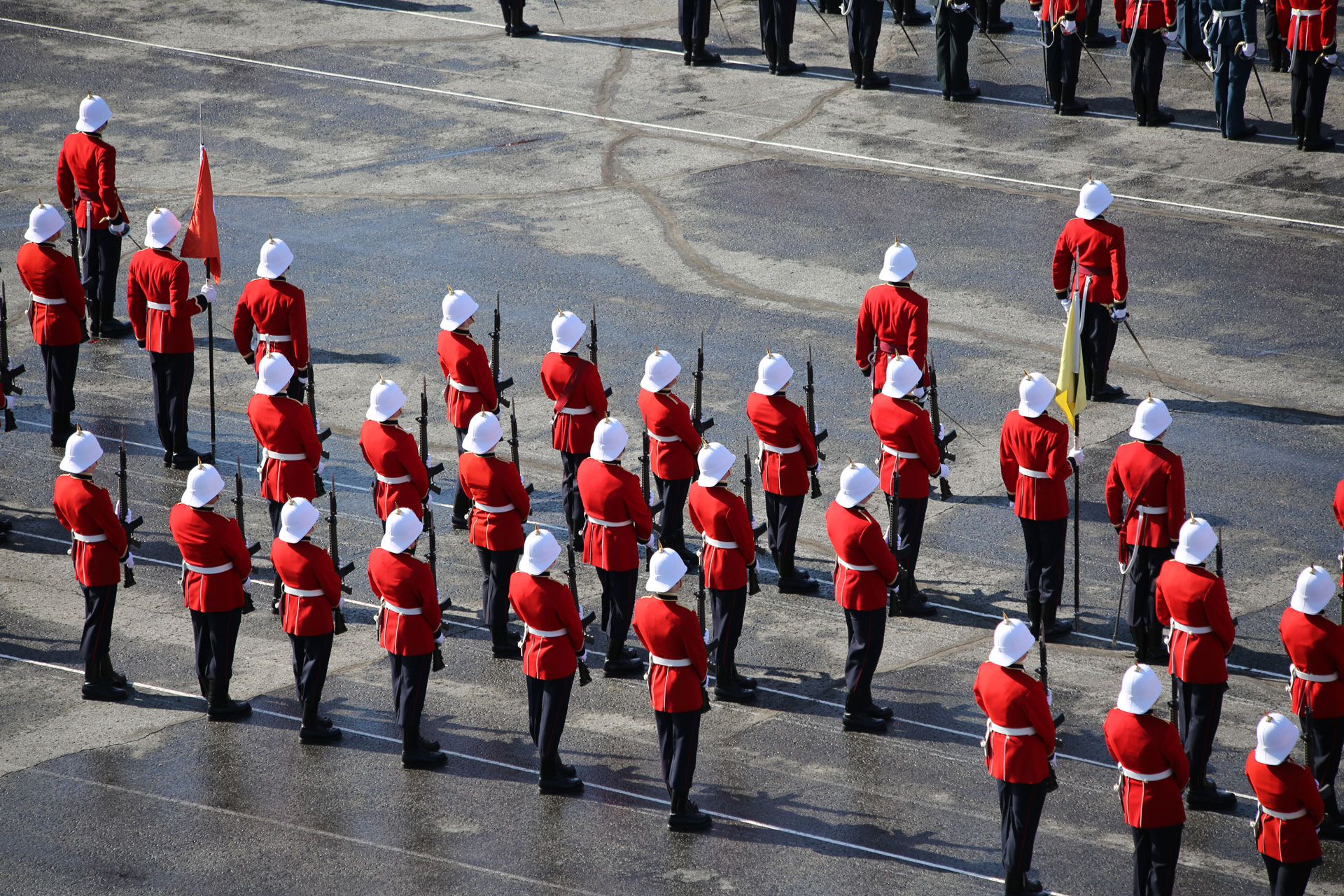 RMC '63 Wall of Honour
Introduction
The Class of 1963, as their gift to the College upon entry into the Old Brigade in 2009, are creating and donating to RMC, a Wall of Honour to recognize ex-cadets of the Royal Military Colleges (RMC, RRMC, CMR) and others with College numbers for outstanding achievements and contributions to Canada or the world.
This project has the strong support of the College and the Foundation
The project will have three components – a physical wall, a selection process and an information technology element. This institutional physical and procedural infrastructure is intended to become an important part of the landscape of RMC in perpetuity.
It is intended that those recognized on the Wall of Honour inspire prospective recruits, existing RMC students, RMC graduates, RMC staff and all Canadians to be the best they can be through dedication, hard work, application of their talents and training and by letting Truth Duty Valour guide their lives.
The Physical Wall of Honour
The Wall of Honour shall be eight feet high and 64 feet long, initially, with possible extensions as the requirements for additional space materialize. Plaques of honour shall be mounted on the wall inviting all who view to pause and read a short description of these recognized Canadians. It shall be located on Verite Drive (the previous roadway running behind the Commandant's house and Rideout Row).
Eligibility and Nomination Criteria
The Class is seeking nominations from ExCadets and other interested parties of candidates for induction to the Wall of Honour at the first ceremony, to be held during the 2009 Reunion Weekend.. The Criteria and procedures for such nomination are as shown below.
Eligibility
Attended and was significantly influenced by attending one of Canada's military colleges, or by their relationship with one of the colleges was awarded an honorary or associate college number.
Recognition can extend to any area of professional endeavor including, but not necessarily limited to, academia, arts, athletic, business, military, professional services, public service, and religion, together with demonstrated personal characteristics consistent with those that the colleges strive to achieve and sustain.
For greater clarity of intention, there are no quotas of any kind and it is expected that a very low proportion (guideline 1%) of the pool of potential candidates will qualify and that candidates would usually be close to the end of their careers, retired or deceased.
Those who occupy, or are candidates for, elective office are not eligible during that time.
Primary Selection Criteria
These criteria will normally be mandatory. Candidates would:
have achieved something of extraordinary significance at the national or international level;
have a lifetime of achievements, or a single (probably world class) breakthrough achievement, whose effect is of lasting significance; and
reflect the qualities of Truth Duty and Valour in their personal and professional lives;
Secondary Selection Criteria
These secondary criteria are encouraged. Ideally, candidates ought to:
be recognized for exceptional contributions by some outside body;
have experience and recognition beyond Canada that demonstrates a world view and a degree of international stature;
demonstrate accomplishment in more than one field making a lasting contribution to advancing the human condition – such may include, but is not limited to;
Involvement in academia, professional associations, company Boards of Directors, or by political participation;
Ability in public speaking and interaction with the media;
Involvement in sports;
Community involvement in volunteer or related activity, past, present or prospective; and/or
Involvement in the arts
Expectations of the Members of the Wall of Honour
Selection brings with it some expectations of honourees:
Where feasible, honourees are expected to agree to accept the award at a ceremony at RMC
Where feasible, be actively involved in raising awareness of RMC and its mission, and in inspiring officers in training, including RMC cadets.
Nominations submitted must be keyed to the criteria stated above, a simple biographical statement, whilst useful for context, will not suffice. As well as the full name and contact data for the Nominee, the submission must also include the name and contact information of the Nominator, in case further information is needed by the Nomination Committee. In case of a deceased nominee then a family or other contact will be required.
Nominations should be forwarded by email to: wallnoms@telus.net
Although email is preferred, nominations may be sent by regular mail to:
Chair Wall of Honour Nomination Committee
c/o 1723 Richardson St
Victoria BC V8S 1R6
THE DEADLINE FOR THE 2009 INTAKE IS 15 JANUARY 2009
For further information on the Wall project, please email tediane@king.igs.net
Tax deductible Contributions to the project are most welcome, and should be sent to the RMC Club Foundation, marked for the Class of 63 Capital Fund.
Le Mur d'honneur du CMR
Introduction
En guise de cadeau au Collège lors de son entrée dans la Vieille Brigade en 2009, la promotion de 1963 crée et donne au CMR un Mur d'honneur pour reconnaître les anciens élèves-officiers des Collèges militaires royaux (CMR du Canada, Collège militaire de Royal Roads, CMR de Saint-Jean) et autres personnes détenant un numéro de collège, pour leurs réalisations et contributions exceptionnelles envers le Canada ou le monde.
Le Collège et la Fondation appuient fortement ce projet qui aura trois composantes : un mur physique, une procédure de sélection et un élément de technologie de l'information.
Cette infrastructure physique et administrative est destinée à prendre une place importante et permanente dans le paysage du CMR.
L'intention du Mur d'honneur est que les personnes reconnues inspireront les futures recrues, les étudiants actuels au CMR, les diplômés du CMR, le personnel du CMR et tous les Canadiens à donner le meilleur d'eux-mêmes par leur dévouement, leur travail infatigable, l'application de leurs talents et de leur formation et à adopter « Vérité, Devoir, Vaillance » comme guide de vie.
L'aspect physique du Mur d'honneur
Au début, le Mur d'honneur mesurera huit pieds de haut et 64 pieds de long, avec allongement possible selon les besoins futurs. Des plaques seront montées sur le mur, invitant les passants à s'arrêter pour lire une courte description de ces Canadiens reconnus. Il sera situé sur la promenade Vérité ( la chaussée précédente passant derrière la résidence du commandant et le rang Rideout.)
Critères d'éligibilité et de mise en candidature
La promotion de 1963 désire obtenir, de la part des anciens élèves-officiers et autres personnes intéressées, des nominations de candidats à inscrire au Mur d'honneur lors de la première cérémonie qui se tiendra durant la fin de semaine de la réunion de 2009. Les critères et procédures pour les mises en candidature sont énoncés ci-bas.
Vision/Objectif
Reconnaître les anciens élèves-officiers des collèges militaires royaux (RMC, RRMC, CMR) et autres avec un numéro de collège pour leurs réalisations et contributions exceptionnelles envers le Canada ou le monde.
Admissibilité

Ont fréquenté et ont été influencés considérablement par leur fréquentation d'un collège militaire canadien, ou par leur relation avec un des collèges ont reçu un numéro de collège honoraire ou associé.

La reconnaissance peut s'étendre à n'importe quel domaine d'effort professionnel, incluant, mais sans y être limité, le monde universitaire, les arts, les sports, les affaires, les forces armées, les services professionnels, la fonction publique, et la religion. Les candidats doivent posséder des caractéristiques personnelles manifestes et cohérentes à celles que les collèges s'efforcent d'atteindre et de maintenir.

Pour garder les choses au clair, il n'y a aucun quota de quelque sorte et on s'attend à ce qu'une très petite proportion (ligne directrice de 1%) de l'ensemble des candidats potentiels se qualifiera et que les candidats seront habituellement près de la fin de leur carrière, retraités ou décédés.

Les personnes occupant un poste élu, ou qui postulent un tel poste, ne sont pas admissibles durant ce temps.
Critères principaux de sélection
Ces critères seront normalement obligatoires. Les candidats auraient:
réalisé quelque chose d'une importance extraordinaire au niveau national ou international ;

une vie de réalisations ou une seule réalisation majeure (probablement de classe mondiale) dont l'effet est d'une importance durable ;

reflété les qualités de Vérité, Devoir, Vaillance dans leur vie personnelle et professionnelle.
Critères secondaires de sélection
Ces critères secondaires sont désirables. Idéalement, les candidats devraient:
être reconnus par un organisme extérieur pour leur contribution exceptionnelle ;

avoir une expérience et une reconnaissance au delà du Canada, qui démontrent une vision mondiale et une envergure internationale ;

démontrer des réalisations dans plus d'un domaine, faisant ainsi une contribution durable envers la progression de la condition humaine – ces réalisations peuvent inclure mais ne sont pas limitées à :
Implication dans l'enseignement supérieur, les associations professionnelles, les conseils d'administration corporatifs, la participation politique ;

Compétence en parole en public et interaction avec les médias ;

Implication dans les sports ;

Implication communautaire par le bénévolat ou des activités reliées, tant passée, présente que prospective ;

Implication dans les arts.

Ce qui est attendu des membres du Mur d'honneur
La sélection au Mur d'honneur comporte certaines attentes:
Dans la mesure du possible, les récipiendaires doivent accepter leur prix lors d'une cérémonie au CMR;

Dans la mesure du possible, être actifs à faire la promotion du CMR et de sa mission, et à inspirer les officiers en formation, incluant les élèves-officiers du CMR.
Les mises en candidature doivent toucher les critères énoncés plus haut; un simple énoncé biographique ne suffira pas, même s'il est utile. En plus du nom complet et des coordonnées du candidat, la soumission doit aussi inclure le nom et les coordonnées de la personne qui propose la candidature, au cas où le comité de mise en candidature aurait besoin de plus de renseignements. Dans le cas de candidature d'une personne décédée, un contact familial ou autre sera exigé.
Les mises en candidature devraient être expédiées par courriel à : wallnoms@telus.net
Même si le courriel est préféré, les mises en candidature peuvent être expédiées par la poste à :
Président, comité de mise en candidature du Mur d'honneur
a/s 1723 Richardson St
Victoria BC V8S 1R6
LA DATE LIMITE POUR LE CONTINGENT DE 2009 EST LE 15 JANVIER 2009
Pour plus d'information sur le projet du Mur, veuillez communiquer par courriel à tediane@king.igs.net
Les contributions déductibles d'impôt pour le projet sont les bienvenues ; elles devraient être expédiées à la Fondation du Club des CMR et identifiées au fonds de capital de la promotion de '63.