West Point Weekend – 2018
Article by WJO
(We are expecting to have a number of photos on Flickr some time soon – please check here for updates)
From all reports and a look from the outside, 'West Point Weekend' went off very nicely. This was helped by a January thaw, in the Kingston area, that saw the temperature well above zero for most of the two days.
In 2016, the temperature was well below zero during West Point Weekend.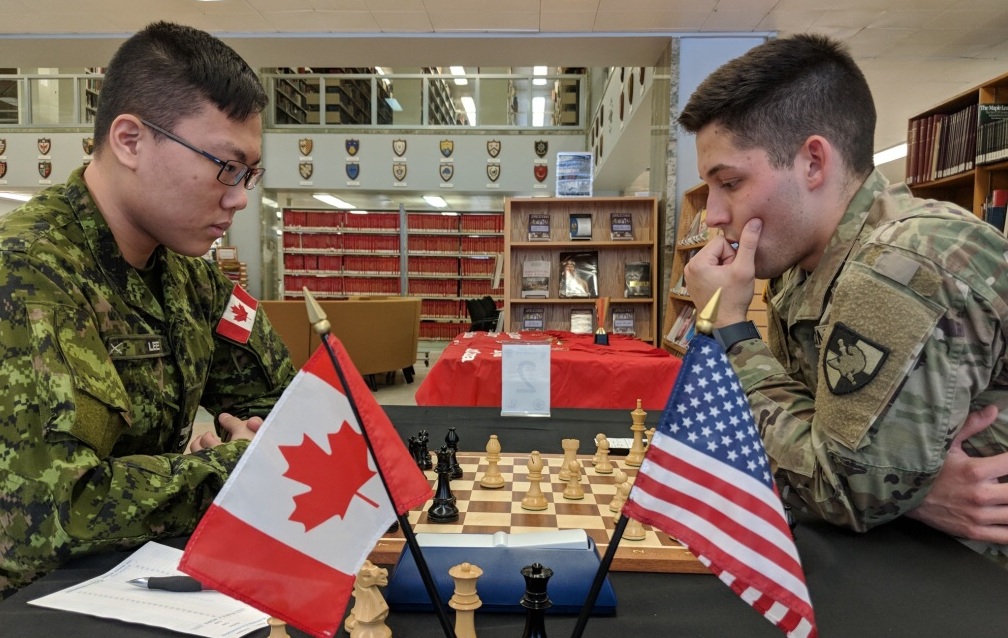 The hockey game, of course, is the main attraction, however, a number of other competitions were held: Debating; Chess; Rowing (on machines); and Taekwondo.
From what we have been told from, a reliable source, RMC came out on top in all these four events. At the time of this writing we had not received any official results.
In addition to the various competitions, West Point cadets attended classes with their counterparts during the day on Friday. Also, a number of social events were held both for the cadets and the accompanying staff.
From an RMC perspective it was a great weekend albeit the hockey result.
Black Knights 5 – Paladins 0
The 82nd edition between the United States Military Academy and Royal Military College was an entertaining game for two periods.
The score starting the third frame was 2-0.
The Paladins have demonstrated time and again this season that being down two goals with 20 minutes to play was not too tough to overcome. However, this time around and with the aid of two early 3rd period power plays they couldn't pull off it off.
There were three goals scored in the final period – all by the Black Knights.
The shutout was the second time that USMA goaltender, Cole Bruns, has blanked RMC.  He was between the pipes in 2015 in the game which ended 8-0. The #1 goalie for USMA has played four consecutive encounters against RMC and winning all four times.
***
West Point Weekend Madness
From the Cadet Band OPI perspective… 28057 OCdt (II) Colin Bond

West Point weekend can be a fun and enjoyable experience, as well as a chaotic one too. Whether it be coordinating sleeping arrangements for the exchange students or prepping a plan of action for the day, the role falls onto the Officer of Primary Interest or OPI for short. With planning from the OPI, a large event between two military colleges can be organized and enjoyment can be had by all at the hockey game
I was the Band's OPI for West Point weekend which meant that I had to prepare a few things before the band members arrived from the United States Military Academy (USMA) or know better as West Point. I was tasked with coordinating with the RMC cadet training wing to ensure that the weekend ran smoothly for the band. This meant that I needed to collect the names of all of the band members who were going to host and pair them with similar West Point visitors. Hosts were paired off with the guest of similar year and similar instrument which allowed for better bonding between the two colleges and their cadets.
The schedule for the weekend was busy, with West Point cadets attending ceremonies, classes, and events. The West Point cadets were able to experience the daily lives of RMC cadets, and get a taste of what the RMC cadets lives are like. They attended different classes that ranged from engineering courses, art courses, and French classes. By allowing the cadets to experience RMC's classes, they are offered a chance to learn something new and learn a bit more about what is important at RMC.
However, the major reason for the West Point weekend visit was to face off against RMC in the 82nd annual hockey game. Not only did they face off in the hockey game but they also had their competitive clubs face off against RMC. However, a collaboration between both school's bands was had since they played at the intermissions during the hockey game. Practice and rehearsals were conducted before the game itself to insure a good show during the intermissions. Afterword, points, and songs were exchanged between the two colleges so that they are able to learn form each other.
For the hockey game itself, both colleges were at the game giving their respective teams moral boosts through cheering and through signs. RMC showed off their spirit through the face paint and the 'spirit gear' that they wore. Despite RMC's cheering and support, it was ultimately West Point who came out victorious with the final score 5-0.  But, it is not just the score that matters, it is the fact that the two schools came together to cheer on their players and enjoy a classic match of hockey with a long-standing history.
***
Winter 2018 Sports Day
January 20th marked the Winter Sports Day here at RMCC. The event occurs every semester and brings cadets together for friendly matches in volleyball, ball hockey, broomball, and flag football. Sports Day also coincided with the Annual RMC-West Point exchange, this year the hockey game was hosted by none other than the Paladins. Squadrons squared off on the indoor field, and the SAM gym in the event that was organized by PSP Staff and Cadets.
Our American counterparts joined in on some of the fun, too, participating in sports both in intramurals and through various competitive clubs.
The largest involvement was on the football field (in the dome) where the West Point cadets showed us 'how it's done.'
Competition occurred everywhere from the climbing wall to the parade square. Students from the debates teams of both schools judged by the mayor of Kingston. The weather cooperated as well as it could for the end of January, at a balmy 3 C, with the sun even making an appearance. The day began at 08h00 and concluded around 14h30.
One West Point Cadet said: "I like RMC, it's an interesting experience. I think sports is a great way to show our teamwork, both within and between our countries", while one of the supervising cadets commented that "I think sports day is good for the college, it's a nice way to start the new semester. It's one of the few duty weekends that we look forward to as a school".
Article submitted by: OCdt Perry
***
Une Expérience Personnelle
par 28682 OCdt Audrey Maude Robitaille
   Lors du traditionnel échange étudiant CMR – West Point, j'ai eu la chance de parrainer Sharon Liao une étudiante de l'Académie militaire West Point. Du jeudi 18 janvier au dimanche matin, l'officier cadet Liao et moi-même avons participé ensemble à plusieurs activités tenues au collège et avons appris à nous connaître davantage. Durant nos temps libres, j'ai offert à Sharon un tour guidé du campus où j'ai pu lui en mettre plein la vue avec mes connaissances historiques, merci au POPA. Afin de vivre à 100% l'expérience culturelle, cette dernière a même décidé d'assister à mes cours du vendredi, et ce même si elle ne maîtrise pas du tout la langue. Bravo! J'ai également expliqué à Sharon que, son expé
rience ne serait pas complète sans une visite chez notre populaire café, Tim Hortons. Bien sûr, ce qui fait de l'expérience une réussite n'est pas la visite guidée, les beignes ou les cours de politique, mais le temps passé à raconter nos histoires personnelles, nos choix de vie, notre vision du futur et comment se passe la vie dans nos collèges respectifs. J'ai beaucoup aimé en apprendre davantage sur le système éducatif de l'Académie West Point, leurs traditions ainsi que leurs histoires et je reste surprise des grandes différences que j'ai remarquées entre nos deux écoles. Enfin, en espérant que Sharon ait apprécié son expérience au CMR, je ne peux que recommander à tous l'année prochaine d'être volontaires et de parrainer un étudiant de West Point.
« As a first time visitor to the Royal Military College I can say for sure that I have been incredibly blessed by this opportunity, and my experience has been nothing but wonderful! My host, Audrey Maude, has been wonderful. The bits and pieces of Canadian culture that she has exposed me to has been nothing short of remarkable . During my short stay here Audrey has introduced me to Poutine for the first, and it has definitely become my favorite go-to snack in Canada! Every day, Audrey would also take me out to Kingston to see something new and have some fun. I got to make my own pizza at Scores, and got to eat at Tim Horton's (because visiting Canada doesn't become official until you've ordered at least once from Tim Horton's.) However, visiting the various historical sites was by far my most memorable moments. Audrey would drive me around RMC and Kingston to show me the various treasured monuments and buildings, narrating the notable background stories of each place as we go. Most notably was Fort Henry. Even though the fort is no longer in service, the historical importance of the fort itself is astounding, and it amazed me when Audrey said that before they decommissioned the fort it was used as a prison. Combined with the scenic setting and unbelievably kind people, I would definitely look for opportunities to come back and visit this area. More importantly though, meeting people like Audrey and other RMC cadets has made me look forward to not only seeing them again before I graduate, but also working with them in the future as officers in our respective military. I greatly appreciate RMC for hosting all the cadets here this weekend, and for Audrey who has selflessly dedicated her time to making my stay here fun and entertaining, and I hope that there will be future opportunities for me to come back and visit! »
Officer Cadet Liao – USMA