Don't let the feature photo by OCdt V. Pierrot fool you. 
Typically on and around the peninsula a lot is happening at  this time of the year. 2017 is no exception.
The 'Ball' and exams are just around the corner too.
Following, mostly in more than a snapshot is a glimpse of what has been on our radar this past week or so.
***
Military presence plus at OHL hockey game
The local Major Jr 'A', Kingston Frontenacs played the Peterborough Petes at the annual Remembrance Day game on Friday evening – 10 Nov at the K-Rock Centre.
The traditional pre-game ceremonial puck drop had a slightly different twist this time around.
Accompanying her dad, the commandant, BGen Sebastien Bouchard and the College Chief Warrant Officer, Garth Hoegi, 14-year-old Maud dropped the puck between the two team captains, that would make any NHL referee proud.
Photo by: BILLY KIMMERLY / KINGSTON FRONTENACS
***
'D' Division FYOP Dinner – Photos by OCdt V. Pierrot – More photos Here
***
'A' Division FYOP Dinner – Photos by OCdt V. Pierrot – More photos – Here
***
Caption: The CDS himself, General Jon Vance  was on the college grounds for the Armed Forces Council (AFC) November which was held at RMC on Monday 6 Nov. More photos by OCdt V. Pierrot on the AFC arrival / departure by helicopter – Here
The Armed Forces Council (AFC) is the senior military body of the Canadian Armed Forces. It meets to advise and assist the Chief of the Defence Staff (CDS) on all matters concerning the command, control, and administration of the forces, and generally meets once per month. It is chaired by the CDS and usually consists of ten other members. For this month they met for their regular meeting at RMC on Monday, 6 Nov.
Members arrived in three different helicopters which landed on the parade square. See photos
A surprise for many of the cadets on arrival for breakfast at the Cadet Dining Hall (CDH) was when they realized that they would be joined by senior officers from the AFC. Pictured is LGen. Charles Lamarre commander of Military Personnel Command exchanging greetings. The forum gave many of the cadets a unique chance to rub shoulders with most of the 'top brass' in the CAF in a very relaxed setting.
(Photo by OCdt Louis A. Saulnier)
***
Readers should not get the impression that it is all about Mess Dinners, social opportunities and  fun & games at RMC. Third Years were out in full force on a cool Sunday morning (5 Nov) to hone up on their weapons and shooting skills. More photos from the 'Ranges' by OCdt Louis A. Saulnier may be found Here
***
Military Education & Training (ME&T) – Coordinated by 28089 OCdt (I) Yena Choi under the direction of 27045 Élof (IV) Olivier Colas Livernois
1st Year Professional Development (PD)
As officers in the military, we must train in various areas to become experts in leading others. One of these areas is drill. We get opportunities to practice our techniques regularly during a scheduled period called PD (Professional Development). Drill is a formidable practice for enhancing unit cohesion, proper deportment as well as keeping a large group of personnel organized. Today we practiced basic foot drill, including standing at attention, at ease, and easy as well as different turns on and off the march and wheels. This was led by the third years in order to let them acquire experience as a flight leader in addition to us gaining knowledge in the fundamentals of drill.
28685 OCdt A. Hummel
***
2nd Year PD
Todays PMT session covered the topic of the role of Non-commissioned Officers (NCO) in the Canadian Armed Forces. NCOs are normally noted as the rank of a Sergeant/PO2 who support and aid the platoon commander to lead his/her troops while also mentoring the officer core as well with their experience.
27806 OCdt S.Y. Kim
***
3rd Year PD
On the morning of Wednesday November 8th, the third year cadets of the Royal Military College of Canada furthered there knowledge on the history of drill, presented by WO Ansell. The purpose of this brief was to instill pride in the third year cadets with respect to drill, which will later serve as motivation to continue to improve personal drill in future drill lessons.
27553 OCdt D. Savery
***
4th Year PD
The first hour of Professional Development (PD) on Wednesday November 8th, 2017, was a padre briefing about religion and accommodation in the Forces. We learned about how to accommodate the needs of religion in terms of food, dress, and practices. The second hour of PD was DCdts hour of questions and answers. Some questions asked to the DCdts were about the terms of policies and regulations in the college. It was a good hour directly communicating with the Director of Cadets to have a clear understanding of the Training Wing's intent.
27327 OCdt H.Kwon
***
Eye Opener for RMC NCdt at HMCS Cataraqui Naval Ball
Article by: 28036 NCdt Eve Baker
On Saturday, November 4th, 2017, HMCS Cataraqui hosted a Naval Ball to thank past and present staff for their contributions to the Unit. Among those in attendance, myself and a few other RMC Naval Cadets decided to partake in the event to gain insight into the careers in front of us.
The evening did not disappoint: with fantastic food, great music and friendly guests, I found myself pleasantly surprised by the warm atmosphere the gathering gave off.
The conversations with ex-NCO's and officers provided a unique look into the opportunities of our future, and demonstrated the strong relationships these older military members created and maintained, dating back to their enrolment in 1976.
As a Naval Cadet, I sometimes feel disconnected from my element, with CFB Esquimalt and Halifax being so far away. However, the event proved that my connection to the Navy is just across the road from school, should I ever want to reach out. Not only that, but from hearing the stories of the ex-officer's, an exciting and eventful career awaits me, with plenty of travel, fun and friendships.
Go Navy!!!
***
Agora: The RMC LGBTQ+ Support Group
Article by: G1628 Tanya Grodzinski
In Ancient Greek city-states, the Agora was a gathering place that served as the centre of the athletic, spiritual and political life of the city. The diversity of the groups that met there, make Agora the ideal name for a new support and social group for RMC's Lesbian, Gay, Bisexual, Transgender, Queer community and their allies.
Twenty-two people attended the first meeting of Agora, held on 23 October 2017, in the Leadership Reading Room of Massey Library. The meeting opened with an introduction by the group's founder, Sam Meinhardt. A "check in" allowed each person to introduce themselves. Brigadier-General Sébastien Bouchard, the Commandant, also spoke briefly of his plans for inclusivity at the College and of his desire to learn more about the LGBTQ+ community from these meetings. An opportunity was then provided for the group members to mingle and share their views and experiences before reconvening for a final "check out." It proved a most successful evening.
Future meetings will occur monthly, and will include guest speakers, film nights, social events and discussions on various topics.
We invite all members of the RMC LGBTQ+ community and their allies to participate in Agora.
Agora Contact Info:
Sam Meinhardt: [email protected] 613-541-6000, ext. 6004
Pierre-Luc Landry: [email protected] 613-541-6000, ext. 6857
Major Tanya Grodzinski: [email protected] 613-541-6000, ext. 6698
Sharon Miklas (Ally Representative): [email protected] 613-541-6000, ext. 3734
Agora : le groupe de soutien LGBTQ+ du CMR
par G1628 Tanya Grodzinski
Dans les cités-États de la Grèce antique, l'agora était un lieu de réunion au cœur de la vie athlétique, spirituelle et politique. La grande diversité des gens qui s'y réunissaient fait du terme « agora » le nom idéal pour le nouveau groupe de soutien destiné aux communautés lesbiennes, gays, bisexuelles, trans* et queer du Collège, ainsi que leurs allié·e·s.
Vingt-deux personnes ont assisté à la première rencontre d'Agora tenue le 23 octobre 2017 à la salle de lecture de la collection sur le leadership de la Bibliothèque Massey. La réunion s'est ouverte par une allocution du fondateur d'Agora, Sam Meinhardt. Un premier contact a permis à tout le monde de se présenter au reste du groupe. Le brigadier général Sébastien Bouchard, commandant du Collège, a aussi parlé brièvement de ses plans concernant l'inclusivité au Collège et de son désir d'en apprendre davantage au sujet des communautés LGBTQ+ lors des réunions d'Agora. La rencontre s'est poursuivie par une longue période de bavardage et d'échange lors de laquelle toutes les personnes présentes ont pu discuter et partager leurs expériences, avant que le groupe ne se reforme pour un dernier tour de table. La soirée a été un véritable succès.
Les réunions d'Agora auront lieu une fois par mois; le groupe proposera des conférences, des projections de films, des événements sociaux et des discussions sur différents sujets.
Toustes les membres des communautés LGBTQ+ du CMR, ainsi que leurs allié·e·s, sont invité·e·s à participer aux rencontres.
Pour plus d'information :
Sam Meinhardt : [email protected] 613-541-6000, poste 6004
Pierre-Luc Landry : [email protected] 613-541-6000, poste 6857
Major Tanya Grodzinski : [email protected] 613-541-6000, poste 6698
Sharon Miklas (représentante alliée) : [email protected]a 613-541-6000, poste 3734
***
Astronomy Club Trip to Algonquin Radio Observatory
Article by: 27832 OCdt (III)Pablo Cardona
Last weekend, 17 cadets from the RMC astronomy club left campus bright and early Friday morning to make the five hour trek to Algonquin Park and participate in our first trip of the year to visit a radio observatory.
We arrived late Friday afternoon and settled in to the cozy Observatory House located about a kilometer away from the observatory. After getting settled into our rooms, we spent the rest of the evening exploring the nearby forest and went to bed after a late night campfire.
The next morning, we were up bright and early and drove down to receive a tour of the radio observatory. Measuring 46 meters, the Algonquin Radio Telescope was envisioned to be Canada's largest antenna, a title which it still holds to this day. Today, it is used for pulsar research and space tracking.
Another highlight of the tour was getting to see the Atomic clock, also called the Hydrogen Maser, which is used to help scientists keep careful track of observations and extract data. One of the world's most accurate clocks, it remarkably loses less than one second every 30 million years.
After concluding the tour of the observatory, we returned to the observatory and continued to spend the afternoon exploring the park. After a good night's sleep and a quick breakfast, we were on our way back to RMC.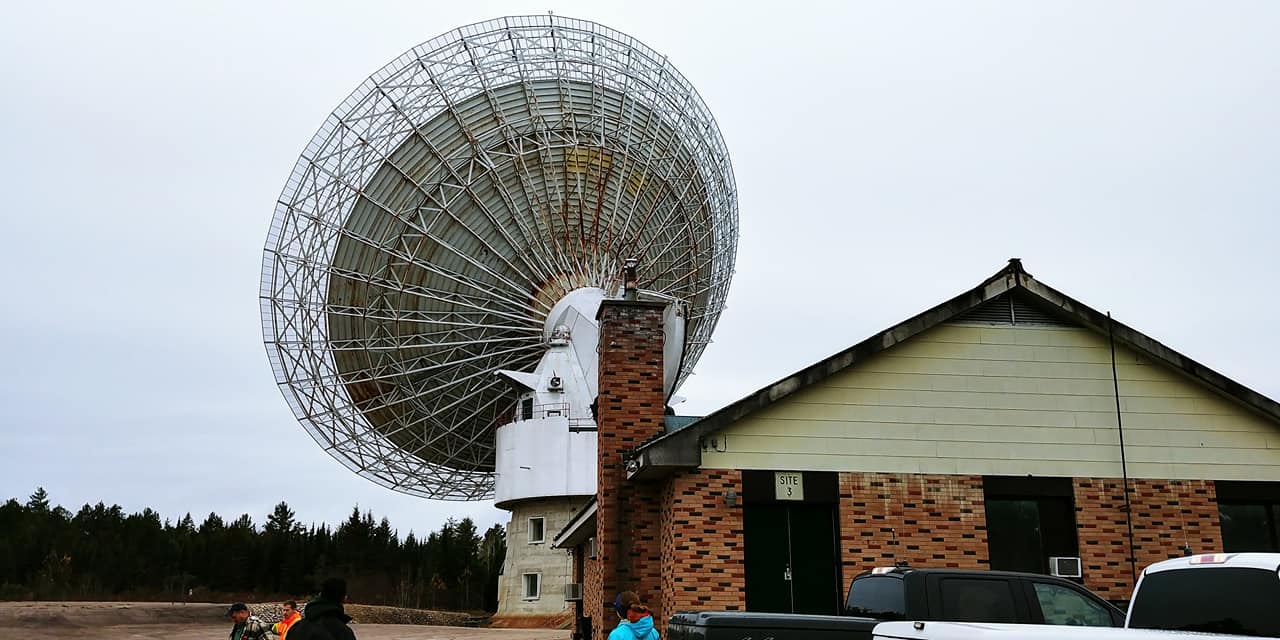 ***
RMC becomes hockeyville for the weekend

Article by: WJO – Photo by OCdt V. Pierrot
Rogers Hometown Hockey spent pretty much all of the weekend on the parade square.
Once the Remembrance Day Ceremony was complete, a number of live events unfolded over Saturday and Sunday. Including a ball hockey game featuring retired NHL players; a variety of interactive games and displays, live music and the retired players signing autographs for fans.
A carnival type atmosphere pretty much prevailed.  The event was very well attended by local citizens and members of the RMC family. Members of the band especially did us proud.
A live TV show airing on Rogers Sportsnet and Sportsnet Now shone the spotlight on the college off and on for well over three hours during the evening hours of Sunday.
All in all, a great high profile show and just one more activity going on in and around the peninsula over these past few days.
More Reflections off the Parade Square by OCdt V. Pierrot – Here