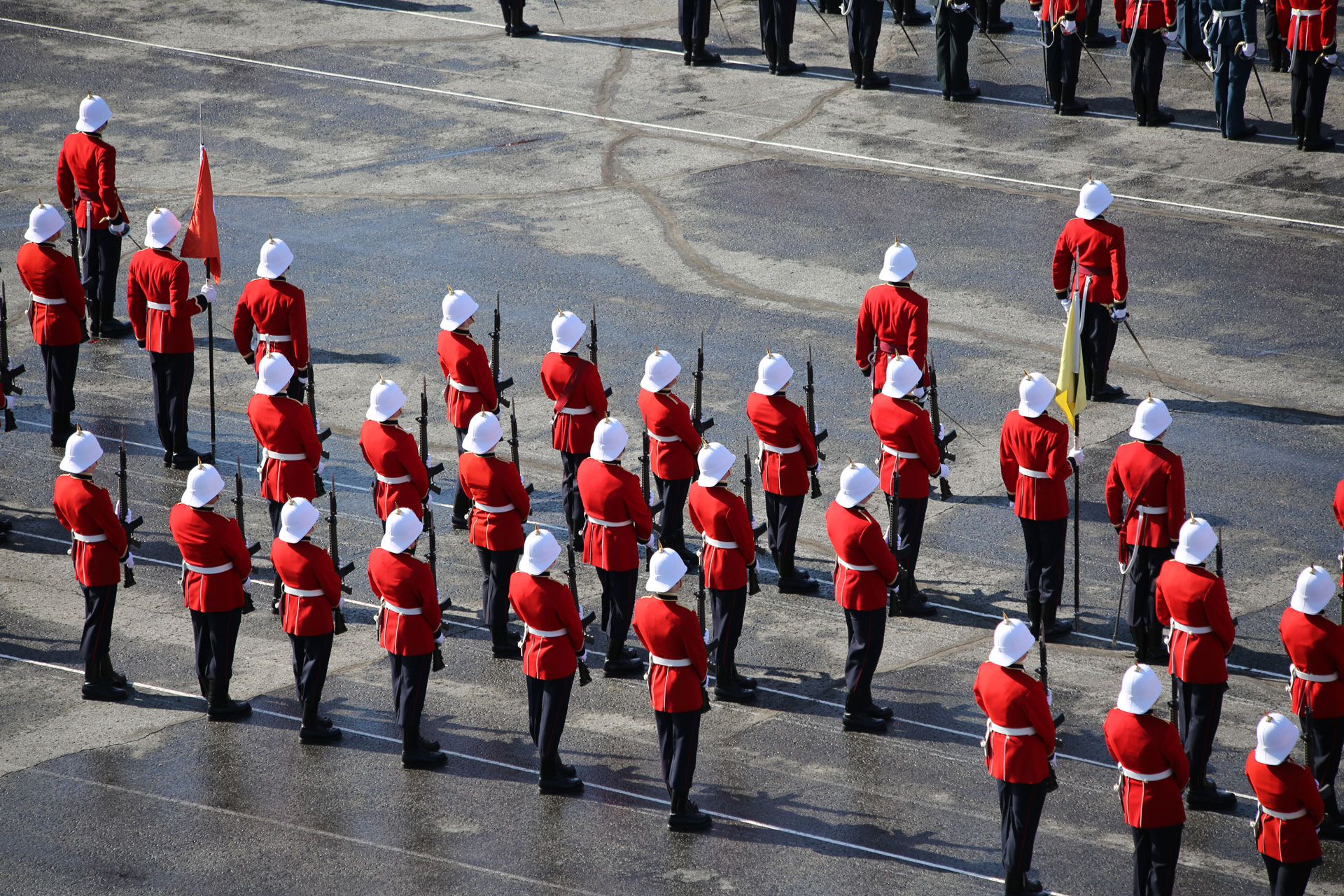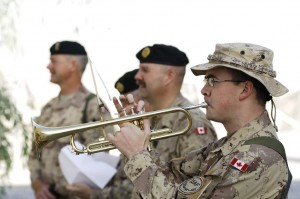 22695 Captain Michael Davie (RMC 2003)`s tour to Afghanistan in 2006,  didn't include a bugler for Canadian ramp ceremonies; they only had a piper. If a bugler was involved in a ramp ceremony (as he believes they have sometimes been on subsequent tours), they would typically play Last Post and Rouse (often mistakenly referred to as Reveille). He played these two calls at the 2006 Remembrance Day ceremony at Kandahar Air Field (KAF). He played at a ramp ceremony for a United Kingdom (UK) soldier, whose regiment had its own special song. He also played for the Navy's commemoration of Trafalgar Day (21st October), the celebration of Lord Nelson's victory over the combined French and Spanish fleets at the Battle of Trafalgar. Combat Camera captured good shots of him playing at the UK ceremony and on Trafalgar Day. The Trafalgar Day picture also shows 12578 Colonel Fred Lewis (RMC 1980) on the far left, who was the Deputy Commander on his tour and who assumed command of Task Force Jerusalem, Operation PROTEUS, in August 2009. Captain Davie is currently a graduate student at the University of Ottawa.
_______________________________________________

M0189 Martin Gagné (RRMC RMC 1984) has been Group President, Military Simulation Products, Training and Services, since April 2009. He is responsible for CAE's two military segments on a global scale – Simulation Products and Training and Services – which represent nearly half of CAE's total income.
Mr. Gagné joined CAE in 1996 as a member of the CF-18 software support group at Mirabel. He subsequently held various positions of increasing importance, becoming Military Program Director in 1998, then Vice President, Visual Systems, in 2000. In October 2003, he held the title of Executive Vice President, Marketing and Sales, within the Military Simulation and Training division. From May 2006 to March 2008, in addition to his duties as Executive Vice-President, he was also responsible for business expansion and strategic planning within the Civil and Military Simulation Products and Services divisions. In March 2008, Mr. Gagné was appointed Executive Vice President, CAE Montreal. He took over responsibility for CAE's activities in Canada and managed the consolidation of CAE's civil and military simulation product orders on a global scale.
During his last 10 years at CAE, Mr. Gagné has played a key role in the continued success of the company's military business by increasing CAE's presence in military markets worldwide. His work has enabled the Civil Simulation Products segment to achieve record sales of full-flight simulators and has strengthened CAE's leading position on the market.
Before joining CAE, Mr. Gagné acquired extensive management and leadership experience during his 23 years as a member of the Canadian Forces. He graduated from the Royal Military College of Canada, in Kingston, where he obtained a Bachelor's degree in electrical engineering in 1984. In 1989, he obtained a Master's degree in computer engineering and was awarded the Governor General's Gold Medal. In 1997, Mr. Gagné successfully completed the McGill Executive Training Program.
_______________________________________________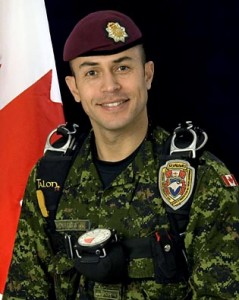 Captain Christopher Nobrega, Officer Commanding SkyHawks
Occupation: Infantry Officer
Unit: Canadian Forces Land Advanced Warfare Centre
Parent Unit: The Royal Canadian Regiment
Position: Officer Commanding SkyHawks
Tours of Duty: Fmr Yugoslavia, Afghanistan(2)
Time in the CF: 22 years
Jumps: 433
Home Town: Mississauga, Ontario
Captain Christopher Nobrega was born on 4 March 1969 in Georgetown, Guyana and was raised in Toronto, Ontario from the age of six. He joined the Queen's Own Rifles as part of the Primary Reserves in 1987 before component transferring to the Royal Canadian Regiment of the Regular Force in 1996. He served as a Corporal with the 1st Battalion of The Royal Canadian Regiment in Petawawa, Ontario until being accepted to The Royal Military College in Kingston during 1999. Following his commissioning and graduation from RMC in 2001, he returned to Petawawa to serve with 3 RCR until 2005. After completing his second tour of duty in Petawawa, he then served as RSS with the Royal Hamilton Light Infantry until moving to Trenton, Ontario in 2008.
Captain Nobrega has completed an operational tour of duty in Bosnia and has twice been to Afghanistan, returning from his latest tour in August of 2007. He started his parachuting career in 1989 and served as a paratrooper with the Queen's Own Rifles and Mike (Para) Company 3 RCR. After being posted to Trenton, he subsequently completed his Military Freefall Parachute course at the Canadian Forces Land Advanced Warfare Centre where he is now employed as the SkyHawks Team Captain.
_______________________________________________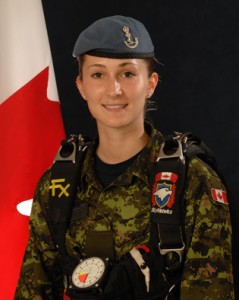 Officer Cadet Josée Belcourt,  SkyHawks Public Affairs Officer
Occupation: Communications and Electronics Engineering (Air) Officer
Unit: Canadian Forces Land Advanced Warfare Centre
Parent Unit: Royal Military College of Canada
Position: Team Information Officer
Time in the CF: 3 years
Jumps: 1
Home Town: Ottawa, Ontario
Officer Cadet Belcourt was born 8 March 1989 in Ottawa, Ontario. She joined the Canadian Forces in 2007 through the Regular Officer Training Plan. After completing Basic Military Officer Qualification course in St-Jean, Québec, she was posted to the Royal Military College of Canada in Kingston, Ontario. She is in her fourth year of studies at the college in computer software engineering.
Officer Cadet Belcourt's summer job employments include working with the Royal Canadian Air Cadet Movement in Ottawa, Ontario and Joint Task Force North in Yellowknife, Northwest Territories. This summer, she is the SkyHawks' Team Information Officer.
_______________________________________________