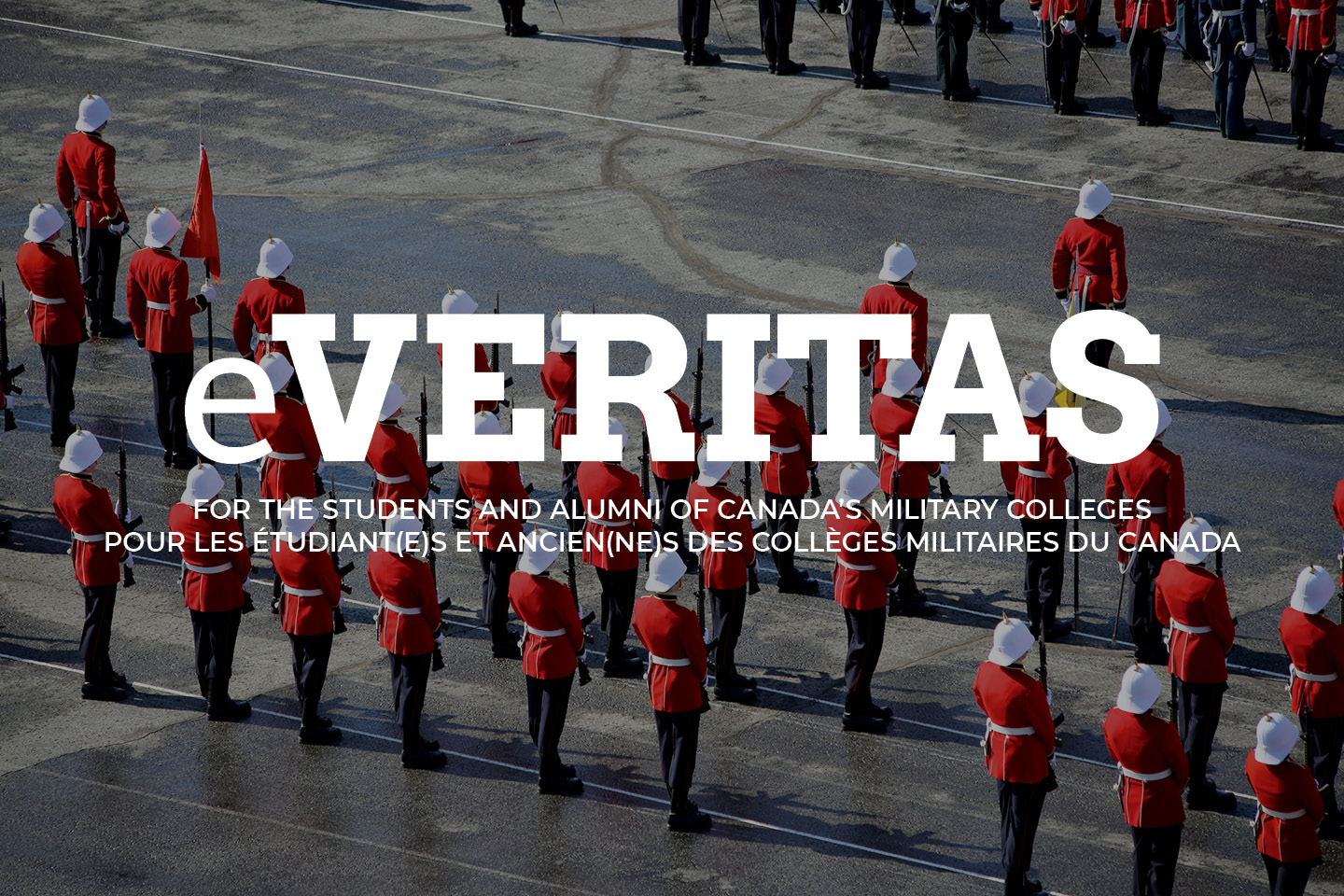 3426 George Richardson (RMC '55); 7289 George Hendry (RMC '67); 7441 Kenneth Summers (RRMC RMC '67); 10230 Dr Philip Smith-Eivemark (RRMC RMC '74); 12904 Col Thomas Temple (CMR RMC '81); 20512 Dr. Travis Cadieu (RRMC RMC '96);
3426 George Richardson (RMC '55) is a member of the
Emeritus Faculty of Mechanical & Mat Eng at Queens University. He
enlisted in the military at 15 in 1948. When he finished high school,
he attended RMC. He joined the Royal Canadian Horse Artillery and
then the North Atlantic Treaty Organization. Then he went to Germany
for two years for part of the Cold War. He learned through the
military self discipline and that the right attitude can get you
through anything.

7289 George Hendry (RMC '67) is a recently retired senior
executive who spent the last 26 years working in project management,
product development, business development and general management with
several technology and telecommunications companies. He has worked
primarily in Ottawa and California but has also had assignments in
France and Germany. George graduated from the Royal Military College
with a Bachelor of Science degree, and, prior to working in private
industry, served as a Canadian Air Force Navigator and Program
Manager in several locations in Canada and the United States. George
brings an extensive background in project and business management and
strategies for working with large multi cultural organizations to the
Board of Directors. George enjoys all forms of winter sports and,
when not volunteering for Habitat, goes fly fishing in the summer.
more…


7441 Kenneth Summers (RRMC RMC '67) is the President of the Naval Officers' Association of Vancouver Island and a Director on the Executive Committee for the
Naval Officers' Association of Canada. As well, he regularly mentors at
the Canadian Forces Command and Staff College for their major Joint
Exercise and has been a frequent commentator on military affairs for
CBC. Of note, Ken was the CBC's primary Military Analyst during their
Gemini award winning coverage of the Iraq War. Retiring to Victoria, Ken
is married to the former Joanne (Jody) Thompson of Listowel, Ontario and
they have three children; Ted is a Lieutenant onboard HMCS REGINA based
in Esquimalt, daughter Kim and her family also live in Victoria, and son
David is completing his studies at UBC. He began his naval career as an
Officer Cadet at Royal Roads and graduated from the Royal Military
College Kingston Ontario in 1967.

10230 Dr Philip Smith-Eivemark (RRMC RMC '74) is the Principal
Educator/Consultant of the Skald Group, which provides educational
programs and training in the areas of personal and corporate ethical
awareness, ethical decision making, critical thinking, and
leadership. He has been creating and implementing training programs
and speaking in the field of ethical practice and leadership for the
past 12 years. He brings a wealth of practical experience along with
excellent academic training to his vocation. Dr. Smith-Eivemark has
worked with financial institutions, federal and provincial government
departments, the Department of National Defence, professional
associations, and training institutes. He has spent twelve years
working as a leader/manager in the public, private and not for profit
sectors. As well, Dr. Smith-Eivemark has taught ethics at a number of
post secondary institutions across Canada. A graduate of the Royal
Military College of Canada, he obtained his doctorate from the
University of Toronto in 1996. He is the author of Beyond the Bottom
Line: The Courage to Be a Business Person. Ethics in Business.
phils-e@skaldgroup.com
http://www.skaldgroup.com/bio.html



12904 Col Thomas Temple (CMR RMC '81) was promoted to his
present rank in July 2005 and appointed as the Commanding Officer of
202 Workshop Depot, Montreal. In September 2007, he was appointed as
Director Armoured Vehicle Program Management. Attending both College
Militaire Royal de St-Jean and the Royal Military College in
Kingston, he graduated from RMC with a Bachelors in Mechanical
Engineering in 1981. In 1987, he was posted to the Canadian Forces
School of Electrical Mechanical Engineering as an instructor for EME
officers. During his time at the School, he attended the Canadian
Land Forces Command Staff College. In 1990, Colonel Temple was
promoted to Major, then posted on a three-year exchange with the
Royal Electrical Mechanical Engineering School in England.

20512 Dr. Travis Cadieu (RRMC RMC '96)
Travis did his undergrad degree in Economics/Commerce at Royal
Military College and then med school at the University of British
Columbia. "Because most other things are boring," Travis chose a
career in Emergency. He likes the variety, the acuity, and the
opportunity to go on to do fellowship training. His career interests
include trauma and critical care, and he is starting to take an
interest in ultrasound. In his free time Travis finds time to
rollerblade, travel, drink, and solve world hunger. Travis likes U of
M because, "The pathology here is unbeatable and the residents are
very closely knit and work well together. He would also like to
add, "The winters here only make you stronger."
more…
note:
In the 'Where are they now' section, you indicate 20043 Dr. Trevor Cadieu is working on his emergency medicine residency. While I wish I had the intelligence of my brother, I unfortunately cannot make that claim. Please note 20043 Trevor Cadieu is still proudly serving as an Armoured Officer with Lord Strathcona's Horse (Royal Canadians). His twin brother, 20512 Travis (R, graduated from RMC in 1996 and is currently an attending physician at the Vancouver General Hospital. All the best to the great RMC team.
Trevor