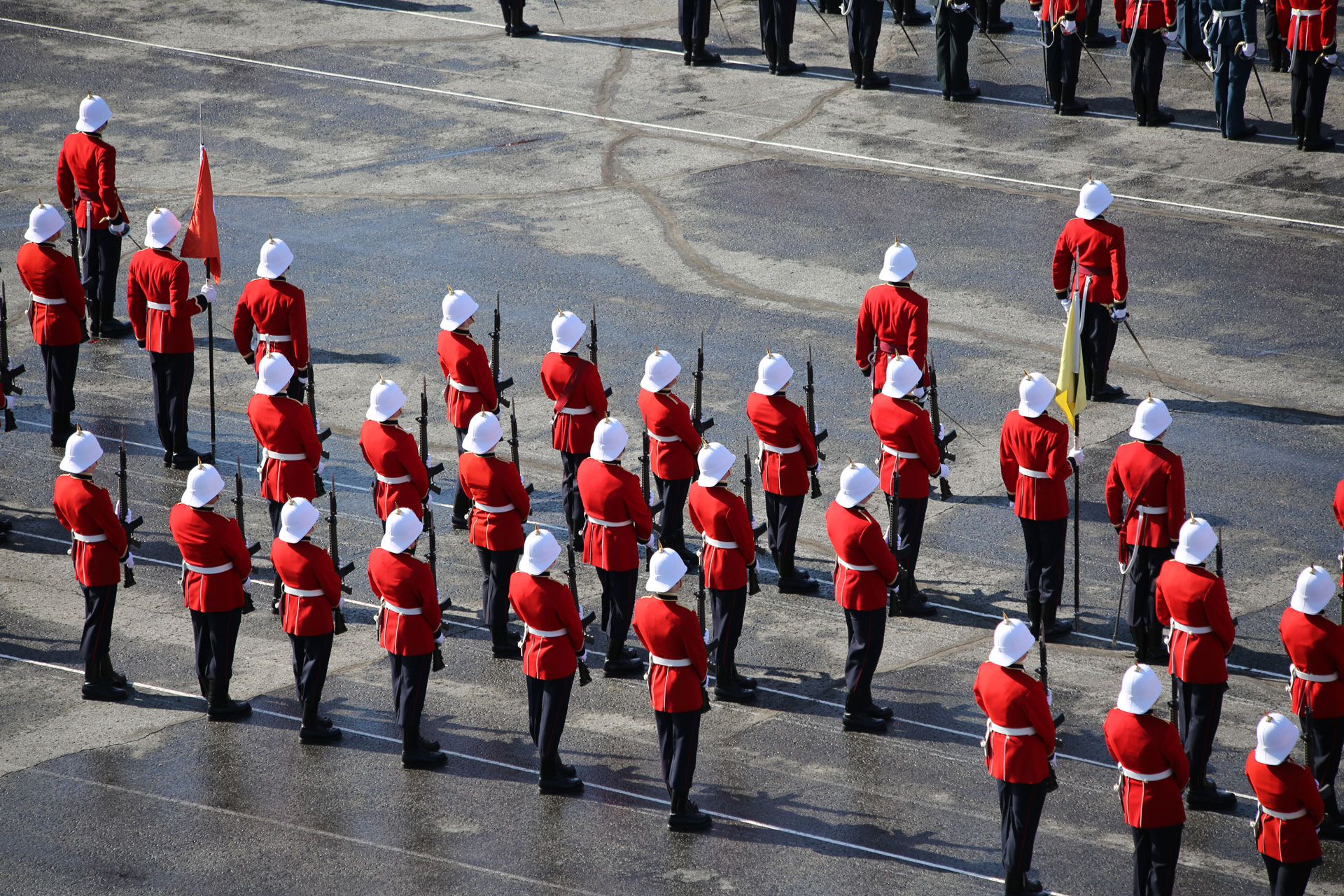 12648 Cdr Mike Burke (left) and 13846 LCol Kevin Bryski and outside main HQ of the Afghan Regional Security Integration Command – South. Mike just finished a one year tour of COS and handed over the reigns to Kevin on 27 August 08. Neither of them are in the Army!
___________________________________________________
8833 Dr. John Leggat (RMC '71) is an Associate Consultant with CFN Consultants. Prior to joining CFN in September 2005, he was the Assistant Deputy Minister (Science & Technology) of the Department of National Defence and Chief Executive Officer of Defence R&D Canada (DRDC). In this capacity, he led DRDC, which provides national leadership in defence science, and furnishes scientific advice and products to the Canadian Forces and the Department of National Defence.
A native of Montreal, Dr. Leggat received his education at the Royal Military College of Canada (BEng 1971) and the University of British Columbia (MASc 1973 and Ph.D. 1976) in the field of aeroacoustics. He is a graduate of the National Defence College.
During his scientific career, Dr. Leggat has served in a number of appointments in Defence R&D. As Director General of DRDC Ottawa from 1994-1997, he directed a program that addressed radar systems, electronic warfare, communications and space systems. From 1990 to 1994 he was responsible for the technology development program for the Department of National Defence. Prior to this appointment, he spent 14 years at DRDC Atlantic where he carried out and led research in the area of ship and submarine technology pertaining to noise reduction, hydromechanics, ship structures and materials.
Dr. Leggat is the President of the Canadian Academy of Engineering and of the International Council of Academies of Engineering and Technological Sciences. He was the President of the Royal Military Colleges Club of Canada from 1999 to 2000.
He spent 33 years in the Reserve component of the Canadian Forces, retiring as a Colonel in 2001 after having served with Reserve units in Vancouver, Halifax and Ottawa.
In 2000 he was awarded the Robert W. Angus Medal by the Canadian Society of Mechanical Engineering for outstanding contributions to the management and practice of mechanical engineering. He was awarded the Association of Professional Executives of the Public Service, Leadership Award in 2001 and the Professional Engineers of Ontario Engineering Medal in 2007. He is an honorary member of the Engineering Institute of Canada and a Fellow of the Canadian Academy of Engineering.
___________________________________________________
19488 Dr. Carolyn L Horne (RRMC '94) has worked in private practice since 2000, both in Belleville (ON) and Nepean. She provides psychological and psychoeducational assessments for school age children and young adults. She works at Centrepoint Professional Services in Ottawa. She earned a B.A.(HON) from Royal Royal Roads
Military College followed by a M.Sc. and Ph.D. from University of Calgary. She is registered with the College of Psychologists ofOntario.
Since 2000, she has been a Member of Canadian Psychological Association (CPA). She completed her clinical internship in Saskatoon, SK, working with both children and adults in health and community settings. She has taught at the university level and worked in a university student counselling setting. She has had ongoing contact with the Canadian Forces and recently was employed in a Mental Health Center working with military members.
___________________________________________________
G1398 Dr Sarah Jane Meharg (RMC '99) M.A. (War Studies) serves as an Adjunct Professor of Politics and Economics at the Royal Military College of Canada. She is the Senior Research Associate in the Research and Learning Development Department at the Pearson Peacekeeping Centre (PPC). She achieved top-honors in innovative doctoral research in post-conflict reconstruction and has received numerous awards for research, writing and conference presentations.
She is conducting the first phase of a three-phased research project on measures of effectiveness for peace operations. She will be writing a book on the methods and practices of verifying the success of peace operations – from the perspective of integrated interventions and the recipient populations of such interventions.
Her publications include Helping Hands and Loaded Arms: Navigating the Military and Humanitarian Space (Canadian Peacekeeping Press: Nova Scotia, 2007)
http://peacebuild.ca/members-featured-member-e.php
___________________________________________________
17812 LCdr Patrice Carrière (RMC '91) has recently assumed the position of OC Standards at the CFMSS/CFDSS at CFB Borden. After 6 years commanding Health Centres in Bagotville and Valcartier, Pat welcomes this new challenge. Pat, Nancy and their five children have established themselves in Barrie where Nancy has launched small-business selling educational toys. // 17812 Capc Patrice Carrière a récemment assumé le poste de Cmdt de la cie des Normes à l'ÉSSFC/ÉSDFC à la BFC Borden. Après avoir commandé pendant 6 ans les Centres de santé à Bagotville et Valcartier, Patrice a hâte de  confronter ce nouveau défi. Patrice, Nancy et leurs cinq enfants se sont établi à Barrie où Nancy a lancé une PME en vente de jouets éducatifs.
___________________________________________________