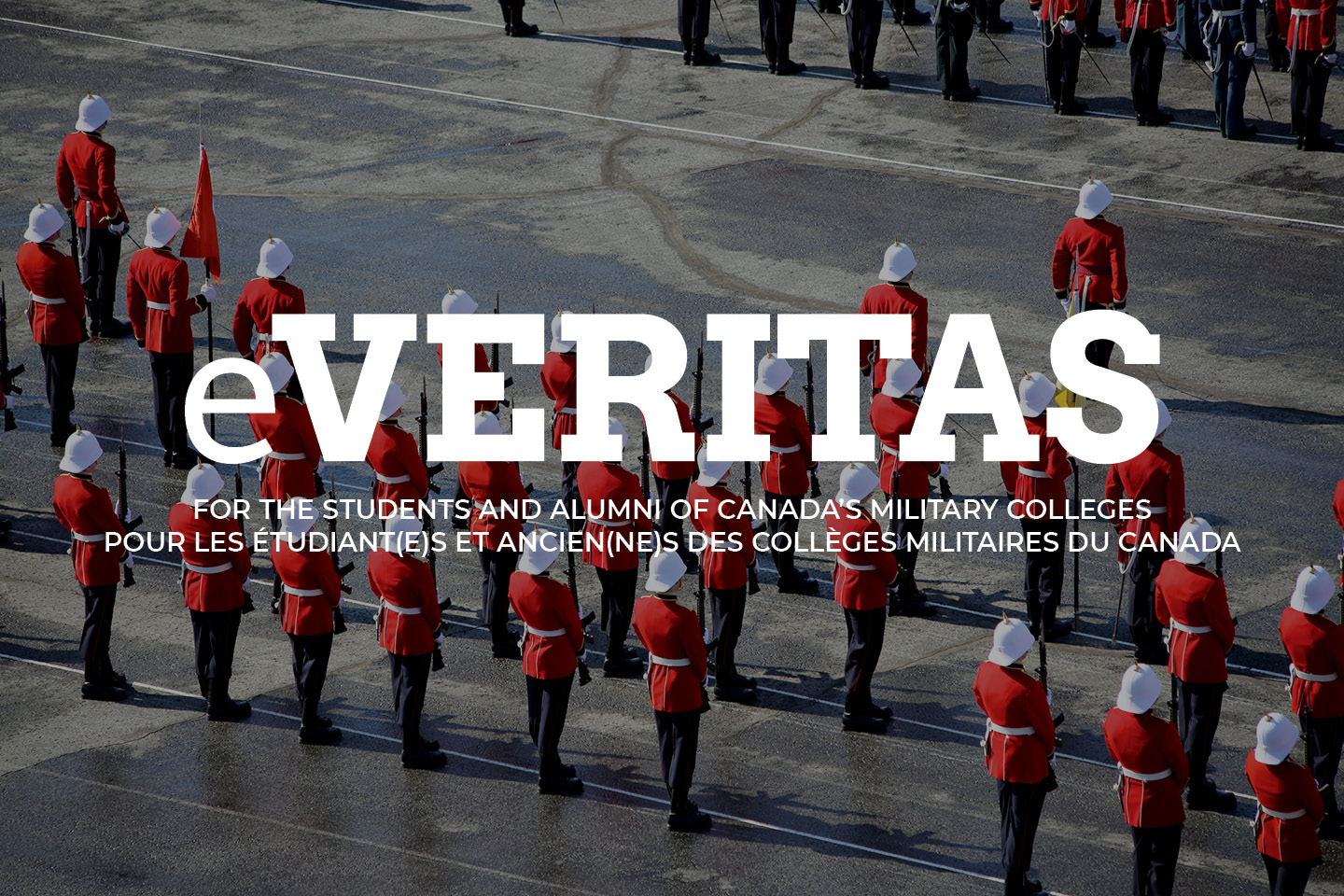 4132 Jay Kurtz (RMC '58); 6089 Adnan Kabbani, (RMC '00); 7291 Thomas Keefer (RMC '67); 8063 David Neely (RMC '69); 8703 Paul Larose-Edwards (CMR RMC '71); 10420 Charles Kaszap (CMR RMC '75); 11116 David McCutcheon (RRMC RMC '76); 13343 Jean Claude Bélisle (RMC '83); 14063 Richard Neville (RMC '83); 14791 David Lincourt (CMR RMC '85); 16052 Craig Thomson (RMC '87); 16646 Scott Carr (CMR RMC '90); 21970 Captain Jennifer S Jones (nee Gingras) (RMC '01).
***
4132 Jay Kurtz (RMC '58) is President and founder of KappaWest, Inc., a California-based management consulting firm with clients in the defense/aerospace, pharmaceutical, biotech, information technology and telecommunications industries. Jay is a graduate of the Royal Military College of Canada in engineering and served nine years as an officer in the Canadian Army. He is a graduate in Engineering from the Royal Military College of Canada and is a licensed professional engineer. He holds a Bachelor of Science Degree in Engineering from Queens University. He was one of the original founders of Multiple Access Limited (since acquired by an information technology company), a computer services and communications firm, where he held the position of Vice President-Marketing. Previously, he was National Marketing Manager of the Data
Center Division of IBM Canada. At KappaWest, he leads the company's business development efforts and is a frequent speaker and writer on the subjects of business intelligence, sales development, business wargaming, strategic and operational level planning, contingency planning and related concepts.
***
6089 Dr. Adnan Kabbani, (RMC '00)
Dr. Kabbani has been an assistant professor in the Department of Electrical and Computer Engineering at Ryerson University since 2004. His current research interests are design for reusability and application specific FPGA structure. Dr. Kabbani received his B.S.E.E degree from the Damascus University in Damascus, Syria, the M.Sc. degree in electrical and computer engineering from ConcordiaUniversity, Montreal, Canada, and the Ph.D. degree in electrical and computer engineering from the Royal Military College of Canada, Kingston, Canada. From December 2000 to July 2004 he worked with
Canadian Microelectronics Corporation (CMC) where he led and contributed to different projects such as developing a design flow for soft IP blocks and developing system-on-chip memory integration flow.
7291 Dr. Thomas Keefer (RMC '67) has 20 years' experience running the finances and 10 years' experience running the administration of a successful United Nations specialized agency (World Intellectual Property Organization – WIPO), including five
years as Assistant Director General. During his United Nations career, he was active in many inter-agency bodies, including the High Level Committee on Management. Prior to joining WIPO, Dr Keefer served as a senior executive in several departments of the Canadian federal government, including the Treasury Board Secretariat and aneconomic development super-Ministry; he also worked as a consultant for British Telecom. Throughout his career, Dr Keefer has focused on improving the effectiveness and efficiency of public administration.
He holds a D. Phil. in engineering economics/management science, Oxford University; B.Sc., Royal Military College of Canada. He was a Rhodes Scholar in 1967.
***
8063 David Neely (RMC '69) is the President of D.K. Neely and Associates. He specializes in providing tailored in-house processes for his customers. He attended Royal Military College and has a degree in Psychology from Queen's University. He spent 18 years with IBM Canada in the Customer Service and Education divisions where he won four Service Awards for excellent customer service. He decided to pursue his vision of becoming a speaker/trainer and started his own business in l987.
***
8703 Paul Larose-Edwards (CMR RMC '71) is Executive Director of CANADEM, a roster of Canadian international experts. In a 1996 study for DFAIT of UN field operations, Paul recommended the creation of CANADEM, and apart from a leave of absence to go on staff with the UN in Jakarta, he has been with CANADEM ever since. An international human rights lawyer for 25 years dealing with the politics of advancing rights, Paul has worked in mission-areas and countries such as Rwanda, Kosovo, Croatia, South Africa, Zimbabwe, and Indonesia. He has been on staff with NGOs such as Amnesty International, as well as the Canadian government, the UN, and the Commonwealth. He has worked as a consultant for an even larger grouping including the OSCE, EU, and NATO. Paul's last UN diplomatic post was as Representative of the
UN High Commissioner for Human Rights in Indonesia, and for four years he also was with the Commonwealth Secretariat in London as Head of Human Rights. A former Canadian Armoured Corps officer and Royal Military College graduate, his recent work with militaries includes the UN-HCHR human rights training manual, Canadian Forces College and the CF Peace Support Training Centre, and NATO's Allied Command
Transformation.
paul.larose-edwards@canadem.ca
more…
***
10420 Charles Kaszap (CMR RMC '75) is the Project Manager of Contracted Airborne Training Services at the Department of National Defence, a one billion dollars project in the Department of National Defence (DND) to contract out the essential services previously provided by two fleets of military aircraft. Prior to that, he spent two years in Public Works and Government Services Canada leading a team with a 40 million dollars/year portfolio providing IM/IT services to client departments. Previous assignments included: Senior Engineering Team Leader for Maritime Air and Helicopter Simulators and Trainers, IM/IT Strategic Planner, both for DND in the National
Research Centre (NRC), Exchange Officer at the United States Air Force Data Systems Design Centre in Montgomery, Alabama,Teleprocessing Systems Engineer for DND in the NCR and Systems Standards and Training Officer at the CFS Lowther radar station in Ontario. He holds a B.Eng. (Electrical) from the Royal Military College of Kingston, an MBA from the University of Ottawa, is a registered Professional Engineer in Ontario and a certified Project Management Professional with the Project Management Institute.
***
11116 Dr. David McCutcheon (RRMC RMC '76) teaches in the areas of operations and technology management at the University of Victoria. He is the faculty's undergraduate program director and has received the Board of Advisor's Distinguished Service Award and the Faculty of Business Outstanding Service Award. His research interests are in Technology Management and Supply Chain Management. Prior to joining the Faculty of Business, he was a member of the faculty at the University of Cincinnati. His area of interest is technology management and he has published on a variety of technology and supply chain issues. He has served as the Technology Management area editor for the journal Production and Operations Management and as a regional vice-president for the Production and Operations Management Society. He is currently an associate editor for the Journal of Operations Management. Prior to his academic career, he served in the Canadian Armed Forces as an engineering project manager and construction engineering manager. He holds a BEng, Royal Military
College of Canada; MBA, and PhD, University of Western Ontario. He is a PEng, Province of British. Columbia.
***
13343 Jean Claude Bélisle (RMC '83) is Vice-President Satellite Communications and Radio Propagation Research at Communications Research Centre Canada in Ottawa, an agency of Industry Canada. Mr. Bélisle joined CRC in 1989, following a three-year stint with the Department of National Defence as a Satcom System Engineer. In 1997, Mr. Bélisle undertook the challenge of Research Manager for the Advanced Radio System Research group. Mr. Bélisle also accepted theposition of Acting Vice-President in the summer of 2005, a role that he continues to thrive in today. Mr. Bélisle graduated with a Baccalaureate in Engineering Physics from the Royal Military College of Canada in 1983, he then went on to earn his Master Degree in Science Physics (Optics) from Québec's Université Laval in 1985.
***
14063 Richard Neville (RMC '83), is currently the principal of Amik Capital, a private equity and corporate finance boutique with offices in Hong Kong and a focus on regional investment in the areas of hospitality, property, retail and food services. Before founding Amik Capital in 2005, Mr. Neville held Chief Financial Officer, Chief Operating Officer and Chief Investment Officer roles in the Thailand listed companies of the Minor Group (1998 to 2005). Before joining the Minor Group of companies, Mr. Neville had an extensive career in investment banking (1990 to 1996) and fund management in Asia. Mr. Neville is a graduate with a M.B.A. from the University of Western Ontario and a Bachelor of Arts (Commerce) from the Royal Military College of Canada.
***
14791 David Lincourt (CMR RMC '85) is currently the Vice President, Field support and the Acting Head of the Global Defense Industry Business Unit of SAP America Inc. Prior to joining SAP in 2000, Mr. Lincourt spent 20 years as an Electrical & Mechanical Engineering Officer in the Canadian Forces. He held various positions in garrison, field, and staff positions throughout his career. His last assignment in the military, he was the Deputy Project Manager for the Material Acquisition & Support Information System project to provide the engineering and maintenance community with an integrated information system utilizing SAP. Mr. Lincourt earned a BEng in Engineering Management from the Royal Military College of Canada and a Masters of Science in Reliability & Quality Engineering from the University of Arizona. Further, he was also an Assistant Professor of Engineering Management of the Royal Military College of Canada where he taught operational research, reliability, simulation, and operations management.
***
16052 Craig Thomson (RMC '87) is the President of Beanstream Internet Commerce Inc., which provides authentication and electronic payment processing solutions, including merchant account, credit card, EFT and ACH services. He brings more than 15 years of leadership and entrepreneurial experience running high technology companies. During his time as CEO, Craig has been featured in several
business magazines including Canadian Business, Profit and Success Magazine and has received the prestigious "Entrepreneur of the Year Award" in manufacturing, wholesale and distribution for Pacific Canada by Ernst and Young. Craig received his degree in Computer Engineering at the Royal Military College of Canada. Craig is a member of the Board of Advisors to the Faculty of Business at the University of Victoria and serves on the Victoria board of the Better Business Bureau.
***
16646 Scott Carr (CMR RMC '90) is Vice President, Eastern Operations for JASCO Research Ltd. He has worked at JASCO since 1997. In August 2003, he relocated from Victoria, BC to Halifax, NS to establish and oversee the company's East Coast Operations. Prior to joining JASCO, Scott served 12 years as a Naval Combat Systems Engineering Officer with the Canadian Navy.
Scott has been involved with numerous engineering and environmental assessment projects dealing with acoustic system performance and sound propagation modelling. While stationed at the Canadian Forces Maritime & Experimental Test Ranges, Scott gained extensive experience in the operation, performance analysis, and environmental impact assessment of Naval Acoustic Systems from various countries including the United States, Canada and the United Kingdom. More recently, he has worked closely with representatives from the Department of Fisheries and Oceans' Bedford Institute of Oceanography, planning, coordinating and conducting Acoustic Impact Modelling and Environmental Effects Monitoring (EEM) projects off Canada's East Coast and in the Arctic. Scott holds a Bachelor of Engineering from the Royal Military College of Canada and is currently finishing a Master of Engineering (Acoustics) at Penn State University. Scott also has graduate level training in Project Management and Business Administration.
***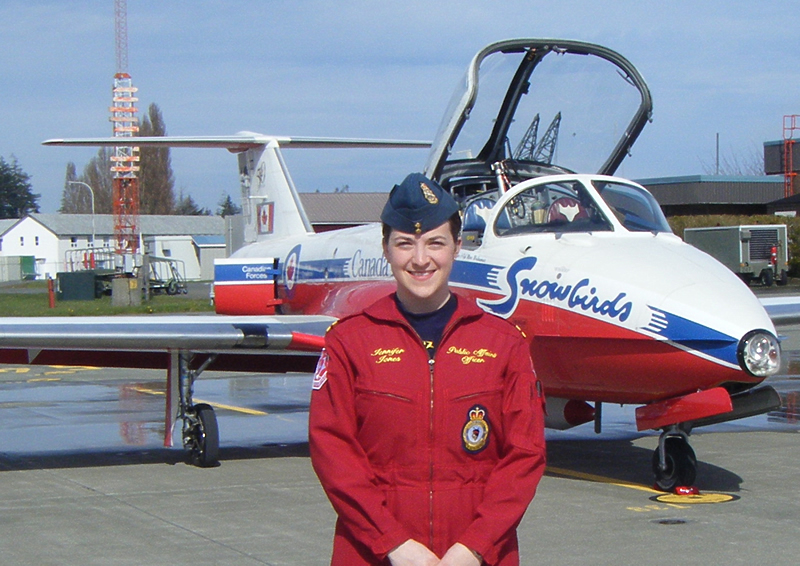 21970 Captain Jennifer S Jones (nee Gingras) (RMC '01), 28, of Grand-Mere, Que., was appointed as the Canadian Forces Snowbirds Public Affairs Officer for the 2008 and 2009 show seasons after a thorough selection process."Captain Jones is a strong communicator with excellent interpersonal skills," said Major Robert Mitchell, Commanding Officer, Canadian Forces Snowbirds. "She has demonstrated that she has the professional competencies and leadership qualities required to excel in this vital position on our team." Upon graduation from Shawinigan High School in 1996, Captain Jones was accepted to the Royal Military College of Canada in Kingston, Ont., where she earned an Honours Degree in Politics and Economics.
Captain Jones subsequently attended the Canadian Forces Air Navigation School in Winnipeg, Man., following her graduation from the Royal Military College and commissioning in May 2000. "It is a tremendous privilege to be a part of such an outstanding and elite team," said Captain Jones. "From a pro- fessional perspective, I am looking forward to the challenge and excitement of this unique position. This is an experience that I will carry with me my whole life." Captain Jones, an experienced Air Force Public Affairs Officer, has been posted to 8 Wing, Trenton, Ont., 1 Canadian Air Division, Winnipeg, Man., and 4 Wing Cold Lake, Alta. Career highlights include working as the Canadian NORAD Region Public Affairs Officer and the Exercise MAPLE FLAG 39 Public Affairs Officer. During the 2008 Season, the Snowbirds are scheduled to perform in about 65 air shows in 40 locations across North America, as proud ambassadors of the Canadian Forces and Canada.