Our most-viewed stories from July to September 2018:
2. Close to 300 New Faces 'March Through the Arch'
3. Wall of Honour Marks Major Milestone
4. Internal Communiqué from Commandant and Principal – BOI Findings on Three 2016 Suicides
5. What the FYOP recruits are saying about Week 1
6. Legacy Dinner Kicks off Reunion Weekend 2018
7. Former CWC Looks Back with Pride
8. The Class of 2022 Officially Enters the Wing
9. 25419 Melissa McCoy: "It was super rewarding to see how well the Logistics branch did"
10. College Brass Meets Up With New Arrivals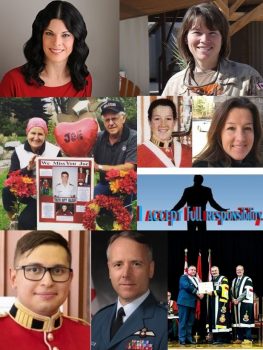 Our most-viewed stories from October to December 2018.
1. Two Ex-Cadets Among Canada's Most Powerful Women
2. Parents of 23160 Joe Grozelle: 15 Years Later and Still Searching for Answers
3. IV Year OCdt Meets Up with the Commander of the RCAF
4. 18131 Stephen Gagne Graduates RMC 30 Years After He Entered CMR
5. Pith Helmets Have Arrived Thanks to Generous Donation by 2652 Britt Smith
6. 20802 Andrew McCorquodale on RMC and the Highs and Lows of 23 Years in the Air Force
7. 21407 Jen Causey: Burden of Command
8. 18866 Eva Martinez Talks RMC and Her Love Affair with Aviation
9. Class of '62 Steps Up, Commemorating Remembrance Day with Class of '78 Video, and Other Class & Branch News